On twentieth May 1999, Mercantile Bank Limited was built up as a business bank. The bank is giving sustainable saving money offices and to contribute financial change of the nation with wide scope of monetary administrations to its clients and business customers.
The bank is giving its administrations with added up to 101 branches and 132 ATM corners the nation over. The principle corporate office of Mercantile Bank Limited is in Dilkusha Commercial zone, the capital of Bangladesh. Click Here For Information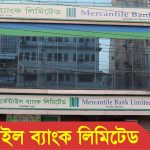 Routing Information:
The bank routing number is a nine-digit distinguishing proof number allocated to financial related foundations and this number recognizes the particular monetary establishment whereupon an installment is drawn. This exceptionally extraordinary one of a kind code is produced in Bangladesh with the mix of 3 digits bank code, 2 digits area code, 3 digits branch code and finally 1 check digit. This number is likewise imprinted on the base left of your bank check pages.
| | | |
| --- | --- | --- |
| Districts | Branch Names | Routing No. |
| Barisal | Barisal Branch | 140060289 |
| Bhola | Bhola Branch | 140090109 |
| Bogra | Bogra Branch | 140100378 |
| Brahmanbaria | Ashuganj Branch | 140120103 |
| Chandpur | Chandpur Branch | 140130319 |
| Chandpur | Faridganj Branch | 140130672 |
| Chapai Nawabganj | Chapai Nawabganj Branch | 140700257 |
| Chittagong | Agrabad Branch | 140150131 |
| Chittagong | AK Khan More Branch | 140150210 |
| Chittagong | Chittagong EPZ Branch | 140152005 |
| Chittagong | Jubilee Road Branch | 140153646 |
| Chittagong | Khatunganj Branch | 140154274 |
| Chittagong | Khulshi Branch | 140154366 |
| Chittagong | Madambibirhat Branch | 140154690 |
| Chittagong | OR Nizam Road Branch | 140155802 |
| Chittagong | Patherhat Branch | 140156135 |
| Chittagong | Patiya SME Branch | 140156177 |
| Chittagong | Sheikh Mujib Road Branch | 140157213 |
| Chuadanga | Chuadanga Branch | 140180198 |
| Comilla | Comilla Branch | 140191158 |
| | | |
| --- | --- | --- |
| Cox's Bazar | Jhilongja Branch | 140220582 |
| Dhaka | Abdullahpur Branch | 140270129 |
| Dhaka | Aganagar Branch | 140270132 |
| Dhaka | Airport Road Branch | 140260171 |
| Dhaka | Ashulia Branch | 140260221 |
| Dhaka | Atibazar Branch | 140270345 |
| Dhaka | Banani Branch | 140260434 |
| Dhaka | Bijoynagar Branch | 140271094 |
| Dhaka | Demra SME Branch | 140271494 |
| Dhaka | Dhanmondi Branch | 140261183 |
| Dhaka | Dholaikhal Branch | 140271849 |
| Dhaka | Donia Branch | 140271423 |
| Dhaka | Elephant Road Branch | 140261338 |
| Dhaka | Engineers' Institution Branch | 140261370 |
| Dhaka | Green Road Branch | 140261691 |
| Dhaka | Gulshan Branch | 140261725 |
| Dhaka | Hemayetpur Branch | 140262058 |
| Dhaka | Imamganj Branch | 140272806 |
| Dhaka | Joypara Branch | 140273289 |
| Dhaka | Karwan Bazar Branch | 140262537 |
| Dhaka | Main Branch | 140275353 |
| Dhaka | Mazar Road Branch | 140262908 |
| Dhaka | Mirpur Branch | 140262982 |
| Dhaka | Moghbazar Branch | 140274183 |
| Dhaka | Mohakhali Branch | 140263194 |
| Dhaka | Motijheel Branch | 140274246 |
| Dhaka | Nawabpur Road Branch | 140274725 |
| Dhaka | Nayabazar Branch | 140274817 |
| Dhaka | Pragati Sarani Branch | 140263707 |
| Dhaka | Rampura Branch | 140275740 |
| Dhaka | Ring Road Branch | 140263978 |
| Dhaka | Satmasjid Road Branch | 140264030 |
| Dhaka | Uttara Branch | 140264630 |
| Dinajpur | Dinajpur Branch | 140280672 |
| Feni | Daganbhuiyan Branch | 140300378 |
| Feni | Feni Branch | 140300523 |
| Feni | Korais Munshi Bazar Branch | 140300923 |
| Feni | Rajnagar SME Branch | 140301401 |
| Gaibandha | Gobindaganj Branch | 140320587 |
| Gazipur | Board Bazar Branch | 140330227 |
| Gazipur | Konabari Branch | 140330948 |
| Habiganj | Nabiganj SME Branch | 140361096 |
| Jessore | Jessore Branch | 140410947 |
| Jhalakati | Jhalakati Branch | 140420311 |
| Khulna | Khulna Branch | 140472622 |
| Kishoreganj | Kishoreganj Branch | 140480672 |
| Kushtia | Kushtia Branch | 140500949 |
| Lakshmipur | Lakshmipur Branch | 140510739 |
| Moulvibazar | Moulvibazar Branch | 140581184 |
| Mymensingh | Mymensingh Branch | 140611759 |
| Naogaon | Naogaon Branch | 140641187 |
| Naogaon | Nazipur Branch | 140641240 |
| Naogaon | Niamatpur Branch | 140641279 |
| Naogaon | Sapahar Branch | 140641758 |
| Naogaon | Shishahat Branch | 140641895 |
| Narayanganj | Bhulta Branch | 140670224 |
| Narayanganj | Madanpur Branch | 140670974 |
| Narayanganj | Narayanganj Branch | 140671249 |
| Narsingdi | Velanagar Branch | 140681392 |
| Nilphamari | Nilphamari Branch | 140730735 |
| Noakhali | Amishapara SME Branch | 140750102 |
| Noakhali | Banglabazar Branch | 140750199 |
| Noakhali | Chowmuhani Branch | 140750678 |
| Noakhali | Maijdee Court Branch | 140751572 |
| Pabna | Pabna Branch | 140761788 |
| Panchagarh | Debiganj Branch | 140770195 |
| Patuakhali | Patuakhali Branch | 140781092 |
| Rajshahi | Rajshahi Branch | 140811933 |
| Rangamati | Rangamati Branch | 140840520 |
| Rangpur | Rangpur Branch | 140851456 |
| Shariatpur | Bhojeshwar Bazar Branch | 140860076 |
| Shariatpur | Damudya Branch | 140860197 |
| Sunamganj | Sunamganj Branch | 140901122 |
| Sylhet | Beanibazar Branch | 140910313 |
| Sylhet | Subidbazar Branch | 140913499 |
| Sylhet | Sylhet Branch | 140912508 |
| Tangail | Sakhipur Branch | 140932209 |
| Thakurgaon | Thakurgaon Branch | 140940970 |