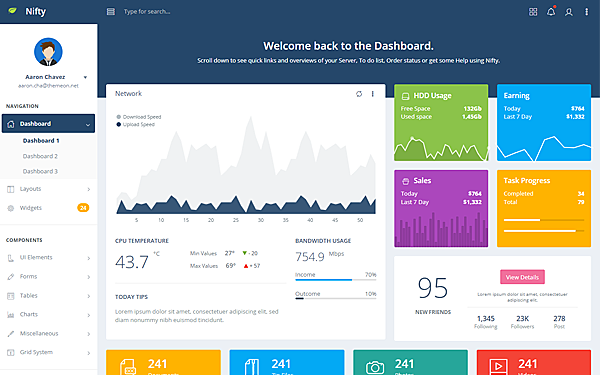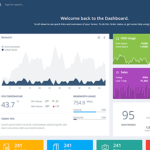 WordPress Admin Template Download
৳ 500.00
We Have 145 Premium Wordpress Admin Template:
A single template price is $6 (500TK) and all in one package are $24 (1999TK)
call or WhatsApp for details: +8801978569299
For all in one package select quantity 4, and order it
Description
WordPress Admin Template Download
You can choose from over 1000+ Admin and Dashboard templates on ThemeForest, created by our global community of independent designers and developers.
What are the Admin templates?
Admin templates are a set of web pages, built with HTML, CSS, and Javascript or any javascript libraries used to create the user interface of the backend of a web application. … These templates get you started as quickly as possible get your application ready in no time.
How do I use admin templates?
Choose what all components and widgets you need from the template into your admin panel. Get the code of that particular components and widgets into your HTML file. Customize the contents if needed. Make necessary changes in the code to integrate the admin panel with the back-end of the web application.
What is the admin dashboard template?
An admin template is an HTML, CSS, JavaScript template that is used to build the user interface for the admin side of a web application. They usually contain the HTML, CSS code for designs that you can use while building your admin dashboard.

We Have 145 Premium WordPress Admin Template:
A single template price is $6 (500TK) and all in one package are $25 (1999 TK)
call or WhatsApp for details: +8801978569299
For all in one package select quantity 4, and order it
ADMIN.IO – RESPONSIVE MATERIAL DESIGN DASHBOARD

FLATKIT | APP UI KIT

ADMINTO – ADMIN DASHBOARD TEMPLATE

ALPHA – MATERIAL DESIGN ADMIN TEMPLATE

INFINITY – RESPONSIVE WEB APP KIT

DECIMA – BOOTSTRAP 4 ANGULAR ADMIN TEMPLATE

HOUND – THE ULTIMATE MULTIPURPOSE ADMIN TEMPLATE

CHAIN RESPONSIVE BOOTSTRAP 3 ADMIN TEMPLATE

FRESHUI – PREMIUM WEB APP AND ADMIN TEMPLATE

ADMINBITE POWERFUL BOOTSTRAP 4 DASHBOARD TEMPLATE

BOXIFY – BOOTSTRAP 4 ADMIN DASHBOARD

SPACEX – BOOTSTRAP ADMIN TEMPLATE

MICRO OFFICE | HTML ADMIN TEMPLATE

STEXO – ADMIN & DASHBOARD TEMPLATE

FONIK – RESPONSIVE BOOTSTRAP 4 ADMIN DASHBOARD

ULTRA – MULTI PURPOSE ADMIN THEME

VIEN – ANGULAR ADMIN TEMPLATE

URORA – MATERIAL DESIGN ADMIN DASHBOARD TEMPLATE

KODE – RESPONSIVE ADMIN DASHBOARD TEMPLATE

GLEEK | POWERFUL BOOTSTRAP 4 ADMIN DASHBOARD TEMPLATE

PORTAL – ANGULAR, REACT & HTML MATERIAL ADMIN TEMPLATE

MEGASTACK – BOOTSTRAP 4 & ANGULAR JS ADMIN PANEL

NEAT – WEB APPLICATION KIT & ADMIN DASHBOARD TEMPLATE

UPLON – ADMIN & DASHBOARD TEMPLATE

MAKE – ADMIN TEMPLATE & BUILDER – HTML & ANGULARJS

ASIDE – DASHBOARD UI KIT

SIMPLEADMIN – MINIMAL ADMIN & DASHBOARD TEMPLATE

MOTIJOBS – HUMAN RESOURCES ADMIN TEMPLATE

MODERN – RESPONSIVE ADMIN DASHBOARD TEMPLATE

BOOTSTRAP 4 ADMIN TEMPLATE – AMUN

AMANDA RESPONSIVE BOOTSTRAP 4 ADMIN TEMPLATE

UADMIN – RESPONSIVE ADMIN DASHBOARD TEMPLATE

ABSTACK – ADMIN & DASHBOARD TEMPLATE

SPACE – RESPONSIVE ADMIN DASHBOARD TEMPLATE

SNOOPY – MULTIPURPOSE BOOTSTRAP ADMIN DASHBOARD

HELLO ADMIN TEMPLATE – DESKTOPS, TABLETS, MOBILES

BRUNETTE – RESPONSIVE BOOTSTRAP 4 ADMIN & POWERFUL UI KIT

PLAYKIT – WEB APP PSD TEMPLATE

SIMULOR – MINIMAL ADMIN & DASHBOARD TEMPLATE

CON – MATERIAL ADMIN DASHBOARD TEMPLATE

CRYPTOCURRENCY DASHBOARD ADMIN TEMPLATE – COINDASH

DASHFORGE – RESPONSIVE ADMIN DASHBOARD TEMPLATE

STACKED – BOOTSTRAP 4 ANGULAR ADMIN TEMPLATE

MINTOS – RESPONSIVE BOOTSTRAP 4 ADMIN DASHBOARD TEMPLATE

CODEBASE – BOOTSTRAP ADMIN TEMPLATE & LARAVEL KIT

ADMINK | BOOTSTRAP ADMIN TEMPLATE

DEEPOR – DATA ANALYTICS ADMIN DASHBOARD TEMPLATE

UPVEX – RESPONSIVE ADMIN & DASHBOARD TEMPLATE

ONE – REACT NEXT.JS & ANT DESIGN ADMIN TEMPLATE

AGROXA – MATERIAL DESIGN ADMIN & DASHBOARD TEMPLATE

LEXA – MVC5 ADMIN & DASHBOARD TEMPLATE

GOOFY – MULTIPURPOSE BOOTSTRAP ADMIN DASHBOARD

SCROOGE – RESPONSIVE ADMIN DASHBOARD TEMPLATE

METRICA – ADMIN & DASHBOARD TEMPLATE

XORIC – ADMIN & DASHBOARD TEMPLATE

ADMIRIA – ADMIN DASHBOARD & LANDING PAGE TEMPLATE

MATERIAL DESIGN ADMIN WITH ANGULARJS

PROUI – RESPONSIVE BOOTSTRAP ADMIN TEMPLATE

REACTOR – BOOTSTRAP ADMIN TEMPLATE

TRINITY – DASHBOARD HTML TEMPLATE

BRACKET RESPONSIVE BOOTSTRAP 4 ADMIN TEMPLATE

GREEVA – ADMIN & DASHBOARD TEMPLATE

ZAPILY – RESPONSIVE BOOTSTRAP ADMIN & POWERFUL UI KIT

CUBIC ADMIN – DASHBOARD + UI KIT FRAMEWORK

STARLIGHT RESPONSIVE BOOTSTRAP 4 ADMIN DASHBOARD TEMPLATE

ADMIN PRESS – THE ULTIMATE BOOTSTRAP 4 DASHBOARD

DROOPY – MULTIPURPOSE BOOTSTRAP ADMIN DASHBOARD

ADMIN PRESS ANGULAR 8 BOOTSTRAP DASHBOARD TEMPLATE

NUTFLIX – BOOTSTRAP ADMIN TEMPLATE

PAPER PANEL BOOTSTRAP 4 ADMIN DASHBOARD TEMPLATE

SLIM CLEAN & MODERN BOOTSTRAP 4 ADMIN & DASHBOARD

OPTIONS ADMIN – RESPONSIVE WEB APPLICATION UI KIT

DOODLE – MULTIPURPOSE ADMIN TEMPLATE

QUIRK BOOTSTRAP ADMIN TEMPLATE

ZEST: MULTI-CONCEPT REACT ADMIN TEMPLATE

MICRO OFFICE | INTRANET & EXTRANET HTML TEMPLATE

HEXZY – ADMIN & DASHBOARD TEMPLATE

DASHOR – ADMIN DASHBOARD TEMPLATE

XADMINO – ADMIN & DASHBOARD TEMPLATE

DRIXO – ADMIN & DASHBOARD TEMPLATE

CASSIE RESPONSIVE DASHBOARD AND ADMIN HTML5 TEMPLATE

GOGO – REACT ADMIN TEMPLATE

DORE JQUERY – BOOTSTRAP 4 ADMIN TEMPLATE

SHREYU – ADMIN DASHBOARD ANGULAR REACT VUE LARAVEL

MARVIN – BOOTSTRAP 4.4.1 ADMIN DASHBOARD TEMPLATE

ZOTER – RESPONSIVE ADMIN DASHBOARD TEMPLATE

SYNTRA – RESPONSIVE BOOTSTRAP 4 ADMIN DASHBOARD

FROGETOR – RESPONSIVE ADMIN DASHBOARD TEMPLATE

SLANT – MULTI PURPOSE ANGULARJS ADMIN WEB APP

ANNEX – ADMIN DASHBOARD TEMPLATE

ANNEX – MVC5 ADMIN & DASHBOARD TEMPLATE

FOXIO – RESPONSIVE ADMIN DASHBOARD TEMPLATE

PRIMER – REACT MATERIAL DESIGN ADMIN TEMPLATE

LIME – RESPONSIVE ADMIN DASHBOARD TEMPLATE

PIAF – VUE ADMIN TEMPLATE

STACKDASH – BOOTSTRAP 4 ADMIN DASHBOARD THEME

FLOWDASH – SAAS ADMIN DASHBOARD TEMPLATE

ONEUI VUE EDITION – VUEJS ADMIN DASHBOARD TEMPLATE

CROVEX – ADMIN & DASHBOARD TEMPLATE

WEBARCH – RESPONSIVE ADMIN DASHBOARD TEMPLATE

METEOR – RESPONSIVE ADMIN DASHBOARD TEMPLATE

KENNY – DASHBOARD / ADMIN SITE RESPONSIVE TEMPLATE

ADMINOX – ADMIN DASHBOARD & FRONTEND TEMPLATE

KATNISS RESPONSIVE BOOTSTRAP 4 ADMIN TEMPLATE

SHAMCEY METRO STYLE BOOTSTRAP 4 ADMIN TEMPLATE

ELMER – MULTIPURPOSE BOOTSTRAP ADMIN DASHBOARD

HIGHDMIN – ADMIN & DASHBOARD TEMPLATE

PRIMER – ANGULAR & REACT MATERIAL DESIGN ADMIN TEMPLATE

ZIRCOS – BOOTSTRAP 4 ADMIN & DASHBOARD TEMPLATE

GRANDIN – RESPONSIVE BOOTSTRAP ADMIN & POWERFUL UI KIT

DASHBOARD UI KIT | ADMIN TEMPLATE & UI FRAMEWORK

MILESTONE – BOOTSTRAP 4 DASHBOARD TEMPLATE

APPUI – WEB APP BOOTSTRAP ADMIN TEMPLATE

ADMINBITE POWERFUL ANGULAR 8 DASHBOARD TEMPLATE

DADMIN – RESPONSIVE BOOTSTRAP ADMIN DASHBOARD

MONTU – SOCIAL MUSIC SHARING PLATFORM PSD TEMPLATE

CRYPTUM – LUXURIOUS CRYPTOCURRENCY MATERIAL DESIGN

LARAUPLOAD – FILE SHARING PSD TEMPLATE

ADMINTRES – RESPONSIVE BOOTSTRAP ADMIN & POWERFUL UI KIT

SPLASHER – RESPONSIVE BOOTSTRAP ADMIN & POWERFUL UI KIT

JETSON – MULTIPURPOSE BOOTSTRAP ADMIN DASHBOARD TEMPLATE + UI KIT

ONE – ADMIN DASHBOARD UI KIT

BRACKET PLUS RESPONSIVE BOOTSTRAP 4 ADMIN DASHBOARD TEMPLATE

PANGONG – DEVELOPER-FRIENDLY BOOTSTRAP 4 ADMIN DASHBOARD + UI KIT

ZAWYA – BOOTSTRAP 4 & MATERIAL DESIGN ADMIN PANEL

GRIFFIN – DEVELOPER-FRIENDLY BOOTSTRAP 4 ADMIN DASHBOARD & UI KIT

ZEISS – CLEAN RESPONSIVE ADMIN TEMPLATE

NINJA – RESPONSIVE ADMIN DASHBOARD TEMPLATE

ADOMX – ADMIN DASHBOARD HTML TEMPLATE

ULE – DASHBOARD TEMPLATE FOR BOOTSTRAP

MATERIALART POWERFUL MATERIAL ADMIN TEMPLATE

ALLIANCE | INTRANET & EXTRANET WORDPRESS THEME

ZINZER – ADMIN DASHBOARD TEMPLATE

ADMIRIA – THE ULTIMATE ADMIN & DASHBOARD TEMPLATE

FOXIA – ADMIN & DASHBOARD TEMPLATE

LEXA – RESPONSIVE ADMIN & DASHBOARD TEMPLATE

LEXA – RESPONSIVE NODE.JS ADMIN & DASHBOARD TEMPLATE

CONCEPT – RESPONSIVE ADMIN DASHBOARD TEMPLATE

PHILBERT – MULTIPURPOSE BOOTSTRAP ADMIN DASHBOARD

FUZEN – BOOTSTRAP 4 ADMIN TEMPLATE + UI KIT

VELTRIX – MVC5 ADMIN & DASHBOARD TEMPLATE

VELTRIX – ADMIN & DASHBOARD TEMPLATE

DASHGRIN – BOOTSTRAP 4.4.1 RESPONSIVE ADMIN DASHBOARD TEMPLATE + UI KIT

LEMA – LEARNING MANAGEMENT SYSTEM ADMIN TEMPLATE

CONNECT – RESPONSIVE ADMIN DASHBOARD TEMPLATE
Other Related Post –
Google Advertisement Bangladesh | WordPress Email Templates | WordPress Advanced Custom Fields