What are API and its purpose?
API is an application programming interface. APIs used for a product or service rebranding with other products and services by the implementation as per its documentation. This can simplify by web development and show the data and book the product or service from the data. 
What is Flight API?

 
Flight API allows – you to search and book GDS, travel agents, airlines data, and seats because of this A user can book a flight by your website. And you can make money as a travel agent, corporate or individual by implementing this solution on your websites.
What is Hotel API? 
Hotel API allows – you to search and book a hotel from the online hotel data. These Hotel APIs manage rates, availability, and a variety of accommodations that allow you to offer clients with best options. Hotel Booking API is used for making hotel booking through websites All data is connected with availability, supplier, type, and functionality.
What is Travel API?
Travel API is connected with travel services like you can book travel inventory and deals from different travel suppliers, for this reason you will get GDS, travel agents flight APIs, airline APIs, and hotel APIs — all suppliers are connected with API. With these API a user can book a travel Inventory, Airlines Flights and Hotel Rooms. the whole compactions of systems called travel API.
What is bus reservation system API?
The Online Bus Reservation System may be a web-based application that works within a centralized network that facilitates visitors to see the seat availability, to buy a ticket and pay online, to cancel the ticket, and to form various sort of inquiries which needs a moment and quick response.
How do I get a travel API?
Here are some popular APIs that you can get those free or paid. Airlines never give a free API, because every API comes with a charge where airlines need to pay that charge. In the other hand, it's expensive, Travel Technology or solutions are included with API (flights, hotels, buses, trains, and points of interest). Travel Community or The individual Airlines technical team. All kinds of travel API implement support provide by
 zooIT (Travel Technology Company)
, Which is an authorized technical team of Sabre, Travelport, Amadeus.
 Airways Office, Travelzoo BD Ltd, GDS, Airlines, Hotels, and zooIT
 supports 
zooFamily – Online Travel Community
 to build this OTA software.
What is OTA Software? 
OTA means Online Travel Agency. In a short an OTA software helps you to connect with your all the travel agents, Airlines, GDS, hotel booking, and airlines flight. An OTA software is very expensive to build api because API is very expensive to create the api link And to implement an API need well knowledge "travel technology" team. To know zooFamily OTA Software and its demo, click here.
zooFamily Flight + Hotel Booking API Price is only 650$
GDS API Features And Integration: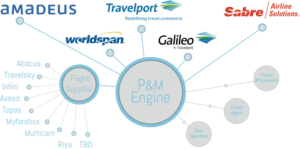 Global Distribution System is a global computerized booking network that is used as a single point of access for accommodating airplane seats, hotel rooms, car rentals and other travel products for travel agents, online booking websites, and major corporations.
GDS API Integration Details.
As a agency Bangladesh GDS API help your business to increase revenues while automating processes
Reducing the time

and energy 

required 

to finish 

an area 

booking.
Its purpose is to make the business easier with data and its programming.
GDS API help you to connect with all the airlines to book & buy a air tickets among the world.
The Use of a Global distribution system gives a growth over corporate and holiday travelers
GDS API Integration – Reliable And Most Trusted Global Distribution Systems are Travelport | Sabre | Amadeus
With the those GDS API integration, you can connect to clients and other service providers through various channels. Those 3  are the most popular GDS system which provides global distribution services for the travel industry with advanced computer reservation software, and web services XML. zooIT integrates with the world's leading GDS system include Galileo for bookings of airlines, hotels, car rental and holiday with the options of B2B and B2C along with admin module.We provide the best-integrated system to our customers by associating with a maximum number of inventories related to flight, car rental, hotels, transfers and vacation, through Galileo GDS system.The Galileo GDS travel software interconnects travel agents with hotel, car rental, airline and other service providers via a single platform.The software is linked to the database of these agencies and allows access to the travel agents to let them access information about seat, rates, availability and discounts.
Related post: Travel Technology & Solutions | OTA | GDS PCC | Amadeus Course | Sabre Course | Travelport Course
The Coding worked by Larvel Programming And we will 

implement one GDS only.
zooFamily -Online Travel Community organizer is Airways Office | Travelzoo BD Ltd | zoo Info-Tech | Travel News BD. zooFamily comfort zone to work with travel API. With our OTA software travel agents, corporates, and individual person can earn money with the aviation and travel industry.
Online Travel website Development | Travel Portal Development, Demo: www.demo.zoo.family