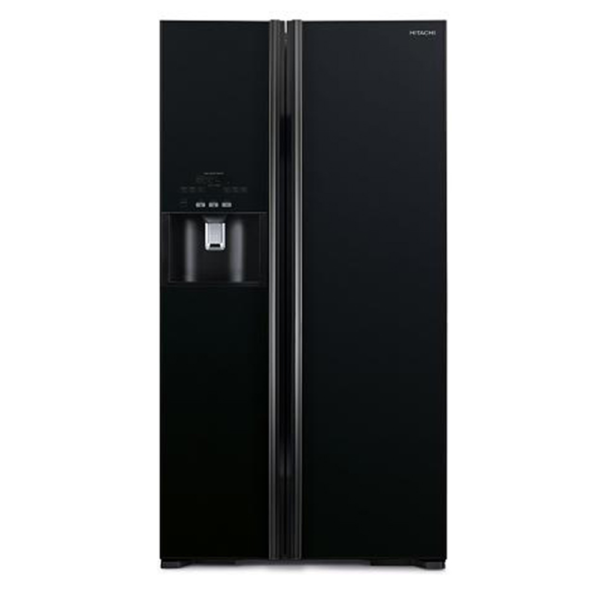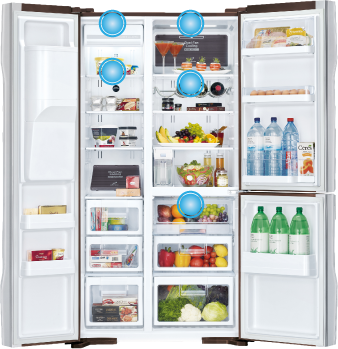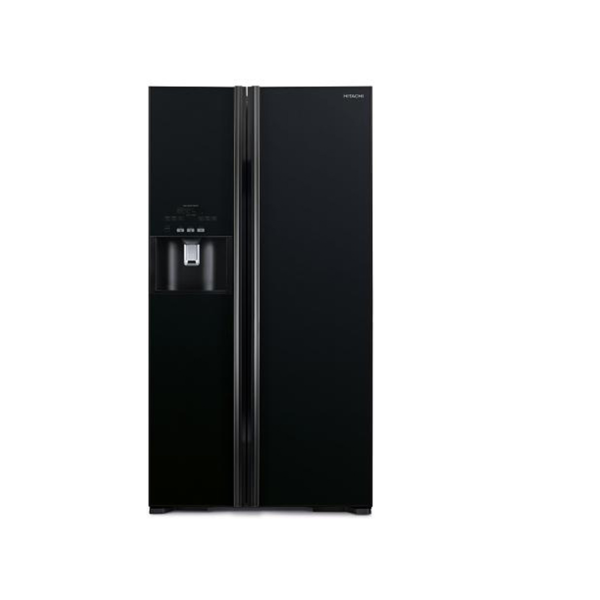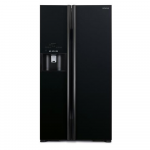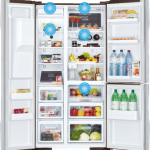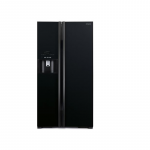 Hitachi Side by Side Refrigerator | R-S800GP2PB-GBK | 651 L
৳ 241,150.00
Eco Monitoring Sensor
Touch Screen Controller
Description
Inverter

x
Dual Fan Cooling
Innovative Technology for a Brighter Future.
Currently used in high-speed railway systems and the latest hybrid cars, Hitachi's inverter technology has always contributed to the development of society and provide a comfortable living environment. By automatically controlling the motor, this inverter technology of this new model fridge enables optimum operation with little-wasted energy, so it's also expected to play a vital role in reducing environmental impact.
In Hitachi's new cooling system, a combination of two innovative technologies— the Inverter compressor & Dual Fan Cooling — cools each of the compartments independently over a wide range, providing optimum cooling at all times.
Two dedicated fans independently cool each of the compartments. So according to conditions, chilled air can be delivered only to the refrigerator compartment, only to the freezer, or to both.
Tank Type Ice and Water Dispenser Makes Clean Ice

from Mineral Water

Enjoy clean ice and water anytime from

a tank water supply system

Just pour mineral or other water into the tank and ice is automatically made for you. The large-capacity tank holds a big 4 litres of cold water, and you can remove it for easier cleaning in this Brand new refrigerator.

No Plumbing Required

Because the unit does not need to be connected to a tap, no troublesome plumbing is required, and you can install it virtually anywhere.

Separate Compartment with Clean Technology for

Fresh Vegetables

Optimum Humidity of approx.90%*

Efficient, indirect cooling in each of the covered cases maintains high humidity at the optimum level of approx of this Non-Frost refrigerator. 90% to assure long-lasting freshness.

* Researched by Hitachi. Differs depending on the amount and type of vegetables.

Hitachi's Real Nanotechnology

The Nano-Titanium Filter of this latest model refrigerator features cutting-edge technology that uses minute particles of TiO2 catalyst to firmly catch bacteria and odours. Eliminates 99% of Bacteria*

Sample: Escherichia Coli bacteria, the cause of food poisoning

*Tested by Japan Food Research Laboratories

600a Eco-Friendly Refrigerant

Hitachi's inverter compressor uses the refrigerant R-600a. It's free of CFCs, so it has an ozone depletion potential of zero, and free of HFCs, so it also has an extremely low global warming potential 1/400 that of conventional refrigerants. The other good news is that as well as being eco-friendly, it provides high cooling

efficiency and helps to save energy.
Products specifications
Refrigerators Color
Glass Black
• Capacity
Gross: 651L

Net: 589L

Specifications

Refrigerator Compartment

Shelves – Tempered Glass (5)
Water Tank – Yes
Dairy Pocket – Yes
Wine (Bottle) Shelf – N/A
LED Light – Yes

Vegetable Compartment

Independent Veg. Compartment – N/A
MINUS-ZERO Cooling – N/A
Super Moisture Drawers – 2
2Way Humidity Controller – N/A
LED Light – Yes

Freezer Compartment

Super Clean Ice Dispenser – Yes
Twist Ice – N/A
Shelves – Tempered Glass(5)
Drawers – 3
LED Light – Yes

Control

Inverter Control – Yes
Electronic control – Yes
Eco Thermo Sensor – Yes
Intelligent Inverter Fan – Yes

Insulation

Vacuum Insulation Panel – N/A

Other Features

Power-Assisted Door (F/R) – N/A
Human Sensor – N/A
Touch Screen Controller – Yes
Door Alarm – Yes
Handle – Aluminum Bar

Dimensions

Dimensions

Width – 920
Height – 1,775
Depth (With handle) – 765
Depth(Without handle) – 720
Depth (Without door) – 600