Payment Gateway Integration with Source Code | Make A Payment Gateway Integration Company
We are a payment gateway making company zoo Info Tech. We provide you with all types of online payment gateway solutions from Bangladesh. Our developer team working with more than 10 years of experience in payment gateway integrations. With our payment gateway integration, you can do a trustworthy business on your business platform. When you have source code you can run your own payment gateway Integration Company.
So why do you give an extra percentage to another company?
Build your own payment gateway solution and do the business with freedom. In fact, you can do payment gateway business if you have the source code. For your better understanding, you may call or whats us: +8801978569299
Own payment gateway on your business:
Most of the business requires own payment gateway for security purpose. A company should not trust another 3rd party payment gateway company. So a business always wants to implement its own payment gateway. So we provide these solutions with source code for a business.
Collect payments online anytime, anywhere
Get paid instantly
All payment brands
Receive payments directly into your bank account
Instant payment notification
Customizable for your business
EMI facilities
World-class security
Go global with international transaction
with source code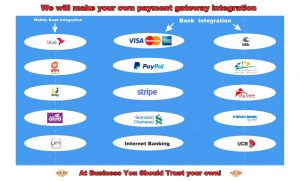 Accepting Payments or Paying online is easy with PortPos
Online payments are secure and use very high encryption. There are more than 2.5 billion transactions happening in the world right now as you read this. Compliance with online privacy and data security is standard across the globe.
Pay using a local or international Debit or Credit Card, You can pay using Mobile Wallet, You can pay using NetBanking.