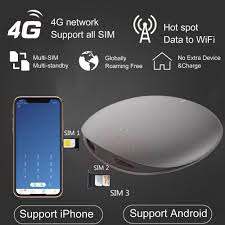 SIM Roaming Device iKos 3 Standby SIM Activate Online
৳ 11,000.00
About Shipment:
Orders are delivered within 7-15 working days. But the protection time is 60 days, and actually shipment time depends on the country of destination. You may have to wait up to 60 days to receive it. If you do not receive your item within 60days than we will refund you.
What is the processing time:
It takes 1 – 5 working days to process the orders. We can process the orders within 1 – 2 working days when supply is sufficient. We can process the orders within 3 – 5 working days when supply is short.
For tracking Visit: 17track
Our shipping partners are Singapore post (Most used), Correos, Posti-Finland, SPSR, DHL, FedEx and Direct Link. The average delivery time for standard packages is 15-45 days.
Description
Additional information
Reviews (0)
Description
SIM roaming device iKos 3 Standby SIM Activate Online
iKos SIMADD 3 SIM 3 Standby WiFi Router Box Support iOS8-12 and Android, No Need Carry, work with WiFi / Data to Make Call &SMS
This product can support 2SIM in it, so you can have
3SIM
card standby with your i Phone and Android
No roaming charges for travel abroad
​
Use scenes
1.If you have more than 1 SIM card, but you like to use I Phone, how can we do? this product can let you have max 3SIM online at the same time as your i Phone.
2. For travel abroad and business trips, you only need to put your SIM card at home, and then you can still make or

answer the calls, and there will be no roaming charges.
*Made for iOS and Android
*No need to carry, put it at home.
Put it anywhere you like, and it can make you dual SIM online
Work with iOS Phone and Android phone
The device connects to your home wifi and use the APP to Manage the cards inside the device.
Using a network to transmit voice and SMS
1. Put it with your SIM card at home, and you can still access your phone call or message.
2. Voice call and messages transfer through the internet to the App on your phone.
3. Plugin the power and use, that is all you need to do.
4. This is the best dual SIM adapter for your phones
5.No roaming fee when you travel to other countries.
6.Suitable for home or office.
9.Far more stable and secure than other products that use Bluetooth.
10. Use the internet to transfer the voice and message, stable and power saving.
MODEM Performance Indicators:
Types of the network: GSM
Network Band: GSM850MHz EGSM900MHz/DCS1800MHz/PCS1900MHz
Interface: RJ45 Ethernet, Power IN, SIM card slot.
SIM roaming device iKos 3 Standby SIM Activate Online. Before order call for details +8801978569291 (WhatsApp available)
OUR VALUABLE TRAVEL PROJECTS:
Additional information
| | |
| --- | --- |
| Max Speed | 444 |
| Control Channels | 3 Channels |
| State of Assembly | Ready-to-Go |
| Features | Solar |
| Model Number | iKos w3600 |
| Brand Name | orvibo |
| Scale | 1:8 |
| Gyro | None |
| Color | Black |
| Size | 98*98*18mm |
| Band | GSM(850mHz/900mHz/1800mHz/1900mHz |
| Interface | RJ45 Ethernet, Power IN,SIM card solt. |
| Language | 12 different language |
| App | iKos |
| Support | All iOS 9-12 devices and Android Phone |