WordPress AffiliateWP Plugin Download
AffiliateWP is an easy-to-use, reliable WordPress plugin that gives you the affiliate marketing tools you need to grow your business and make more money.
How do I create an affiliate program in WordPress?
Install the Plugin
Define Your Settings
Finish Setting Up Your Pages
Integrate with Your Other Plugins
Create Your Affiliate Links or Ads
Acquaint Yourself with the Dashboard and Start Paying
Can I use WordPress for affiliate marketing?
WordPress.com is a free hosting site, and it has a lot of good points, but it is not entirely suitable for affiliate marketing. According to WordPress.com itself, affiliate marketing blogs, which are blogs whose main purpose and objective are to drive traffic to affiliate products, are not allowed on WordPress.com.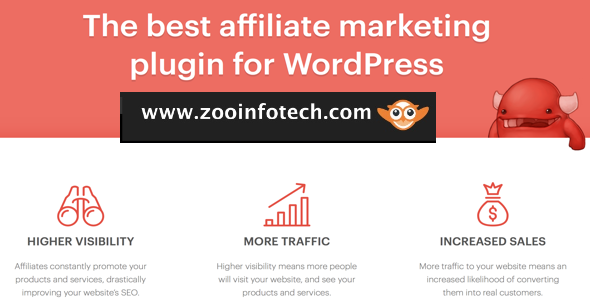 Top Features of Wprdpress Affiliatewp Plugins
Easy setup
Accurate affiliate tracking
Integrated Payouts Service
Real-time reporting
Complete integration
Unlimited affiliates
Unlimited creatives
Affiliate coupon tracking
Affiliate coupon tracking
Automatic affiliate creation
Manual affiliate approval
Affiliate Area
Referral link generator
Referral rate types
Easy affiliate registration
Affiliate URLs
Set cookie expiration
Simple shortcodes
Customizable emails
Export data to CSV
Payout Logs
Developer-friendly
REST API
WP-CLI integration
Performance-ready
Fully internationalized
Made for WordPress
World-class support
We Have 16 Premium WordPress AffiliateWP Plugin:
A single Plugin price is $5 (499TK) and all in one package are $20 (1699 TK)
Call or WhatsApp for details: +8801978569299
Here are the following WordPress AffiliateWP Plugins:
PAYPAL PAYOUTS 1.2.1
AFFILIATE DASHBOARD SHARING 1.1.6
TIERED AFFILIATE RATES 1.1.2
RECURRING REFERRALS 1.7.2
PUSHOVER NOTIFICATIONS 1.0.2
AFFILIATE FORMS FOR NINJA FORMS 1.1.12
SIGNUP REFERRALS 1.0.2
DIRECT LINK TRACKING 1.1.4
AFFILIATE LANDING PAGES 1.0.2
ZAPIER FOR AFFILIATEWP 1.1.2
REST API EXTENDED 1.0.4
CUSTOM AFFILIATE SLUGS 1.0.3
LIFETIME COMMISSIONS 1.4.3
2.5.3 WORDPRESS PLUGIN
MULTILEVEL AFFILIATES 1.9.3
AFFILIATE FORMS FOR GRAVITY FORMS 1.0.21
Other Related Post –
Google Advertisement Bangladesh | Admin Columns Pro WordPress | WordPress Advanced Custom Fields