How to pay for Services?
You may buy our service through cash payment, mobile banking, online banking, card payments or bank deposits. We accept all most all banks cards (EMI or loan facilities available for 3 – 6 – 9 – 12 – 18 – 24 months). Which means "buy a service now" and pay later.Your service payment deductible if any processing fee is not included. Usually bank pos and bKash charge 2% processing fee. You will receive an electronic receipt via e-mail after the transaction is completed and it depends on your payments terms.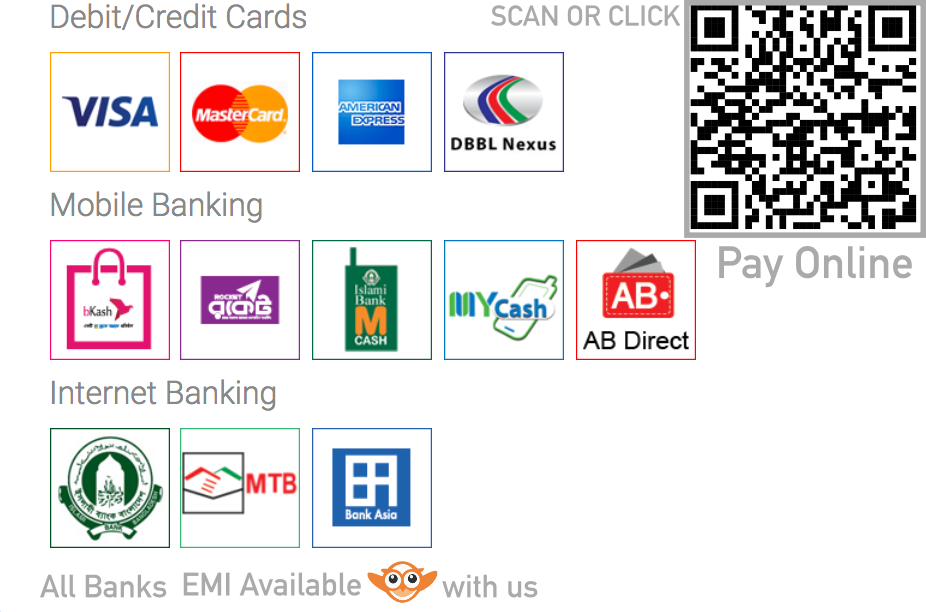 International clients choose your payment method as PayPal or Payoneer. (Email: zooinfotech@gmail.com)
Bank Asia
Satmosjid Branch , Travelzoo Bangladesh Ltd. 06933000394
Dutch Bangla Bank Ltd.
Dhanmondi Branch Travelzoo Bangladesh
110 110 19423
Brac Bank Ltd.
Corporate Branch Travelzoo Bangladesh Ltd. 1509203725564001
Social Islami Bank Ltd.
Travelzoo Bangladesh Ltd. 0211330010923
Southeast Bank
Travelzoo Bangladesh Ltd. 11100015178
NRBC Bank Ltd.
Zoo IT
011133300000466
Shimanto Bank LTD
Travelzoo Bangladesh Ltd 1001271000308
Bkash Merchant Account
01618181313
Eastern Bank LTD
Travelzoo Bangladesh Ltd 1081070135400
City Bank
Travelzoo Bangladesh
1421970546001
Standard Chartered
Muhammad Luthfe-Ali 018125910101
National Bank Ltd
zooIT
1132002294771
City Bank
Zoo IT Dhanmondi Branch 1502512303001
NRBC Bank
Zoo IT 011133300000466
Standard Chartered
zoo IT (Information Technology)
02-1249660-01
National Bank Ltd
Zoo IT Dhanmondi Branch 1132002294771
UCB
zooIT Dhanmondi Branch
0112496542
IFIC Bank
Zoo IT Dhanmondi Branch 0170257650001