Bose SoundTouch 300: Read this before purchase
If you don't have much space, one of the best options is to install a soundbar under your TV. The Bose SoundTouch 300 does its job perfectly well without the help of any additional speakers and provides an excellent listening experience. This is just one of the reasons it is often one of the lists of best soundbars just as shown on AudioReputation.
One of the features that put the Bosse SoundTouch 300 shoulder to shoulder with other soundbars in this price range is the Bluetooth connection and the NFC connectivity option. The supporting Bose SoundTouch app gives you an option to stream music from sone of the most popular music streaming services. Besides the app which will become one of your favorite ones for streaming music, there is a remote for the soundbar with well-positioned control buttons, compact construction, and ergonomic design. 
When it comes to the design quality Bose knew that it just isn't enough to pack some wireless speakers into a bar and make them fit under your TV. Instead they did their best to design a product which will be at the top of its class.
They also implemented several different technologies like the PhaseGuide array or Quiet port technology, just as the ADAPTiQ calibration feature. Each of the functions in a manner to provide excellent listening experience and the amazing feeling of surround sound audio.  
There is a 3.5mm jack if you want to connect a subwoofer. This is optional, and there are also optical and HDMI ports. What we like about the HDMI is that it supports 4k pass-through which means your Blu-ray will work at its full capacity.
Additionally, just like most other popular brands did, the Bose SoundTouch 300 supports Amazon Alexa. So, if you want, you can use this soundbar hands-free to access your favorite music, all you need is a device like Amazon Echo Dot.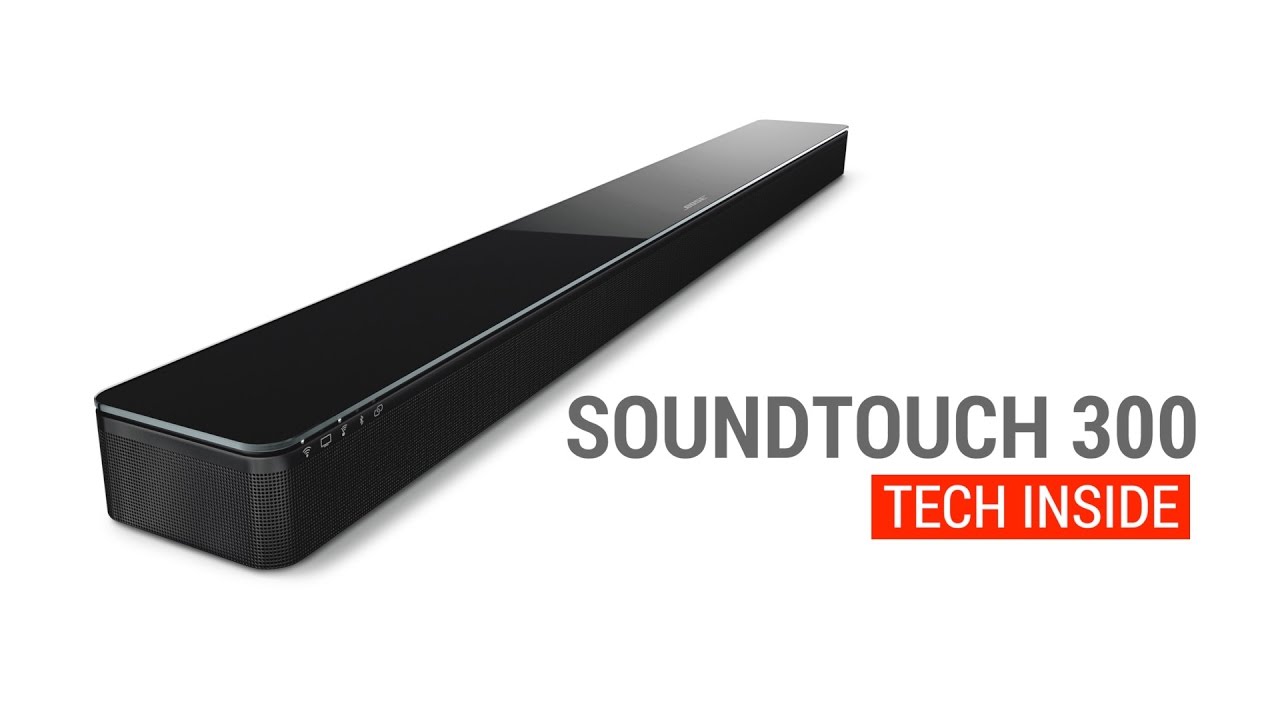 Design and Build Quality
When it comes to design the Bose SoundTouch 300 is a winner for sure. The sleek design of the SoundTouch 300 will make it blend nicely under your TV. There is also an option to mount it on the wall using a WB-300 bracket if needed. We especially liked the glass top and the perforated metal grille which makes it stand out from the competition. There are no commands or display on it, but there are some small LEDs on the left which show the status of the soundbar.
Sound Quality
When connected via the HDMI you will see that the Bose SoundTouch 300 has no problems filling in the room with crisp and clear audio. It simply sounds expensive. If you like watching movies or listening to your favorite songs a bit louder, this soundbar won't have any problems delivering quality sound at higher volumes. 
The bass is powerful but it sometimes lacks the deep which can be easily fixed with a wireless subwoofer like the Acoustimass 300.
The voices are clear and precise and they are not affected by the sound effects in the background. 
Verdict
We can say the Bose SoundTouch 300 is a pretty good soundbar which delivers great sound, it supports the most popular streaming services and Alexa, plus there is this awesome app which makes it very easy to use. The bass could be better and you can easily fix this with an additional subwoofer, but it will affect the price which is already a bit higher.
One of the main disadvantages we have to mention is definitely the lack of DTS:X and Dolby Atmos support which may make you think twice before you buy it.