Don't enforce strike by holding people hostage: Nasim
Awami League (AL) Presidium Member and central 14-party alliance spokesman Mohammed Nasim on Tuesday urged the transport owners and workers not to enforce strike on roads by holding the country's people hostage.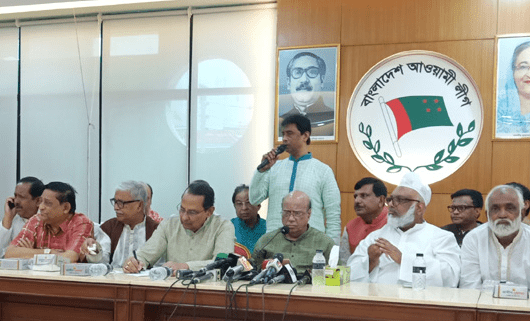 "We need to bring discipline on our roads. I urge the countrymen to comply with the new road transport act. And I am requesting the transport owners and workers not to hold the people hostage by calling strike." he said.
Nasim made the call at a press conference following a meeting of the 14-party alliances at the central office of Awami League in Dhaka's Bangabandhu Avenue.
He said if the transport owners as well as workers want to talk about the road transport act then they can sit at the table to resolve the problem, adding: "We do not support strikes."
Commenting on the conspiracy over the increase in the price of rice after onion, Nasim said there is an evil force which is doing politics capitalizing on the hunger of the people. Everyone knows about this evil force, he added.
About BNP-Jamaat, he said they always hatch conspiracy against the Awami League government.
He urged the concerned ministries, including the ministries of commerce, agriculture and food to stay alert so that the conspirators could not raise the prices of essential goods in future.
After the onion price hike, Prime Minister Sheikh Hasina made announcement of importing onion from abroad and subsequently, it was seen that the price of onion started to go down, he said.
For More Details Click Here