Eastern Bank Limited Head Office In Dhaka Bangladesh
Most valuable financial banking service in Bangladesh, Eastern Bank Limited started its journey at 1992. The bank of choice in Bangladeshi people, Eastern Bank Limited is operating its service with the visions. Now EBL's goal is to be the number one financial banking services provider. More about Eastern Bank Limited Head Office In Dhaka Bangladesh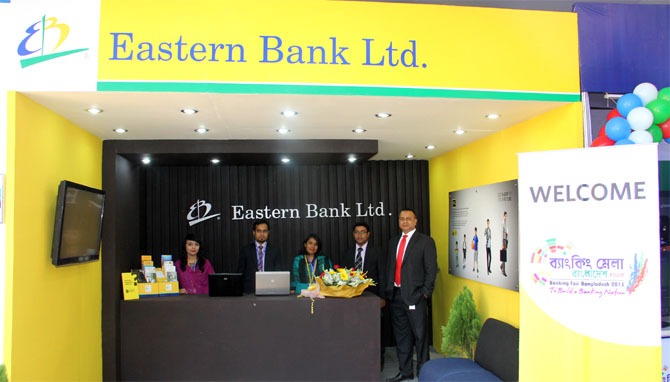 Since the years EBL is one of the leading private Commercial Banks in the country with undoubted leadership in Business Banking and a strong End user and SME growth appliances. The bank launched products and services in Retail Banking, asset management, equity brokerage and security. The bank share is enumerated in Dhaka Stock exchange and Chittagong Stock exchange.
There are above 75 Branch in 22 districts situated in Bangladesh and 190 ATM booths of EBL placed in 23 districts. The headquarters of Eastern Bank Limited situated in Dilkusha Commercial Area the capital of Bangladesh.
Eastern Bank Limited is working with the ambition is to be a commercial service provider, generating lasting for its customer, investors, employee and above all for the community.
Details Information:
Registered Name
Eastern Bank Limited
Legal Status
Public Limited Company
Logo
 
Established
1992
Type
Private Bank
Category
Commercial Bank
Origin
Local Bank
Code
095
Stock Code
EBL – DSE CSE
Services
§  Consumer Banking

§  Corporate Banking

§  SME Banking

§  Green Banking

§  Student Banking

§  Deposits

§  Loans

Corporate Address
Jiban Bima Bhaban, 10 Dilkusha Commercial Area, Dhaka 1000, Bangladesh.
Telephone
+880 2 9556360
Fax
+880 2 9562364
E-mail Address
[email protected]
Website
www.ebl.com.bd
SWIFT Code
EBLDBDDH
Service Hours
Sunday: 10:00 am – 4:00 pm
Monday: 10:00 am – 4:00 pm
Tuesday: 10:00 am – 4:00 pm
Wednesday: 10:00 am – 4:00 pm
Thursday: 10:00 am – 4:00 pm
Friday: Closed
Saturday: Closed