The Farmers Bank Limited Head Office  In Dhaka Bangladesh
The Farmers Bank Limited which is emerged as a fourth generation commercial Bank to meets up in Bangladesh and provides efficient banking service in our country. The Farmers bank Limited established on 2013 as public Limited Commercial Bank. The Bank started its operation on June 3, 2013.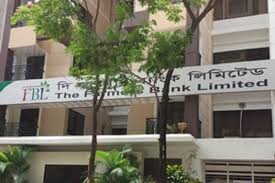 The Bank contributes a socio-economic development of the country and draws a proficient banking service to the all categories of customers. The bank is focusing on considerate and predicting customer needs.
The directors and supporters of the bank are well-regarded and renowned personalities form the empire of commerce and businesses of the country.
Now there are total 34 branches in Bangladesh all over 14 districts and 3 ATM booths in Dhaka and Chandpur districts in our country. The main corporate address of this bank is Gulshan Avenue , the capital of Bangladesh.
From the journey, The Farmers bank Limited is being assigned by a highly specialized and dedicated team with extensive knowledge in Banking.
Details Information:
Registered Name
The Farmers Bank Limited
Legal Status
Public Limited Company
Logo
 
Established
2013
Type
Private Bank
Category
Commercial Bank
Origin
Local Bank
Code
280
Services
§  Corporate Banking

§  Institutional Banking

§  Retail Banking

§  Deposits

§  Loans

Corporate Address
Jabber Tower, 42 Gulshan Avenue, Circle 1, Gulshan, Dhaka 1212, Bangladesh.
Telephone
+880 2 9850627, 9886035, 9858066-70
Fax
+880 2 9850626
E-mail Address
[email protected]
Website
www.farmersbankbd.com
SWIFT Code
FRMSBDDH
Service Hours
Sunday: 10:00 am – 4:00 pm
Monday: 10:00 am – 4:00 pm
Tuesday: 10:00 am – 4:00 pm
Wednesday: 10:00 am – 4:00 pm
Thursday: 10:00 am – 4:00 pm
Friday: Closed
Saturday: Closed