Step-By-Step Guide to International Shipping in 2020
There is no denying that the world is becoming more globalized with each passing year. Goods and people are being moved around the globe at unprecedented rates. As the costs associated with international shipping drop, more and more businesses are looking to expand to different markets.
In fact, for many small and medium-sized businesses, the best option to continue growing the company is to extend into overseas markets. Despite the fact that there is significant profit to be made, many firms are apprehensive about expanding due to worries regarding costs, logistics, and customs. This is understandable, especially as a smaller business that is new to global markets.
Therefore, to help you grow your business this year and expand your customer reach, keep reading for your step-by-step guide to international shipping in 2020.
1. Research your target destination.
The first step in planning your international shipping is to decide where you want to ship. Many businesses opt to ease into international shipping by choosing countries that are neighbors or are close in proximity, as this can make things slightly easier. However, there are many more opportunities than those that are right at your back door. Therefore, it is worthwhile to take the time to investigate both potential markets for your goods and trade agreements.
By choosing a destination country that has free trade agreements with your origin country, you are more likely to have lower duty rates and a more straightforward customs clearance process. That being said, it isn't a problem if you choose a country that doesn't have agreements with your country; it may just mean slightly longer and more complicated processes.
Additionally, you want to research how long it will take your shipments to arrive in particular destinations, as this will impact the costs. In most cases, the sooner you need a shipment to be delivered, the more expensive the shipping process will be. However, by working with an experienced freight forwarder, you can be assured that you will be presented with all your options, enabling you to select the right one for your company.
2. Understand the logistics of international shipping.
No matter what you are sending internationally, your goods are generally going to move through the same steps before arriving at their intended destination. Before being loaded onto air or ocean freight, the products will first move through export customs clearance. At this point, the required documents are presented to authorities who ensure that the shipment that is leaving the country meets regulatory requirements.
As the export customs clearance must be completed correctly prior to the cargo leaving the country of origin, it is generally recommended that a freight forwarder with a valid license performs it.
Then, upon arrival in the destination country, the goods will be subjected to import customs clearance. Again, this is a convention when the appropriate documents are submitted, certifying that shipments are allowed and notifying authorities of any customs duties that need to be levied.
3. Organize your paperwork.
The above documentation steps occur for every shipment, which is why it is essential that you prepare your required customs documents prior to beginning the shipping process of your goods. Usually, all international shipments require a Commercial Invoice, as it provides customs authorities with necessary information (such as duties and taxes), as well as any relevant controls. As this document needs to be as specific as possible, it is imperative that you know exactly what you are shipping.
Unfortunately,if your Commercial Invoice is not descriptive enough, then it is likely to be held up at customs, which is a surefire way of encountering delays and increased shipping costs. Additionally, most international shipments will also be required to provide a Pro Forma Invoice, Certificate of Origin, and Packing List.
That being said, you can expect shipments to have different required customs documents. The requirements will differ depending on where the goods originated from, where they are heading, and what the products being exported are. This can be confusing to most businesses, especially if you are starting to ship to a new destination. Therefore, it is highly recommended that you work with an international freight forwarder who can assist you in obtaining and filling out the correct documentation.
Unfortunately, if you don't submit the appropriate documentation in a timely manner, your goods will not be able to successfully clear customs.
4. Obtain a shipping freight quote.
Once you know what you are shipping, where you are shipping to, and the timeframe in which it needs to be delivered, you can then start looking for a shipping freight quote. Obtaining an accurate freight quote requires you to know a variety of information, including your shipment's size and the weight of your goods. The more specific the figures you provide, the more reliable your freight quote will be.
Take the time to look around at potential shipping partners and ask for recommendations from others in your network. The company you choose as your shipping partner is going to play a significant role in how efficient and straightforward the process is, as well as how safe your freight is; therefore, it is in your best interest to find a high-quality freight forwarder.
Generally, companies like to work with online freight forwarders as they provide a one-stop-shop platform that enables you to manage your shipments from beginning to end. For example, with an online freight forwarder, you can quickly receive an accurate shipping freight quote, schedule your shipment, and track it as it moves across the world – all in a couple of clicks. This type of provider is ideal for companies looking for reliable and efficient shipping processes.
What's more, the right online freight forwarder will also be able to help you with documentation and advise you on the appropriate freight routes for your shipments. In other words, by opting to work with them, you will find that it has never been easier to expand into global shipping.
Is your company considering starting international shipping this year? Why or why not? What part of the process is the most intimidating to you? Let us know your thoughts and questions in the comments below!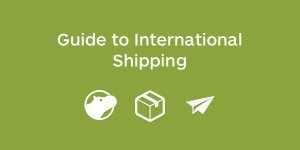 AUTHOR BIO
As Chief Product Officer for Shipa Freight, Paul Rehmet is responsible for translating the vision of Shipa Freight into an easy-to-use online freight platform for our customers. Formerly Vice President of Digital Marketing for Agility, Paul managed Agility's website, mobile apps, content marketing, and online advertising campaigns. In his 25-year career, Paul has held various technology leadership positions with early-stage startups and Fortune 500 companies including Unisys, Destiny Web Solutions, and US Airways. Paul has a Masters in Software Engineering from Carnegie Mellon University and a Bachelor of Computer Science from Brown University. Paul is based in Philadelphia.