A Low-Cost Carrier is an airline that does not charge for normal services, allowing it to provide lower rates but sacrificing amenities. Low-cost airlines, often known as budget airlines or low-cost carriers, offer less expensive tickets and less amenities than full-service airlines. This usually means that baggage costs, as well as food and beverages offered by other, more expensive carriers, are not included. Depending on the service provider, several services are provided. As a result, a larger number of people may now travel to more places, more frequently and for less money than before. However, in the process, they have caused plenty of social and economic issues.
Low-cost carrier (LCC) is one of the most exciting and dynamic developments in contemporary commercial aviation history, but they are also one of the most contentious. Flight patterns, operating procedures and passenger experiences have all changed as a result of Low-cost carriers. Low-cost carrier originated as a direct result of airline deregulation and liberalization policies that began in the late 1970s in the United States and moved to other European, Australasian, Latin American, and other world markets in the mid-1990s in order to promote competition. This type of carrier has played a critical part in aviation's extraordinary expansion over the last quarter-century and they will continue to do so in the future. Low-cost airlines operate at a lower cost than standard airlines.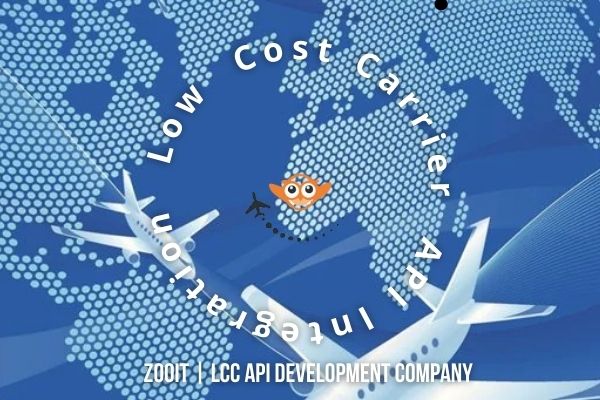 Low-Cost Carriers have played a critical part in aviation's extraordinary expansion over the last quarter-century, and they will continue to do so in the future. Passengers benefit from lower ticket prices. However, these airlines compensate for their losses by collecting additional fees for meals, priority boarding, seat assignment and baggage.
Low-cost carrier charge extra for items such as in-flight refreshments, carry-on luggage and pre-flight seat selection etc. As a response to budget carriers' low base fare, many full-service airlines have launched basic economy.
Since the introduction of basic economy, these full-service carriers have been able to compete with low-cost carriers by offering comparable cheap rates.
Low Cost Carrier API Integrations
We have a dedicated staff of skilled developers who are well-versed in API usage and integration. We've used a variety of travel and hotel APIs, payment gateway APIs and social network APIs. zooIT creates platforms and solutions that enable organizations to take advantage of the Internet's vast potential.
zooIT began as a travel-oriented company. This company's headquarter is in Dhaka. With a team of over 20 experts with backgrounds in travel and hospitality, software development, cloud-based services, web technology etc.  zooIT has established itself as a market share leader in the travel industry. This company has done it when it comes to providing solutions for building and sustaining online booking businesses. zooIT is now one of the travel industry's fastest-growing online ticketing services.
When it comes to travel services, we are far ahead of the competition. We have a lengthy history of integrating Low Cost Carriers (LCCs) into airline booking engines for different clients in Dhaka.
Related Post: Sabre | Travelport | Amadeus