Travel technology refers to the use of technology to organize flight trips. It helps travel agents book trips, airline tickets, hotel rooms, car rentals and a range of other travel-related services on behalf of their customers. Consumers can book online without using a travel agent, while travel companies can use technology to automate bookings, payments, and back-office processes. Travel technology is the application of IT and e-commerce technologies in tourism, travel, and hospitality with the purpose of automating travel, saving time and money. Thus, it provides clients with a pleasant travel experience before, during and after their journey. Travel API is a set of web APIs that let you access travel deals from a number of different travel consolidators. With a travel API, you can get rich content, extensive explanations and trip savings such as hotel API, car API, aircraft API, transfer API etc.
The Benefits of Using a Travel API in Travel Business
Flexible travel search of Hotels, Flights, Tours, and Transfers in one platform
In one platform, one can book hotels, flights, tours and transfers at a fast speed
Allow Third-Party Integration
Real-Time System
Maximize Travel Bookings
Lower operational costs
Increase product markup for end-users
Get paid directly by customers
Find the best online travel portal to increase income
Robust and Reliable
Convenient Dashboard
We provide practical Travel Booking API solutions that increase your website's usability. However, we have some fresh ideas to help you increase the number of clients in your company. Moreover, our Travel Booking API allows you to incorporate  inventory from third-party wholesalers into your website's booking engine. As a result, customers who search for flights on your site will not be diverted to another site, and you will get paid.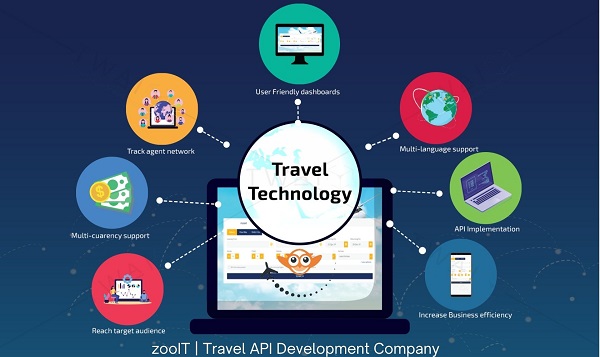 zooIT is a popular travel portal development and technology company. Moreover, zooIT provides API integration services for travel APIs. Above all, we have a team of developers dedicated completely for API consumption and integration. For flight API integration, we integrate Amadues GDS, Sabre GDS, Galileo GDS, Travelport UAPI, Abacus, Wordspan, Mystifly, Carsolize, and Travefusion.
The travel portals and apps that use our API are also suitable with a variety of devices and form factors because they use the latest responsive technology to automatically modify the display layout to match the device's envelope. Moreover, our Flight Booking can help your organization gain income by automating processes and lowering the time and effort necessary to complete an airline reservation. In addition, the zooIT Flight API will help your company to grow by automating operations and reducing the time and effort required to complete an airline ticket booking.
For the needed flight content, such as availability, pricing, reservation, and confirmation, zooIT provides Online Air Ticket Booking services. This company has vast experience implementing the most appropriate API for your business. It gathers relevant data from a variety of sources to help you strike the greatest bargains with your customers. It plays a critical role in shaping your travel business, from lowering operating costs to maintaining your company's identity.
Related Post: Sabre | Travelport | Amadeus