Rupali Bank Limited Head Office Address And Location In Dhaka
Rupali Bank Limited was created with the mixture of three corporate banks. Before the Liberation War Muslim Commercial Bank Limited, Australasia Bank Limited and Standard Bank Limited operated in then Pakistan. On March 26, 1972 under the Bangladesh Banks Nationalization Order 1972, with every one of their advantages, benefits, rights, powers, specialists, benefits, liabilities, borrowings and commitments. Rupali Bank filled in as a nationalized business bank till December 13, 1986.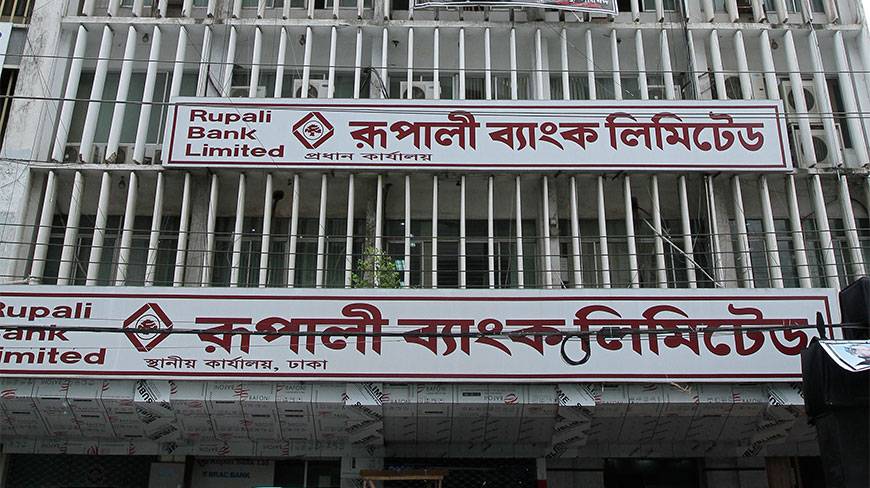 There are 570 branches of Rupali Bank Limited situated in all over the Bangladesh. Rupali Bank Ltd. rose as the biggest Public Limited Banking Company of the nation on December 14, 1986. The vision of the bank is to extend our dependable client base by being known as the money related accomplice of decision that always surpasses client desires.
Details Information:
Registered Name
Rupali Bank Limited
Legal Status
Public Limited Company
Logo
 
Established
1986
Type
Public Bank
Category
Commercial Bank
Origin
Local Bank
Code
185
Stock Code
RUPALIBANK – DSE CSE
Services
§  Deposits

§  Monthly Profit Schemes

§  Monthly Earning Schemes

§  Monthly Savings Schemes

§  Students' Savings Account

§  ATM Services

§  Utility Services

Corporate Address
Rupali Bhaban, 34 Dilkusha Commercial Area, Dhaka 1000, Bangladesh.
Telephone
+880 2 9551624-25, 9551525, 9552184
Fax
+880 2 9564148, 9552671
E-mail Address
[email protected]
Website
www.rupalibank.org
SWIFT Code
RUPBBDDH
Service Hours
Sunday: 10:00 am – 4:00 pm
Monday: 10:00 am – 4:00 pm
Tuesday: 10:00 am – 4:00 pm
Wednesday: 10:00 am – 4:00 pm
Thursday: 10:00 am – 4:00 pm
Friday: Closed
Saturday: Closed
Get All Banks information here