Top 10 Resorts in Gazipur , Dhaka
There are many top resort in Gazipur Dhaka, Bangladesh,The number one is in gazipur Bhawal Resort & Spa embracing a rich green landscape surrounded by exotic natural rain forest is just an hour drive from the capital city-Dhaka, is the perfect place to rediscover oneself in the idyllic bliss of scenic natural beauty away from the hustle and bustle of the city life.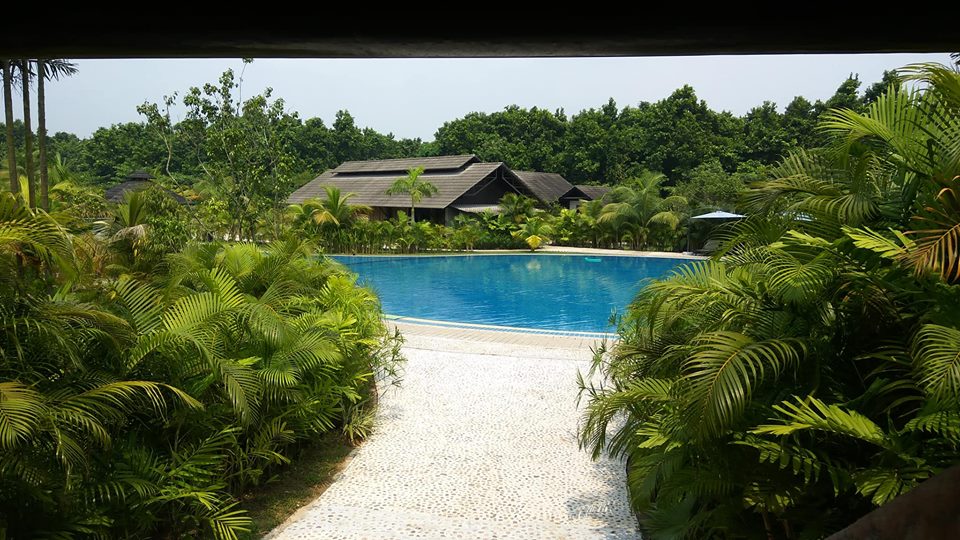 Factories have disfigured the fields, the cities have become congested and polluted and the future of our nation is now imprisoned in small cells called classrooms and apartments. People become weary by living a monogamy life in this concrete Dhaka. To extricate people from the humdrum and monotony of the busy urban life, numbers of resorts has been build in Gazipur and people are getting very much fond to take visit in those resorts as touch of green will make life relaxed in natural serenity.
Nokkhottrobari resort
Nokkhottrobari Resort is one of the most beautiful resort in Gazipur far away from the noise and worries of the gray and lifeless city limits. It is the most popular name to the nature and travel lover as here people can live with nature. It delivers with relaxation and ease, while providing fun and happenings for all members of the family. The resort is situated in Chinashukhania village of  Rajabari Bazaar, Rajendrapur.
Nokkhottrobari is a fantasy project of Popular Actor, Film Director and Architect Mr. Tauquir Ahmed and his wife Actress, Dramatist and painter Mrs. Bipasha Hayat who think to make a resort featuring all facilities to nature lover on 14 bighas of land. Nokkhottrobari set it journey on December 16, 2011.The main feature of this resort is its 11 cottages called Water Bungalows on a pond which made of wood and bamboo. It has the facility to enjoy the full moon night staying  in the balcony. It has facility to take a boat ride, listen to the sound of the water, watch the fishes at play or even try hand at fishing.
The amalgamation of Crickets, Frog digit with the fireflies frolicking creates a special atmosphere in night.
The resort have the arrangement of Bangla, Chinise, Indian, Thie and continental food. Around 40 officers and employee are doing their duties all the time round.
The tarif for the cottages which build on the pond are taking 10,752 taka for 24 hours.  The costing for couplebed in cottage building is 8,222 taka and two-in bed 6958 taka. Entry charge is 500 taka for visitors.
How to get there: From Gazipur Chourasta, drive straightforward to Mymensingh Road and take a right turn to Kapasia through Rajendrapur Cantonment. From there, drive 5km towards Rajabari Bazaar and there, take a right turn from Agrani Bank and drive 1.5km to Nokkhottrobari Resort and Conference Center.
Contact information: Nokkhottrobari Ltd, House: 452 (Ground Floor), Road: 31, Mohakhali New DOHS, Dhaka 1206, Phone: +88  01195356165 , +88 01190 980214, Email: [email protected], [email protected], Web: http://www.nokkhottrobari.com.bd/
Chuti resort & picnic spot
Chuti resort & picnic spot is eco friendly place where tourist can get diverse taste. The resort provides authentic & distinctive travel experiences to the distinguish holiday hunters. The resort is located at Sukundi Village in the Eastern side of Gazipur Sadar; just 3 Km away from the world famous Bhawal Rajbari/Gazipur Court Premises.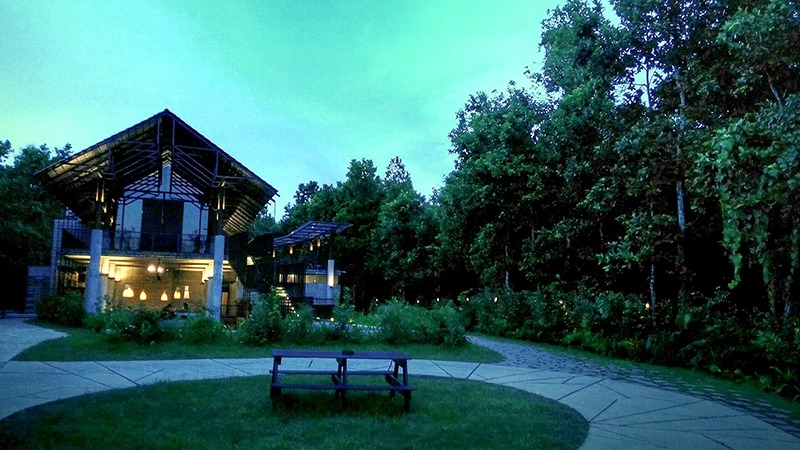 Chuti is ready with luxuries cottage, eco cottage, tent house, thatch house,  study cottage, bird house, two play grounds, kids' zone, and beautiful lake with swimming, fishing, boating facility, restaurant, organic foods, fruits, traditional pitha, reserved forest, horse riding and many more to entertain the guests. Here has a arrangement of boat journey. People can enjoy the Birds clamor, Crickets outcry, Foxes cry, Firefly procession  in evening and night.
In full moon, the authority keep the light switched off to give visitors the original test of night. To enjoy the full moon and rain, this resort is one of the beautiful one. They offer seasonal fruit to the visitors without any cost.
This resort was established on 54 acres of land which is surrounded by beautiful lake & reserved forest.
Tourists have to pay 3,000-10,000 taka for cottage per day. The tarif for conference room is 20,000-50,000 taka where 90,000 taka for picnic.
How to go: At first you have to reach Gazipur Chowrasta then you have to go infront of DC office (Rajbari) by own transport or passernger bus. From that place, you have to move 3 kilometers in Amtoli bazaar and then turn north and you would find Chuti restaruent.
Angana is a Bengali word used to describe a very beautiful woman but the resort authority take this name for this resort as it is a dalliance land of amazing natural beauty. The owner of this resort is Sayed Ali Murad, the brother of popular singer of sob-continent Runa Layla who build this resort on 18 acres of land in Surjo Narayanpur village of Kapasia, Gazipur in 2014.This resort is encircled with the red hill of Bawal pargan which is spread out over an area of eight acres that have been fully secured with high perimeter walls for privacy and security. The entire area is under constant surveillance by closed circuit TV's and security guards.
Angana attempts to blend the bounties of nature with creature comforts, without encroaching upon the wonders of God's creation. Located in the tranquil settings of village Surjonarayanur in Kapashia, Gazipur, it is just an hour away from Dhaka International Airport.
It provides landscaped gardens; ponds and gazebos; picnic facilities for 500+ persons, with full catering and fun activities for children like a playground, pony rides and boating, Meetings, training, workshops and brainstorming sessions can also be ideally conducted here with provisions for overnight stay. It offers seventeen tastefully decorated, fully furnished and air-conditioned bedrooms, with attached modern bathrooms that can be used for overnight/weekend stays. A swimming pool, a badminton court and a deer park have been added to make it more of an enjoyable experience for you.
The fare for each room is five thousand taka per day. They also take 70,000-85,000 taka for picnic and other programme.
Contact address: Surjonarayanpur, Kapasia Pabur Daibari Rd, Gazipur,  Phone : +88 01711 182626, +88 01711 527373, Web : www.anganaresort.com
Shohag palli park & resort
Shohag palli is one of the best picnic spot and resort in Bangladesh which established on 10 acres of green enclosed land along with lash green grass, plants and various trees of seasonal fruits, colourfull tropical flowers and the flora.
Its main attraction is a hanging bridge on the pool. The pool remains replete with water all round the year. You could find various species of fish in the lake. Shohag Palli has a large beautiful Restaurant named "Hotel Mejban" to accommodate 150 people. All kind of Bangla Food, Indian Food, Thai Food and the China foods are also easily available here.
There are some higher standard cottages which were built in such a way as it seems as well orchestrated village of Rome where the lake flows through the front of cottages. About 40 employees remains ready to serve visitors all the day round.
Shohag Palli has Conference Hall, Executive Board Meeting room and mini Conference Hall with all modern facilities. The Conference Hall has been designed to accommodate approximately 200+ people.
The entry fees for visitor is 50 taka only
Contact address: Kalampur, Chandra, Kaliakoir, Gazipur, Mobile: + 88 01819441262, Email:    [email protected], Web: www.shohagpalli.com
Dream Squire
Dream Square began its journey in 2010 with the purpose of entertaining and energizing people by bringing them close to nature. Its vast area of 100 acres with various types of fruits, wild and medicinal tress is a big window for people who want to breathe free in clean air with fresh vegetables and fish from its own area. Dream Squire located at Azogirchala villige of Mawna, Gazipur. The main attraction of this resort is it's a vast area of greenery with open lands and different trees, big ponds with lots of fishes, cottages and a huge open dining space and a wide open balcony over a pond. About 200 high standard cottage always being ready to welcome tourists.
The most attractive areas in dream square are Oil grinder, Dairy firm, Fish hatchery, compost fertilizer plant,  and biogas plant.
The walkway from entrance has been greeted with greenery from both sides till then end. There is an amazing sight from a high watch tower from where one can see the entire resort area all covered with green.
There has  two massive naturally build lakes and 16 ponds.
It is the  sanctuary of various types of birds. In every winter, thousands of migratory birds gathered here.
It takes 50  thousands taka for picnic and various types of program of 50 persons. The rate may decrease if the numbers of person increase. The fair of deluxe cottage is 40 thousand taka while 6,325 taka for regular cottage.
How to go: At first you have to go in Mawna through private car or public bus. Then you have to ride more 5 kilometers in west where you will find the Dream resort.
Contact address: Chalkpara, Azogirchala, Mauna, Gazipur, Phone: 01755603310, 01755603311, Email: [email protected]
Rangamati water front
The name seems to be a resort in Rangamati but originally it situated in Gazipur. Although the resort authority choose the name Rangamati but there is no hill or hillock belonging to the area but it has a natural beauty with  a big flower garden on 60 acres of land which will amuse the visitors.  The resort located 45 k.m away from Dhaka City at Sinaboho bazaar, Kaliakore Shafipur, Gazipur will allows you to unwind yourself in serene luxury, comfort and sophistication.The complex consists of one-of-a-kind amphitheater, surrounded by greenery of the forest and a number of picnic spots to cater to private, social and corporate needs. The entire tranquil area of the resort fulfills the senses with a unique blend of well-being and relaxation. There has a hanging bridge on lake which is attractive to the visitors. The visitors also like to take bath in its swimming pool.
Rangamati Waterfront Resort  consist of 53 luxurious guest rooms,  six duplex pool view platinum cottage, seven individual luxurious fountain view cottage,nine twin sharing lake view rooms and conference fall.
The fare for every room of cottage is 7,000-12,000 taka for 24 hours where 80,000-1,00,000 taka for picnic or various types of programme.
Contact number: 01811 414074, 01811 414080, 01811 414081, E-Mail : [email protected]
Sabah garden
There has a resort in Bagher Bazar of Gazipur which is decorated with quotes of various renowned personality. The name of the resort is Sabah Garden resort, a tranquil and unique resort allows you to unwind yourself in serene luxury, comfort and sophistication. With its own picnic spot and an endless horizon of the limitless sky, where moonlight illuminates the night, you will find your get away to a memorable lifetime experience. The owner of this resort is Hasan Uddin Sarker.
This spot have Natural Green environment, Big Pond, Children Sports Zone, Play Ground, Big Conference Hall, Fishing facility, Boating facility, Good Security system etc.   It is the only resort which has a library containing books of famous writer.
Here has earthen and tin shed house along with some nice looking cottages. The resort is established on 36 acres of land which contain the statue of famous people. You could find 6 gigantic pond and some statue of tiger, elephant and some other animals.
The fare for the picnic and other programme is 60,000-70,000 taka.
How the reach: You have to reach Bagherbazar of Dhaka-Maymenshing highway through private or public bus where you will see the Sabah garden resort.
Seagull Resort
Do you thinking that I am talking about seagull of Cox's Bazar? No, it is a resort situated very adjacent to the Dhaka city, just  one and half hour driving distance  from the capital. The name of the resort is Seagull  which have already paying attention to the tourists from home and abroad. It is the pageantry of various types of tree of home and abroad.  You would able to find various types of trees including Australian palm tree and Plam nut. The resort is situated on 42 acres of land in Singerdigi area of Mawna in Gazipur.
Nature lover Siraj-Ud-Doullah Khan  carefully create the Seagull Resort  which dotted with 18 traditional Bengali cottages and endowed with five-start facility, the resort is an ideal place for night stay and for appreciating the serenity of the place. It has a lake, conference room, hotel and arrangement form child amusement.
Seagull Resort is the assortment of various types of trees along with a field where you could pass your time lonely.
The plats, the cottages, the gardens,  gathering of variants of known unknown birds, pollution free environment contribute richly to the picturesque and romantic scene of Seagull and make it an ideal place for spending a weekend and back to the regular life rejuvenated.
You have to pay 3-10 thousand taka for each room per day.  To arrange picnic or other programme it took 80,000-1,00,000 taka.
Ananda park & resort
The Brand New Ananda Park & Resort is unique place in Gazipur where visitors  can enjoy the natural beauty of rain forest. The special feature of this resort is its fishing arrangement and swimming pool.
Ananda resort arranges all the element of amusement including different types of ride.  Visitors could  stay in luxurious accommodation with all types of recreational facility. It has six well decorated cottages besides the pool.
If your are in dilemma whether you are taking your kids on holiday, you can select Ananda Park as it has establish a children park.
For truly lasting memories stay Ananda Park & Resort with your family, colleagues or special someone and experience the legendary hospitality, impeccable service, and amazing entertainments. The beauty of Ananda Park & Resort combined with its excellent facilities will make your holiday truly unique and unforgettable.
You have to pay 3,000-10,000 taka for each room to stay 24 hours. The rate varies as per the room size and facilities. They take 70,000-1,00,000 taka for picnic and various other programme.
Contact number:  01811480833, 01811480834