20 Freelancers That've Made Nearly $10 Million
zooit
Recently they interviewed 20 of the world's highest paid freelancers. They've made close to 10 Million dollars on just Upwork alone.During these interviews they revealed all of their secrets to getting high paying clients fast. We transcribed and edited the interviews turned them into a new book called 9 Million Dollar Freelancing Secrets.
20 Freelancers That've Made Nearly $10 Million On Upwork and Fiverr Reveal Their Secrets In New Interviews.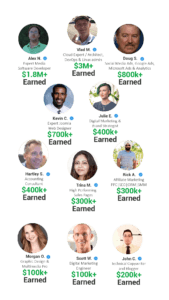 Inside of the interviews, 20 of the World's Highest Paid Freelancers open up their playbook and reveal their insider secrets to getting high paying clients on Upwork!
In these interviews you'll discover: