International Roaming:
International Roaming is a type of telephone service regarding international calls and other service usages. This service enables one to make and receive phone calls. Infect you can send and receive text messages. A person can communicate by same number to other country.
 International Roaming From Bangladesh:
If you're a frequent business traveller from Bangladesh? we will make your roaming with local call rate and our set up cost only 29$. We will make your Sim "virtual" by using a device and Apps.
How did the Roaming work?
The SIM connect to your wifi ,and use APP to Manage the cards inside the device. Using network to transmit voice and SMS.
No Roaming Charge For Bangladeshi Traveller, Enjoy FREE Roaming:
Getting a roaming service in Bangladesh is easy and convenient, If you buy your air ticket from zooFamily. "zooFamily" is a community of Aviation and Travel Industries which supports ordinary people, corporates , aviation and travel industries with "Training – Information – Services". Our information creates value to readers and providers, which turn trainees into  entrepreneurs, bloggers, job holders in aviation and travel industries. Our organizer are Airways Office,  Travelzoo Bangladesh Ltd , Travel News Bangladeshand  zoo Info Tech. Recently we have launched a program which called "no roaming charge for Bangladeshi traveller".For Business class passengers we set the full service "Free of cost"and other passengers setup fee only 29$(2500BDT),no extra charge. After setup you can talk from worldwide just with local call rate, which is really amazing and save a lot. For your roaming service call here :+8801978569291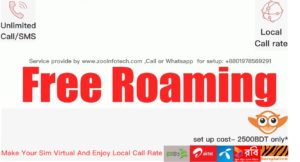 Call for Setup:+8801978569291
For all kind of Business class passenger can enjoy this service free of cost, infact no set up cost. And for other passengers setup fee only 29$(2500BDT). 
Advantage
1.Put it with your SIM card at our office. Access your phone call or message.
2.Voice call and messages transfer through internet to the App on your phone.
3.Plug in the power and use all you need.
4.This is the best dual SIM adapter for your phones
5.No roaming fee.
6.Suitable for home or office.
7.Small and easy to use.
8.Smart & Beautiful.
9.Stable and secure
10.Use internet to transfer the voice and message,stable and power saving.
Support device
Work with i Phone and Android phone .
Features:
*support 4G network
*No Roaming fee
*Global usable
*No need to carry your sim or any devices.
*We can make you dual SIM online
Related Post : No Roaming Charge For Bangladeshi Traveller,  Free Roaming and Local Rate From Bangladesh,  No Roaming Charge For Bangladeshi Traveller