Al-Arafah Islami Bank Limited Head Office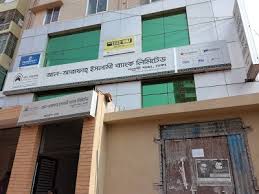 For the national economy Al-Arafah Islami Bank Limited has committed to contribute significantly with the impartial of victory here after by pursuing the way directed by Allah and the path shown by His Rasul(SM).
On 27 September 1995, Al Arafah Islami Bank Ltd was established in a sharia compliant with an inaugural ceremony. Before it was registered as a private limited company on 18 June 1995.For ensuring the bank activities meet sharia requirements was responsible by the sharia council.
At present Al-Arafah Islami Bank Limited started a project titled with "Krishi O Grameen Khudra Biniog Prokolpo". With this mission the bank is working for reduction of poverty, enlargement in Agriculture sectors, establishment of job opportunities etc. For the socio economic development of the country Al arafah Islami Bank Bangladesh Limited contribute 119 branches from them 23 is AD all over the country.
The sponsored of the bank is renowned Islamic scholars and pious businessmen of the country. BDT 15000 million and BDT 8343.24 million is the total legal investment and the paid up capital. Indigenous shareholders are hundred percent paid up capitals. Over the year a continuous profit and declared a good dividend has been achieved by it. The target of this bank is High quality customer service through the merged of modern technology and new products. There are 57 ATM booths of this bank placed in 21 district throughout the Bangladesh.
The vision and mission of the bank is to be a creator in Islamic Banking throughout the Bangladesh and the main contribution to the growth of national economy.
Details information:
Registered Name
Al-Arafah Islami Bank Limited
Legal Status
Public Limited Company
Logo
 
Established
1995
Type
Private Bank
Category
Commercial Bank
Origin
Local Bank
Code
015
Stock Code
ALARABANK – DSE CSE
Services
§  Deposit

§  Investment

§  Foreign Trade

§  Micro, Small & Medium Enterprises (MSME) Banking

§  MoneyGram

Corporate Address
36 Dilkusha Commercial Area, 6th – 9th Floor, Dhaka 1000, Bangladesh.
Telephone
+880 2 7123255-7, 9568007, 9569353
Fax
+880 2 9569351
E-mail Address
[email protected]
Website
www.al-arafahbank.com
SWIFT Code
ALARBDDH
Service Hours
Sunday: 10:00 am – 4:00 pm
Monday: 10:00 am – 4:00 pm
Tuesday: 10:00 am – 4:00 pm
Wednesday: 10:00 am – 4:00 pm
Thursday: 10:00 am – 4:00 pm
Friday: Closed
Saturday: Closed