Agrani Bank Limited Head Office Address And Location In Dhaka, Bangladesh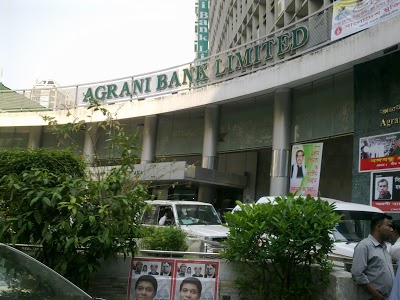 Throughout the Bangladesh, Agrani Bank is a state-owned leading commercial bank with 922 outlets strategically located in overseas Exchange Houses and 100 of overseas Correspondents and the commercial areas.
On 27 March 1972 the Agrani Bank was founded by combining Pakistani banks commerce bank and Habib Bank. Mainly Agrani Bank is a public limited company is fully owned by Government of peoples Republic of Bangladesh with a view to take over the business, properties, responsibilities, rights and commitments.
The Agrani bank has 11 circle offices, 34 Divisions in head offices, 922 branches with including 27 corporate and 40 authorized dealers. The bank corporatized on 15 November 2007. Agrani Bank is directed by a Board of Directors consisting of twelve members headed by Chairman. The Managing Directors and chief Executive Officer control the Bank. Deputy Managing Directors and General Manager support the Managing Directors.
In Bangladesh, there are total 26 ATM Booths of the bank situated in fourteenth districts. For the identifying specific financial account a nine-digit identification number assigned to financial institute. That is the banks routing number. The code is organized with the combination of 3 digit bank code, 2 digit district codes, 3 digit branch codes and last 1 digit for check. There are 847 branches have the routing number in 64 districts in Bangladesh.
The Products of this bank is finance and insurance, consumer Banking, Corporate Banking, Investment Banking and Investment Management. The Headquarters situated in Dilkusha Commercial areas the capital of Bangladesh.
Details Information:
Registered Name
Agrani Bank Limited
Legal Status
Public Limited Company
Logo
 
Established
1972
Type
Public Bank
Category
Commercial Bank
Origin
Local Bank
Code
010
Services
§  ATM Services

§  Online Banking (CBS)

§  Inter-branch Money Transfer

§  Swift

§  Web-based Online Cheque, TT Issue & Payment System

§  Issuing & Enchasing Foreign Drafts

§  Locker Services

§  Agency Services

§  Inland Remittance

Corporate Address
9/D Dilkusha Commercial Area, Dhaka 1000, Bangladesh.
Telephone
+880 2 9566153-54, 9566160-69, 9566074-75
Fax
+880 2 9562346, 9563662
E-mail Address
[email protected]
Website
www.agranibank.org
SWIFT Code
AGBKBDDH
Service Hours
Sunday: 10:00 am – 4:00 pm
Monday: 10:00 am – 4:00 pm
Tuesday: 10:00 am – 4:00 pm
Wednesday: 10:00 am – 4:00 pm
Thursday: 10:00 am – 4:00 pm
Friday: Closed
Saturday: Closed