Beautiful in Muslin Origined By Bangladesh
Muslin cotton may have been the grand attire of the British Royals and the Mughals, but it has always been our regional pride. While we may not have been able to keep up with our heritage and legacy over the years, but a few local designers wish to disagree to that statement.
"Not everything is lost," admits Rojina Akhtar Khanam Nizhu, the famous designer of the fashion brand 'Rose by Nizhu.' There are multitudes of designers like her in Bangladesh, working tirelessly to revive the lost heritage of Muslin silk.
"With my latest collection, I am trying to break the taboo regarding muslins, that it is no longer a fashionable wear, is uncomfortable to wear, and cannot be flaunted as wedding attire," confesses the talented designer.
And indeed she was right; with an exquisite wedding collection, highlighting frills and unique cuts, all are left in awe of her latest creation. "My collection has always been unique; you'd never be able to get a second copy of my designs," acknowledges Nizhu.
"But what if I wanted a second copy," you may wonder?
She was quick to respond, "Oh, in that case I'd make you another, but it will only be a close copy, with a completely different twist in cuts, designs and styling," assures the designer.
When the entire country seems to be in awe of different types of local fabrics, why did she decide particularly to plunge into muslins?
And she has good reason for it, "Well, for one, I wanted to highlight the beauty and the rich tone of muslins. The regal colours that come up with every single design is unmatched, and I believe new brides will be ecstatic about it, because they want to go for things that are traditional, and yet outstanding, and muslin is all that and more, the designer says.To end the conversation, we asked her what was so different about her latest collection besides the colours and the karchupi work.
She replies with a smile, "I have experimented with new patterns and designs, you have to come and see the collection for yourself and be mesmerised…."And so, we leave it here for the fashionistas to explore.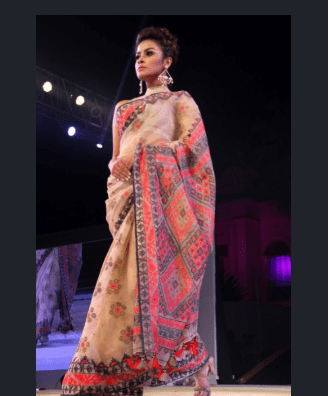 For more updet Click Here
For Information Source Click here