Bogra Polytechnic Institute
Bogra Polytechnic Institute is government funded technical institute in Bangladesh. The institute situated at Sherpur, Bogra. It is one of the largest Polytechnic Institutes in our country.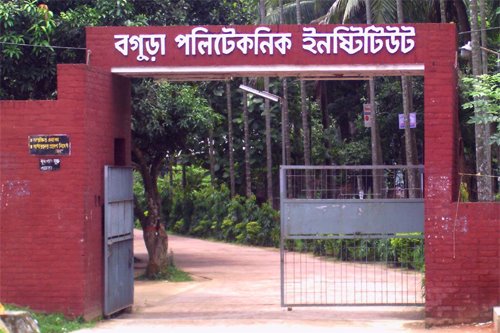 The History of this institute started on the early 1955. At first FORT Foundation set up Bogra Polytechnic Institute with length of 3 years in length courses, in view of the syllabus of Oklahoma State University, Still Water, USA. For More Polytechnic Institute Check Here.
The authentication issued by the then Technical Board Education was "Related in Engineering" having arrangement to experience B.S course in USA and furthermore in U.K.
Its development and scholarly course history subtle elements backpedal to the introduction of Ahsanullah Engineering College, which is presently known as BUET.
The Institute offers Diploma level programs for Diploma in Engineering in many different technological fields.  The institute offered
Refrigeration & air-condition Department.
Mining & Mine Survey Technology.
Electronics Technology.
Electrical Technology.
Mechanical Technology.
Civil Technology.
Computer Technology.
Power Technology.
Halls of Residence:
There are two Boy's and one Girl's dormitories. About 1 thousand residential students stay here.
Dokhin prantic Hostel
Uttor prantic Hostel
Korotoa Girls Hostel
At a Glance of Bogra Polytechnic Institute
               Bogra Polytechnic Institute
Type
Government Polytechnic Institute
Established
1955
Principal
Eng.Md.Shahadat Hossain
Location
Sherpur road, Bogra-5800
Campus
urban
20 acres (8.1 ha)
Affiliations
Bangladesh Technical Education Board
Website
www.bograpoly.gov.bd
For More Details Information Click Here.