Dhaka Bank Limited Head Office In Dhaka, Bangladesh
On April 06, 1995 under the companies Act 1994 as a Public Limited Company Dhaka Bank was started its Journey in Commercial banking sectors in Bangladesh. The bank was established by noticeable Bangladeshi politician Mirza abbas. More about Dhaka Bank Limited Head Office In Dhaka Bangladesh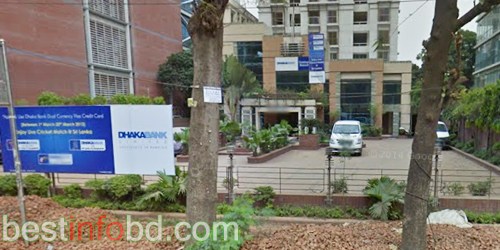 On July 5, 1995 the bank started the banking operation. In 2014 Dhaka bank was granted the best manufacturing-friendly Bank (SME Banking Award 2014).
From the beginning of its outstanding journey, Dhaka Bank has truthful beloved and brought into concentration of the tradition and history Dhaka and Bangladesh from Mughal settlement to modern capital.
Over 28 districts in Bangladesh, there are total 86 Branches located in and there are total 45 ATM booths in 17 districts situated in.
The Bank's commitment bears attaching the most of its publication, presentation, brand initiatives, delivery channels, calendars and financial manifestations. Nowadays for its exceptional service, easiness, closeness and leading-edge way of delivery, the Dhaka Bank Limited is widely popular and recognized day by day.
Details Information:
Registered Name
Dhaka Bank Limited
Legal Status
Public Limited Company
Logo
 
Established
1995
Type
Private Bank
Category
Commercial Bank
Origin
Local Bank
Code
085
Stock Code
DHAKABANK – DSE CSE
Services
§  Consumer Banking

§  Corporate Banking

§  Offshore Banking

§  SME Banking

§  Islamic Banking

§  Deposits

§  Loans

§  Locker Services

Corporate Address
100 Motijheel Commercial Area, Dhaka 1000, Bangladesh.
Telephone
+880 2 9554514, 9571006-10
Fax
+880 2 9556584
E-mail Address
[email protected]
Website
www.dhakabankltd.com
SWIFT Code
DHBLBDDH
Service Hours
Sunday: 10:00 am – 4:00 pm
Monday: 10:00 am – 4:00 pm
Tuesday: 10:00 am – 4:00 pm
Wednesday: 10:00 am – 4:00 pm
Thursday: 10:00 am – 4:00 pm
Friday: Closed
Saturday: Closed