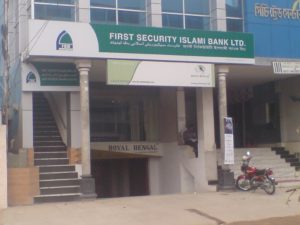 First Security Islami Bank is a Commercial Bank in Bangladesh which came up with modern Islami Banking Program in banking service of our country. It is a public Limited Company which is established August 29, 1999.
The bank is following the Islamic Rules and Regulation with fully Shariah based banking service. After starting its operation, the bank is taking place to its goal day by day. First Security Islami Bank Limited is to be the premier financial institution in Bangladesh by given that high quality product and service with the latest modern technology and a team of exceedingly encouraged particular to deliver quality in Banking.
There are total 132 branches of FSIBL which are situated in 43 districts and 96 ATM booths in 37 districts in Bangladesh.
For the Meritorious students the Bank is Providing Scholarship through its corporate Social responsibility. In 2014, Bangladesh Sports Press Association awarded the best bank sponsor in Bangladesh.
Details Information:
Registered Name
First Security Islami Bank Limited
Legal Status
Public Limited Company
Logo
 
Established
1999
Type
Private Bank
Category
Commercial Bank
Origin
Local Bank
Code
105
Stock Code
FIRSTSBANK – DSE CSE
Services
§  Deposits

§  Investments

§  Foreign Remittance

§  Locker Service

§  Foreign Exchange

§  Green Banking

§  SME Banking

Corporate Address
House No. 1/A, Road No. 8, Circle 1, Gulshan, Dhaka 1212, Bangladesh.
Telephone
+880 2 9888446
Fax
+880 2 9891915
E-mail Address
[email protected]
Website
www.fsiblbd.com
SWIFT Code
FSEBBDDH
Service Hours
Sunday: 10:00 am – 4:00 pm
Monday: 10:00 am – 4:00 pm
Tuesday: 10:00 am – 4:00 pm
Wednesday: 10:00 am – 4:00 pm
Thursday: 10:00 am – 4:00 pm
Friday: Closed
Saturday: Closed
Get All Banks information here