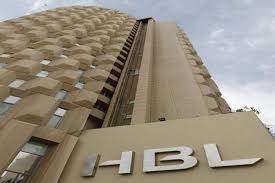 HBL Bank Limited – HBL formerly Habib Bank Limited was met up with the first Commercial Bank which was established in 1947 in Pakistan. A now Habib Bank Limited has become with the biggest Private sectors commercial Bank in globally and base exceeded eight million relationships with a customer.
In 2004, Habib Bank Limited was privatized by the Government of Pakistan. Before the privatization HBL was nationalized in 1974 by Pakistan Government. In 1951 he bank opened the first International branch in Colombo, Sri Lanka. And after privatization in Bangladesh Habib Bank Limited majority owned by the Aga Khan Fund for Economic Development and rest of the share is retained by the Government of the Pakistan while 7.5% is preserved by general public.
HBL has 1700 branches with corporation all over the world. Generally 25 countries are covering across four regions, as of 2016. Habib Bank provides the elementary variety of banking facilities to its customer and included Commercial bank in the developing markets.
There are total 8 branches and 7 ATM booths of HBL located in 3 districts in Bangladesh formerly Dhaka, Sylhet and Chittagong.
Habib Bank Limited is the biggest domestic multinational with a global incidence in 29 countries. Including South and Central Asia, UAE, UK, Africa and the Far East the bank is increasing its presence in major International markets.
Details Information:
Registered Name
Habib Bank Limited
Legal Status
Public Limited Company
Logo
 
Established
1947
Type
Private Bank
Category
Commercial Bank
Origin
Foreign Bank
Code
110
Services
§  Corporate Banking

§  SME Banking

§  Correspondent Banking

§  Basic Banking

§  Agri Banking

§  Loans

Corporate Address
South Avenue Tower, 7 Gulshan Avenue, Road 3, Gulshan 1, Dhaka 1212, Bangladesh.
Telephone
+880 2 9883505, 9888492, 9884954
Fax
+880 2 9883064
E-mail Address
[email protected]
Website
www.hbl.com/bangladesh
SWIFT Code
HABBBDDH
Service Hours
Sunday: 10:00 am – 4:00 pm
Monday: 10:00 am – 4:00 pm
Tuesday: 10:00 am – 4:00 pm
Wednesday: 10:00 am – 4:00 pm
Thursday: 10:00 am – 4:00 pm
Friday: Closed
Saturday: Closed
Get All Banks information here