Janata Bank Limited Head Office In Dhaka Bangladesh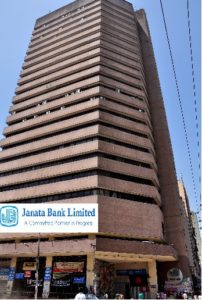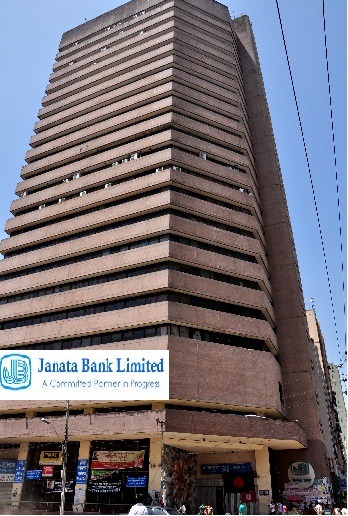 Janata Bank Limited is a state owned Commercial Bank of Bangladesh which was established after the liberation war of 1971.Before the independence of Bangladesh a number of banks previously operated in this region but in order to rebuild the country's economy from merging those banks made a new banks led to formation of Janata Bank in 1972.
Under the nationalization order 1972, the erstwhile United Bank Limited and Union Bank Limited had been Combined In 1972. On 15 November 2007, Janata Bank introduced as a public Limited Company when the bank acquired registered with the Join Stock Registrars. The vision of this bank is to become the effective leading commercial bank in Bangladesh to provide socio-economic growth of the country and want to be a prominent bank in South Asia.
The mission of this bank is to maintain a steady growth process, distributing high quality commercial products, providing admirable client service through a skilled management team and resultant good commercial authority in every stage of banking network.
There are total 904 branch and 164 ATM booths situated in Bangladesh. On the other hand, Janata Bank Limited included four abroad branches in UAE. After the journey of this bank service, Now Janata Bank Limited is he 2nd largest Commercial bank across the country.
Details Information:
Registered Name
Janata Bank Limited
Legal Status
Public Limited Company
Logo
Established
1971
Type
Public Bank
Category
Commercial Bank
Origin
Local Bank
Code
135
Services
§  Retail Banking

§  Deposits

§  Loans

§  Export/ Import Financing

§  Micro Credit

§  NRB Banking

§  Green Banking

§  Foreign Remittance

Corporate Address
110 Motijheel Commercial Area, Dhaka 1000, Bangladesh.
Telephone
+880 2 9552078, 9560000 9566020, 9556245-49
Fax
+880 2 9564644
E-mail Address
[email protected]
Website
www.janatabank-bd.com
SWIFT Code
JANBBDDH
Service Hours
Sunday: 10:00 am – 4:00 pm
Monday: 10:00 am – 4:00 pm
Tuesday: 10:00 am – 4:00 pm
Wednesday: 10:00 am – 4:00 pm
Thursday: 10:00 am – 4:00 pm
Friday: Closed
Saturday: Closed