Midland Bank Limited Head Office In Dhaka Bangladesh
Under the companies Act 1994, Midland Bank Limited was established on March 20, 2013 as a public Limited Company. On the same day for commencement the company was issued Certificate and 9th April 2013, it was granted by Bangladesh bank under the Banking Companies Act 1991. More about Midland Bank Limited Head Office In Dhaka Bangladesh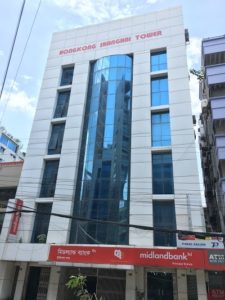 The bank provides all types of Commercial banking activities including money market operations, investment in company activities, Financiers, Promoters, Capitalists, Financial Intermediary Services and any related financial banking services. For depends those distinct services Midland Bank Limited seeks to be the first choice of customers. On June 20, 2013, the bank started its banking operation at Dilkusha Corporate Branch.
The vision is to be the first choice of clients as a distinct financial service source, trustworthy, appreciated and valued by all shareholders within the region and beyond following an endless journey towards distinction in every respect.
Now the Company operates through 20 branches and Above 10 ATM booths across the Bangladesh and the Head office situated in Gulshan.
Midland Bank limited attempts to continuously deliver excellence banking service with superior customer emphasis and revolutionizes a wide diversity of need based service products with widely widespread solutions.
Details Information:
Registered Name
Midland Bank Limited
Legal Status
Public Limited Company
Logo
 
Established
2013
Type
Private Bank
Category
Commercial Bank
Origin
Local Bank
Code
285
Services
§  Personal Banking

§  Corporate Banking

§  NRB Banking

§  SME Banking

§  Deposits

§  Financing

§  Loans

§  Locker Services

Corporate Address
NB Tower, 40/7 Gulshan North Avenue, Curcle 2, Gulshan, Dhaka 1212, Bangladesh.
Telephone
+880 9666 410999, 9611 410999
Fax
+880 2 8837735
E-mail Address
[email protected]
Website
www.midlandbankbd.net
SWIFT Code
MDBLBDDH
Service Hours
Sunday: 10:00 am – 4:00 pm
Monday: 10:00 am – 4:00 pm
Tuesday: 10:00 am – 4:00 pm
Wednesday: 10:00 am – 4:00 pm
Thursday: 10:00 am – 4:00 pm
Friday: Closed
Saturday: Closed