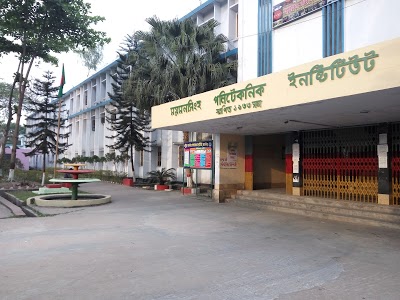 Mymensingh Polytechnic Institute (MPI) is a government Polytechnic Institute in Bangladesh which was established in 1963.The institute is located at Mymensingh.
It started its Diploma-in-Engineering program with 120 students in three departments like Civil, Electrical and Mechanical. For More Details Click Here.
The institute works under the official control of the Ministry of Education (MOE) acting through the Directorate of Technical Education (DTE). The scholastic projects and educational modules are kept up under the direction of the Bangladesh Technical Education Board (BTEB). BTEB work under Directorate of Inspection and Audit (DIA), which thus work under Chief Accounts Office (CAO), and it work under MOE.
At present they are offering 07 technological departments.
Electrical engineering
Electronics engineering
Eletro-medical engineering
Civil engineering
Computer engineering
Power engineering
Mechanical engineering
There are three residence halls in MPI
Shilpacharjo Joynul Abedin Chatrabas
Shahid Khairul Islam Chartabas
Charti nibas
At a Glance of Mymensingh Polyechnic Institute
Mymensingh Polytechnic Institute
Type
Public
Established
1963
Principal
Engr. Nurul Hauque
Academic staff
7
Administrative staff
60
Students
about 2600
Location
Mymensingh, Bangladesh
Campus
Urban
Website
mpi.edu.bd
Another related post Click Here.