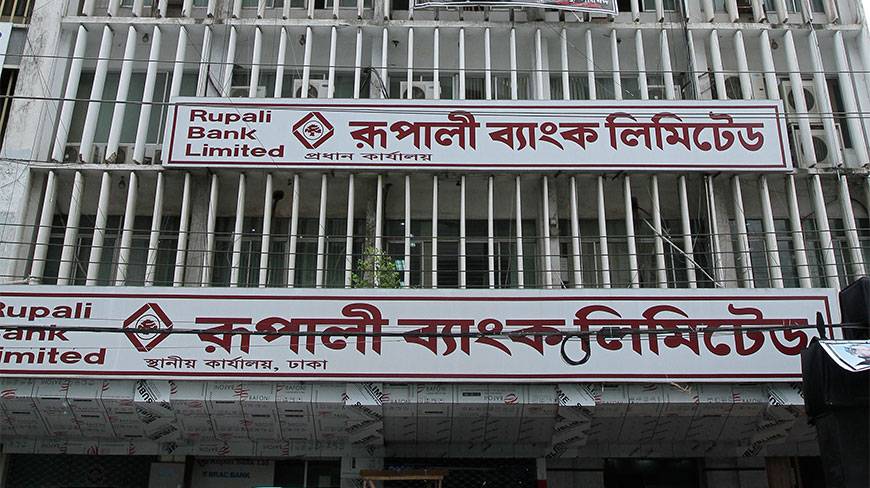 Rupali Bank Limited was made with the blend of three corporate banks. Prior to the Liberation War Muslim Commercial Bank Limited, Australasia Bank Limited and Standard Bank Limited worked in then Pakistan. On March 26, 1972 under the Bangladesh Banks Nationalization Order 1972, with each one of their points of interest, benefits, rights, powers, masters, benefits, liabilities, borrowings and responsibilities. Rupali Bank filled in as a nationalized business bank till December 13, 1986.
There are 570 branches of Rupali Bank Limited arranged in everywhere throughout the Bangladesh. Rupali Bank Ltd. ascended as the greatest Public Limited Banking Company of the country on December 14, 1986. The vision of the bank is to expand our tried and true customer base by being known as the cash related associate of choice that dependably outperforms customer wants. For More Information Click Here.
Routing Information:
The bank routing number is a nine-digit distinguishing proof number allocated to financial related foundations and this number recognizes the particular monetary establishment whereupon an installment is drawn. This exceptionally extraordinary one of a kind code is produced in Bangladesh with the mix of 3 digits bank code, 2 digits area code, 3 digits branch code and finally 1 check digit. This number is likewise imprinted on the base left of your bank check pages. Click Here For More Banks Routing Information.
| | | |
| --- | --- | --- |
| Districts | Branch Names | Routing No. |
| Bagerhat | Bagerhat Branch | 185010078 |
| Bagerhat | Baraikhali Branch | 185010131 |
| Bagerhat | Betaga Bazar Branch | 185010160 |
| Bagerhat | Fakirhat Branch | 185010465 |
| Bagerhat | Kachua Bazar Branch | 185010760 |
| Bagerhat | Mansa Bazar Branch | 185010881 |
| Bagerhat | Mollahat Branch | 185010915 |
| Bagerhat | Mongla Port Branch | 185010973 |
| Bagerhat | Nager Bazar Branch | 185011093 |
| Bandarban | Bandarban Branch | 185030137 |
| Barguna | Amtali Branch | 185040048 |
| Barguna | Barguna Branch | 185040130 |
| Barguna | Betagi Branch | 185040222 |
| Barisal | Agarpur Branch | 185060044 |
| Barisal | Bazar Road Branch | 185060402 |
| Barisal | Bhawanipur Branch | 185060460 |
| Barisal | Central Bus Terminal Branch | 185060615 |
| Barisal | Hemayetuddin Road Branch | 185060886 |
| Barisal | Mehendiganj Branch | 185061364 |
| Barisal | Muladi Port Branch | 185060060 |
| | | |
| --- | --- | --- |
| Barisal | Rahmatpur Branch | 185061722 |
| Barisal | Sadar Road Branch | 185061814 |
| Barisal | Sagardi Bazar Branch | 185061872 |
| Barisal | Shikarpur Branch | 185062084 |
| Bhola | Bangla Bazar Branch | 185090072 |
| Bhola | Bhola Branch | 185090106 |
| Bhola | Doulatkhan Branch | 185090377 |
| Bhola | Ilisha Junction Bazar Branch | 185090056 |
| Bhola | Jinnahgarh Branch | 185090522 |
| Bhola | Kutba Branch | 185090672 |
| Bhola | Lalmohan Branch | 185090706 |
| Bhola | Mahajanpatty Branch | 185090764 |
| Bhola | Tazumuddin Branch | 185091000 |
| Bogra | Altafnagar Branch | 185100104 |
| Bogra | Bhairpukur Branch | 185100317 |
| Bogra | Bogra Contonment Branch | 185100438 |
| Bogra | Bogra Ladies Branch | 185101695 |
| Bogra | Bus Stand Branch | 185100559 |
| Bogra | Dhupchanchia Branch | 185100917 |
| Bogra | Gabtali Branch | 185101037 |
| Bogra | Golabari Branch | 185101240 |
| Bogra | Goshaibari Branch | 185101279 |
| Bogra | Hatfulbari Branch | 185101361 |
| Bogra | Jahangirabad Cantonment Branch | 185101424 |
| Bogra | Kahaloo Branch | 185101545 |
| Bogra | Kichak Branch | 185101637 |
| Bogra | Mahasthan Branch | 185101787 |
| Bogra | Mokamtola Branch | 185101932 |
| Bogra | Namajgarh Branch | 185101961 |
| Bogra | Shahekpara Branch | 185102599 |
| Bogra | Shibganj Branch | 185102807 |
| Bogra | Sukhanpukur Branch | 185103019 |
| Bogra | Thana Road Branch | 185103169 |
| Brahmanbaria | Ashuganj Branch | 185120100 |
| Brahmanbaria | Brahmanbaria Branch | 185120434 |
| Brahmanbaria | Nabinagar Branch | 185121367 |
| Chandpur | Chitoshi Bazar Branch | 185130587 |
| Chandpur | Hajiganj Branch | 185130882 |
| Chandpur | Natun Bazar Branch | 185131481 |
| Chandpur | Nazirpara Branch | 185131573 |
| Chandpur | Rampur Bazar Branch | 185131757 |
| Chandpur | Shahtali Bazar Branch | 185131931 |
| Chapai Nawabganj | Baliadanga Branch | 185700104 |
| Chapai Nawabganj | Bholahat Branch | 185700162 |
| Chapai Nawabganj | Chapai Nawabganj Branch | 185700254 |
| Chapai Nawabganj | Namasankarbati Branch | 185700762 |
| Chapai Nawabganj | Rohanpur Branch | 185701095 |
| Chittagong | Abu Torab Bazar Branch | 185150109 |
| Chittagong | Agrabad Branch | 185150138 |
| Chittagong | Amir Market Branch | 185150370 |
| Chittagong | Anwara Branch | 185150525 |
| Chittagong | Bakshirhat Branch | 185151366 |
| Chittagong | Bibirhat Branch | 185151245 |
| Chittagong | Chaitanyagali Branch | 185151690 |
| Chittagong | Chaktai Branch | 185151753 |
| Chittagong | Chandgaon Branch | 185151845 |
| Chittagong | Chawkbazar Branch | 185151937 |
| Chittagong | Chittagong Ladies Branch | 185154484 |
| Chittagong | Commercial Area Branch | 185152323 |
| Chittagong | Dewan Bazar Branch | 185152415 |
| Chittagong | Dhanialapara Branch | 185152473 |
| Chittagong | Enayetpur Branch | 185150091 |
| Chittagong | Gomdandi Branch | 185153043 |
| Chittagong | Gorchi Branch | 185152981 |
| Chittagong | Iqbal Road Branch | 185153348 |
| Chittagong | Jahan Building Branch | 185153498 |
| Chittagong | Jubilee Road Branch | 185153643 |
| Chittagong | Kalurghat Branch | 185153919 |
| Chittagong | Khans Hat Branch | 185154242 |
| Chittagong | Korbaniganj Branch | 185154392 |
| Chittagong | Lamabazar Branch | 185154600 |
| Chittagong | Lichubagan Bazar Branch | 185154639 |
| Chittagong | Nuralibari Branch | 185155746 |
| Chittagong | Omar Ali Market Branch | 185155867 |
| Chittagong | OR Nizam Road Branch | 185150491 |
| Chittagong | Pahartali Branch | 185155920 |
| Chittagong | Panchlaish Branch | 185156040 |
| Chittagong | Patherhat Branch | 185156132 |
| Chittagong | Patiya Branch | 185156161 |
| Chittagong | Raozan Branch | 185156495 |
| Chittagong | Rupali Sadan Branch | 185156611 |
| Chittagong | Sadarghat Branch | 185156732 |
| Chittagong | Sagarika Road Branch | 185156761 |
| Chittagong | Shakpura Chowmuhani Branch | 185156824 |
| Chittagong | Shantirhat Branch | 185156974 |
| Chittagong | Station Road Branch | 185157515 |
| Chittagong | Strand Road Branch | 185157481 |
| Chittagong | Terri Bazar Branch | 185157636 |
| Chittagong | Urkirchar Branch | 185157665 |
| Chuadanga | Alamdanga Branch | 185180045 |
| Chuadanga | Chuadanga Branch | 185180195 |
| Chuadanga | Damurhuda Branch | 185180287 |
| Chuadanga | Mominpur Branch | 185180737 |
| Comilla | Bagmara Bazar Branch | 185190314 |
| Comilla | Barera Bazar Branch | 185190464 |
| Comilla | Bipulasar Branch | 185190648 |
| Comilla | Buschi Bazar Branch | 185190851 |
| Comilla | Chowara Bazar Branch | 185191092 |
| Comilla | Comilla Cantonment Branch | 185191218 |
| Comilla | Gangchar Timber Market Branch | 185192088 |
| Comilla | Gazirhat Branch | 185190051 |
| Comilla | Mahamaya Bazar Branch | 185192804 |
| Comilla | Mainamati Bazar Branch | 185192833 |
| Comilla | Manoharganj Branch | 185193045 |
| Comilla | Manoharpur Branch | 185193074 |
| Comilla | Mudaffarganj Branch | 185193137 |
| Comilla | Rajganj Branch | 185193616 |
| Cox's Bazar | Bazarghata Branch | 185220134 |
| Cox's Bazar | Cheringa Branch | 185220192 |
| Cox's Bazar | Court Bazar Branch | 185220226 |
| Cox's Bazar | Eidgah Branch | 185220400 |
| Cox's Bazar | Ramu Branch | 185220855 |
| Cox's Bazar | Rupali Sadan Branch | 185220884 |
| Dhaka | Badamtali Branch | 185270584 |
| Dhaka | Bandura Branch | 185270647 |
| Dhaka | Bangabandhu Avenue Branch | 185270434 |
| Dhaka | Bangshal Road Branch | 185270889 |
| Dhaka | Chawkbazar Branch | 185271275 |
| Dhaka | Chowdhurypara Branch | 185273978 |
| Dhaka | Dhaka Cantonment Branch | 185261001 |
| Dhaka | Dhaka Ladies Branch | 185262776 |
| Dhaka | Dhaka New Market Branch | 185263520 |
| Dhaka | Dhanmondi Branch | 185261180 |
| Dhaka | Fakirapool Bazar Branch | 185272179 |
| Dhaka | Farmgate Branch | 185261456 |
| Dhaka | Foreign Exchange Branch | 185272353 |
| Dhaka | Gabtali Hat Branch | 185261577 |
| Dhaka | Gandaria Branch | 185272445 |
| Dhaka | Gulshan Branch | 185261722 |
| Dhaka | Hatkhola Branch | 185272595 |
| Dhaka | Hazaribagh Branch | 185261964 |
| Dhaka | Head Office Branch | 185272687 |
| Dhaka | Imamganj Branch | 185272803 |
| Dhaka | Indira Road Branch | 185262176 |
| Dhaka | Islampur Road Branch | 185272982 |
| Dhaka | Johnson Road Branch | 185273257 |
| Dhaka | Kaptan Bazar Branch | 185273615 |
| Dhaka | Kushura Branch | 185262684 |
| Dhaka | Local Office Branch | 185273886 |
| Dhaka | Mahmud Mansion Branch | 185262868 |
| Dhaka | Malibagh Branch | 185273949 |
| Dhaka | Mirpur Branch | 185262989 |
| Dhaka | Mitford Road Branch | 185274122 |
| Dhaka | Moghbazar Branch | 185274180 |
| Dhaka | Mohakhali Branch | 185263191 |
| Dhaka | Mohammadpur Branch | 185263283 |
| Dhaka | Mohammadpur Ladies Branch | 185263409 |
| Dhaka | Motijheel Branch | 185274272 |
| Dhaka | Moulvibazar Branch | 185274214 |
| Dhaka | Mugdapara Branch | 185274456 |
| Dhaka | Muksudpur Branch | 185274485 |
| Dhaka | Nawabganj Branch | 185274698 |
| Dhaka | Nawabpur Road Branch | 185274751 |
| Dhaka | Naya Paltan Branch | 185274872 |
| Dhaka | Nayatola Branch | 185274906 |
| Dhaka | New Elephant Road Branch | 185261335 |
| Dhaka | Nikunja Branch | 185260181 |
| Dhaka | North South Road Branch | 185275118 |
| Dhaka | Pallabi Branch | 185263588 |
| Dhaka | Patuatuly Branch | 185275239 |
| Dhaka | Postagola Branch | 185275321 |
| Dhaka | Purana Paltan Branch | 185275413 |
| Dhaka | Rajarbagh Branch | 185275534 |
| Dhaka | Ramna Branch | 185275684 |
| Dhaka | Rampura Branch | 185275747 |
| Dhaka | Rathkhola Branch | 185275800 |
| Dhaka | Rokeya Sarani Branch | 185264008 |
| Dhaka | Rupali Sadan Branch | 185275868 |
| Dhaka | Sadarghat Branch | 185275921 |
| Dhaka | Savar Branch | 185264158 |
| Dhaka | Savar Cantonment Branch | 185264187 |
| Dhaka | Shikaripara Branch | 185276409 |
| Dhaka | Shyambazar Branch | 185276283 |
| Dhaka | Shyamoli Branch | 185264303 |
| Dhaka | TCB Bhaban Branch | 185264424 |
| Dhaka | Totail Branch | 185276762 |
| Dhaka | Urdu Road Branch | 185276791 |
| Dhaka | Uttara Model Town Branch | 185264695 |
| Dhaka | Yousuf Market Branch | 185277066 |
| Dhaka | Zinzira Branch | 185277095 |
| Dinajpur | Biral Branch | 185280408 |
| Dinajpur | Birampur Branch | 185280345 |
| Dinajpur | Birganj Branch | 185280374 |
| Dinajpur | Chehelgazi Branch | 185280495 |
| Dinajpur | Dawoodpur Branch | 185280611 |
| Dinajpur | Dinajpur Ladies Branch | 185281302 |
| Dinajpur | HSTU Branch | 185280882 |
| Dinajpur | Kabirajhat Branch | 185281036 |
| Dinajpur | Maldapatty Branch | 185281423 |
| Dinajpur | Nimtala Branch | 185281665 |
| Dinajpur | Ranirbandar Branch | 185282080 |
| Dinajpur | Shikderhat Branch | 185282293 |
| Faridpur | Alfadanga Branch | 185290043 |
| Faridpur | Badarpur Branch | 185290164 |
| Faridpur | Baitul Mukaddam Mosque Branch | 185290106 |
| Faridpur | Boalmari Bazar Branch | 185290672 |
| Faridpur | Char Hajiganj Branch | 185290469 |
| Faridpur | Faridpur Branch | 185290522 |
| Feni | Amiruddin Munshirhat Branch | 185300070 |
| Feni | Dhalia Bazar Branch | 185300409 |
| Feni | Fazilpur Branch | 185300496 |
| Feni | Feni Branch | 185300520 |
| Feni | Islampur Road Branch | 185300733 |
| Feni | Krishna Mazumderhat Branch | 185300883 |
| Feni | Kutirhat Branch | 185300946 |
| Feni | Motiganj Branch | 185301129 |
| Feni | New Ranirhat Branch | 185301187 |
| Feni | Sarishadi Bazar Branch | 185301390 |
| Gaibandha | Badiakhali Branch | 185320047 |
| Gaibandha | Dhaperhat Branch | 185320313 |
| Gaibandha | Gaibandha Branch | 185320526 |
| Gazipur | Joydebpur Branch | 185330732 |
| Gazipur | Tongi Branch | 185331636 |
| Gopalganj | Ghagar Bazar Branch | 185350291 |
| Gopalganj | Gopalganj Branch | 185350370 |
| Gopalganj | Joynagar Branch | 185350525 |
| Gopalganj | Ramdia Branch | 185351003 |
| Gopalganj | Tungipara Branch | 185351090 |
| Habiganj | Aushkandi Branch | 185360102 |
| Habiganj | Enayetganj Branch | 185360436 |
| Habiganj | Habiganj Branch | 185360610 |
| Jamalpur | Boira Bazar Branch | 185390077 |
| Jamalpur | Dharmakura Bazar Branch | 185390585 |
| Jamalpur | Dhurmut Bazar Branch | 185390619 |
| Jamalpur | Jamalpur Branch | 185390851 |
| Jamalpur | Jamuna Sar Karkhana Branch | 185390972 |
| Jamalpur | Koyra Bazar Branch | 185391063 |
| Jamalpur | Melandah Branch | 185391218 |
| Jamalpur | Sarishabari Branch | 185391489 |
| Jessore | Baghanchra Branch | 185410102 |
| Jessore | Khajura Branch | 185411248 |
| Jessore | Mistrikhana Road Branch | 185411398 |
| Jessore | Monirampur Branch | 185411514 |
| Jessore | Navaron Branch | 185411606 |
| Jessore | Pajia Bazar Branch | 185411693 |
| Jessore | Raipur Bazar Branch | 185411930 |
| Jhalakati | Jhalakati Branch | 185420318 |
| Jhalakati | Kathalia Branch | 185420376 |
| Jhalakati | Putiakhali Bandar Branch | 185420521 |
| Jhenaidah | Hat Khalishpur Branch | 185440585 |
| Jhenaidah | Jhenaidah Branch | 185440648 |
| Jhenaidah | Kotchandpur Branch | 185441005 |
| Jhenaidah | Safderpur Branch | 185441155 |
| Joypurhat | Gopinathpur Branch | 185380311 |
| Joypurhat | Joypurhat Branch | 185380403 |
| Joypurhat | Khetlal Branch | 185380490 |
| Joypurhat | Molamgarihat Branch | 185380616 |
| Joypurhat | Sonamukhi Branch | 185380795 |
| Khagrachhari | Ramgarh Branch | 185460310 |
| Khulna | Bara Bazar Branch | 185470221 |
| Khulna | Batiaghata Branch | 185470313 |
| Khulna | Chalna Bazar Branch | 185470492 |
| Khulna | Daulatpur Branch | 185470700 |
| Khulna | Garaikhali Hat Branch | 185470942 |
| Khulna | IWTA Branch | 185471033 |
| Khulna | KD Ghosh Road Branch | 185471154 |
| Khulna | KDA New Market Branch | 185471217 |
| Khulna | Khalishpur Branch | 185471459 |
| Khulna | Natun Bazar Branch | 185472058 |
| Khulna | Paikgachha Branch | 185472087 |
| Khulna | Rajapur Branch | 185472179 |
| Khulna | Shams Building Branch | 185472566 |
| Kishoreganj | Bajitpur Branch | 185480103 |
| Kishoreganj | Bhairab Bazar Branch | 185480224 |
| Kishoreganj | Kishoreganj Branch | 185480679 |
| Kishoreganj | Nilganj Branch | 185481036 |
| Kishoreganj | Patuavanga Branch | 185480066 |
| Kurigram | Kurigram Branch | 185490401 |
| Kushtia | Bheramara Branch | 185500283 |
| Kushtia | Hossainabad Branch | 185500641 |
| Kushtia | Kushtia Branch | 185500946 |
| Kushtia | Moshan Branch | 185501129 |
| Kushtia | Swastipur Branch | 185501637 |
| Lakshmipur | Balua Chowmuhani Branch | 185510044 |
| Lakshmipur | Bibirhat Branch | 185510165 |
| Lakshmipur | Dalta Bazar Branch | 185510431 |
| Lakshmipur | Dattapara Branch | 185510499 |
| Lakshmipur | Lakshmipur Branch | 185510736 |
| Lakshmipur | Mandari Bazar Branch | 185510828 |
| Lakshmipur | Poddar Bazar Branch | 185510949 |
| Lakshmipur | Ramgati Bazar Branch | 185511098 |
| Lakshmipur | Sonapur Branch | 185511151 |
| Lalmonirhat | Aditmari Branch | 185520047 |
| Lalmonirhat | Barakhata Branch | 185520100 |
| Lalmonirhat | Lalmonirhat Branch | 185520463 |
| Lalmonirhat | Patgram Branch | 185520584 |
| Madaripur | Madaripur Branch | 185540401 |
| Madaripur | Shibchar Branch | 185540735 |
| Magura | Magura Branch | 185550554 |
| Manikganj | Baira Bazar Branch | 185560078 |
| Manikganj | Daulatpur Bazar Branch | 185560052 |
| Manikganj | Dhankura Branch | 185560344 |
| Manikganj | Ghior Branch | 185560386 |
| Manikganj | Jhitka Bazar Branch | 185560557 |
| Manikganj | Manikganj Branch | 185560610 |
| Manikganj | Saturia Branch | 185560760 |
| Meherpur | Majibnagar Branch | 185570468 |
| Meherpur | Meherpur Branch | 185570376 |
| Moulvibazar | Azimganj Branch | 185580074 |
| Moulvibazar | Chandnighat Branch | 185580311 |
| Moulvibazar | Chowmohana Branch | 185580379 |
| Moulvibazar | Gobindapur Bazar Branch | 185580058 |
| Moulvibazar | Kalar Bazar Branch | 185581273 |
| Moulvibazar | Keramatnagar Branch | 185580911 |
| Moulvibazar | Kulaura Branch | 185580940 |
| Moulvibazar | Natun Bazar Branch | 185581307 |
| Moulvibazar | Shamrar Bazar Branch | 185581457 |
| Moulvibazar | Sreemangal Branch | 185581723 |
| Moulvibazar | Tengrabazar Branch | 185581781 |
| Munshiganj | Binodpur Branch | 185590222 |
| Munshiganj | Louhajong Branch | 185590851 |
| Munshiganj | Mirkadim Branch | 185590972 |
| Munshiganj | Munshiganj Branch | 185591034 |
| Mymensingh | Balipara Branch | 185610252 |
| Mymensingh | Chhoto Bazar Branch | 185610586 |
| Mymensingh | Dapunia Bazar Branch | 185610610 |
| Mymensingh | Dhara Bazar Branch | 185610823 |
| Mymensingh | Fatemanagar Branch | 185610915 |
| Mymensingh | Fulbaria Branch | 185612021 |
| Mymensingh | Khagdahar Bazar Branch | 185611398 |
| Mymensingh | Mallikbari Branch | 185611514 |
| Mymensingh | Muktagachha Branch | 185611693 |
| Mymensingh | Thana Ghat Branch | 185612326 |
| Mymensingh | Trishal Branch | 185612355 |
| Naogaon | Badalgachhi Branch | 185640198 |
| Naogaon | Hospital Road Branch | 185640730 |
| Naogaon | Niamatpur Branch | 185641276 |
| Naogaon | Sadar Road Branch | 185641692 |
| Narail | Narail Branch | 185650641 |
| Narayanganj | Bangabandhu Road Branch | 185670076 |
| Narayanganj | Banglabazar Branch | 185670197 |
| Narayanganj | Bhulta Branch | 185670221 |
| Narayanganj | Fatulla Branch | 185670526 |
| Narayanganj | Kanainagar Branch | 185670768 |
| Narayanganj | SK Road Branch | 185671488 |
| Narayanganj | Tanbazar Branch | 185671754 |
| Narsingdi | Baburhat Branch | 185680103 |
| Narsingdi | Narsingdi Branch | 185680853 |
| Natore | Abdulpur Branch | 185690043 |
| Natore | Kadirabad Cantonment Branch | 185691334 |
| Natore | Naldangarhat Branch | 185691068 |
| Natore | Natore Branch | 185691097 |
| Natore | Nichabazar Branch | 185691242 |
| Natore | Singra Branch | 185691484 |
| Netrokona | Kendua Branch | 185720463 |
| Netrokona | Netrokona Branch | 185720739 |
| Nilphamari | Dalia Branch | 185730282 |
| Nilphamari | Dimla Branch | 185730316 |
| Nilphamari | Kishoriganj Branch | 185730587 |
| Nilphamari | Nilphamari Branch | 185730732 |
| Nilphamari | Saidpur Branch | 185730790 |
| Noakhali | Amishapara Branch | 185750109 |
| Noakhali | Basurhat Branch | 185750259 |
| Noakhali | Chatkhil Branch | 185750583 |
| Noakhali | Chowmuhani Branch | 185750675 |
| Noakhali | Deliyai Bazar Branch | 185750059 |
| Noakhali | Eklashpur Branch | 185750941 |
| Noakhali | Golabaria Branch | 185750970 |
| Noakhali | Kabirhat Branch | 185751216 |
| Noakhali | Karambox Bazar Branch | 185751337 |
| Noakhali | Karihati Bazar Branch | 185751366 |
| Noakhali | Maijdee Court Branch | 185751579 |
| Noakhali | Palla Bazar Branch | 185751782 |
| Noakhali | Pourasava Market Branch | 185751874 |
| Noakhali | Rajganj Bazar Branch | 185751908 |
| Noakhali | Talmohammad Hat Branch | 185752381 |
| Pabna | Autapara Branch | 185760315 |
| Pabna | Banagram Branch | 185760407 |
| Pabna | Banawari Nagar Branch | 185760586 |
| Pabna | Bera Branch | 185760465 |
| Pabna | Debottar Branch | 185760823 |
| Pabna | Dogachi Branch | 185760915 |
| Pabna | Gopalpur Branch | 185761093 |
| Pabna | Ishwardi Branch | 185761219 |
| Pabna | Mathurahat Branch | 185761514 |
| Pabna | Nakalia Branch | 185761635 |
| Pabna | Pabna Branch | 185761785 |
| Pabna | Pabna Cadet College Branch | 185761848 |
| Pabna | Santhia Branch | 185762050 |
| Pabna | Shibpur Branch | 185762142 |
| Panchagarh | Maidandighi Branch | 185770497 |
| Panchagarh | Panchagarh Branch | 185770550 |
| Patuakhali | Baherchar Branch | 185780108 |
| Patuakhali | Dibuyapur Branch | 185780403 |
| Patuakhali | Galachipa Branch | 185780490 |
| Patuakhali | Kalisuri Bandar Branch | 185780616 |
| Patuakhali | Khepupara Branch | 185780766 |
| Patuakhali | New Town Branch | 185780979 |
| Patuakhali | Patuakhali Branch | 185781099 |
| Pirojpur | Bhandaria Branch | 185790130 |
| Pirojpur | Hularhat Branch | 185790343 |
| Pirojpur | Inderhat Branch | 185790372 |
| Pirojpur | Kawkhali Branch | 185790435 |
| Pirojpur | Kawrikhara Branch | 185790464 |
| Pirojpur | Mathbaria Branch | 185790527 |
| Pirojpur | Pirojpur Branch | 185790769 |
| Pirojpur | Swarupkati Branch | 185790972 |
| Pirojpur | Zianagar Branch | 185791063 |
| Rajbari | Bhanibaha Bazar Branch | 185820192 |
| Rajbari | Goalanda Textile Mill Branch | 185820255 |
| Rajbari | Pangsha Branch | 185820671 |
| Rajbari | Pourasava Market Branch | 185820705 |
| Rajbari | Rajbari Branch | 185820734 |
| Rajshahi | Kakanhat Branch | 185810944 |
| Rajshahi | Kazi Nazrul Islam Road Branch | 185810881 |
| Rajshahi | Lakshmipur Branch | 185811185 |
| Rajshahi | Rajshahi Cantonment Branch | 185811998 |
| Rajshahi | RUET Branch | 185812171 |
| Rajshahi | Shaheb Bazar Branch | 185812263 |
| Rajshahi | Tanore Branch | 185812384 |
| Rangamati | Banarupa Branch | 185840077 |
| Rangamati | Rangamati Branch | 185840527 |
| Rangamati | Tabalchhari Bazar Branch | 185840556 |
| Rangpur | Anandanagar Branch | 185850070 |
| Rangpur | Bhendabari Branch | 185850283 |
| Rangpur | Central Road Branch | 185850346 |
| Rangpur | GL Roy Road Branch | 185850588 |
| Rangpur | Haragach Branch | 185850670 |
| Rangpur | Mahiganj Branch | 185850975 |
| Rangpur | Railway Crossing Branch | 185851608 |
| Rangpur | Rangpur Ladies Branch | 185850854 |
| Rangpur | RK Road Branch | 185851424 |
| Rangpur | Taraganj Branch | 185851932 |
| Rangpur | Tetultala Branch | 185851961 |
| Satkhira | Bardal Branch | 185870221 |
| Satkhira | Jhaudanga Branch | 185870555 |
| Satkhira | Kalaroa Branch | 185870584 |
| Satkhira | Nalta Mubaraknagar Branch | 185870913 |
| Satkhira | Nawbenky Branch | 185870942 |
| Satkhira | Satkhira Branch | 185871091 |
| Shariatpur | Goshairhat Branch | 185860349 |
| Shariatpur | Shariatpur Branch | 185860673 |
| Sherpur | Sherpur Branch | 185890580 |
| Sirajganj | Belkuchi Branch | 185880224 |
| Sirajganj | Betil Branch | 185880282 |
| Sirajganj | Bhagabatihat Branch | 185880079 |
| Sirajganj | Boalia Branch | 185880345 |
| Sirajganj | Dariapur Bazar Branch | 185880587 |
| Sirajganj | Shiyalkol Branch | 185881931 |
| Sirajganj | Sirajganj Branch | 185881878 |
| Sunamganj | Bhober Bazar Branch | 185900162 |
| Sunamganj | Chhatak Branch | 185900225 |
| Sunamganj | Dular Bazar Branch | 185900317 |
| Sunamganj | Jagannathpur Branch | 185900496 |
| Sunamganj | Kenbari Bazar Branch | 185900612 |
| Sunamganj | Sunamganj Branch | 185901129 |
| Sunamganj | Syedpur Branch | 185901187 |
| Sylhet | Agricultural University Branch | 185913575 |
| Sylhet | Babur Bazar Branch | 185910110 |
| Sylhet | Bandar Bazar Branch | 185910194 |
| Sylhet | Dattarail Branch | 185911180 |
| Sylhet | Dayamir Branch | 185911214 |
| Sylhet | Habra Bazar Branch | 185911698 |
| Sylhet | Islampur Branch | 185911780 |
| Sylhet | Kaliganj Branch | 185911993 |
| Sylhet | Kanaighat Branch | 185912084 |
| Sylhet | Kazir Bazar Branch | 185912147 |
| Sylhet | Khadimpur Branch | 185912239 |
| Sylhet | Khalomukh Branch | 185912297 |
| Sylhet | Kurar Bazar Branch | 185912389 |
| Sylhet | Kurua Branch | 185912413 |
| Sylhet | Madar Bazar Branch | 185912534 |
| Sylhet | Madina Market Branch | 185912547 |
| Sylhet | Mirabazar Branch | 185912592 |
| Sylhet | Rakhalganj Bazar Branch | 185912950 |
| Sylhet | Razaganj Branch | 185910123 |
| Sylhet | Rekabi Bazar Branch | 185913041 |
| Sylhet | Station Road Branch | 185913467 |
| Sylhet | Sultanpur Branch | 185913520 |
| Sylhet | Sylhet Ladies Branch | 185912442 |
| Sylhet | Taltala Branch | 185913854 |
| Tangail | Balla Bazar Branch | 185930316 |
| Tangail | Elasin Branch | 185930790 |
| Tangail | Ghatail Branch | 185930916 |
| Tangail | Kalihati Branch | 185931302 |
| Tangail | Natiapara Branch | 185931786 |
| Tangail | Pakulla Branch | 185931849 |
| Tangail | Pathrail Bazar Branch | 185931960 |
| Tangail | Ratanganj Bazar Branch | 185932051 |
| Tangail | Sokhipur Branch | 185932206 |
| Tangail | Tangail Branch | 185932293 |
| Thakurgaon | Baliadangi Branch | 185940106 |
| Thakurgaon | Bhulli Branch | 185940227 |
| Thakurgaon | Thakurgaon Branch | 185940977 |