Top 10 Bangla Newspaper list
In 2019 research and analysis over the internet with some component, we published Top 10 Bangla Newspaper list. Those are relabel and trusted. As previous  Prothom-alo.com remaining the first position then Banglanews24.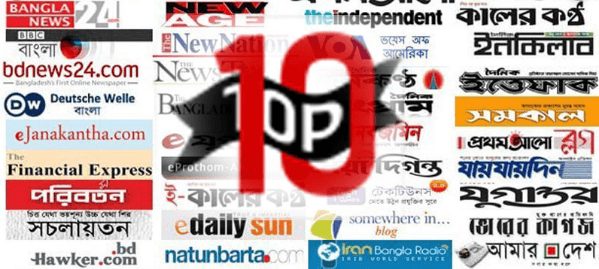 Prothom-alo.com
Prothom-aloProthom Alo is the highest circulated trusted, popular and most readable newspaper in Bangladesh. We also mention about the Alexa rank, Google indexing  and other component. This news paper website have more than million indexing in the google search engine.
Bdnews24.com
Bdnews24Honestly, bdnews24 is the first online popular news agency in Bangladesh. It is relabel, professionalism and faster news provider of the local to the world class service provider in Bangladesh. They have a strong journalist group around the Bangladesh. Moreover more than 500 journalists working around the Bangladesh.
Kalerkantho.com
KalerkanthoThe Daily Kaler Canto is another top level newspaper in Bangladesh. This news agency provides truth news also they are the first news provider.A sister concern of Bashundhara Group and it's also owned Bangladesh Pratidin, Daily Sun, News24, Radio Capital and Banglanews24 popular and trusted news agency.
Bd24live.com
BD24live.com is the news media who providing colorful news every moment. They are providing live news and fast news every day. Not only updates, news frequently news, but also Journalist of BD24live reaches most of the event area to collect truth news.
Banglanews24.com
Banglanews24 Top 10 Bangla NewspaperBanglanews24.com is new generation multimedia news agency in Bangladesh. Their news broadcast on the two ways Bangla and English session. Also a concern of the East-West Media Group Ltd. So, they are trying to provide unique and accurate news every news update. Moreover, you can read top and latest news over their website. Additionally, there news portal webpage is fresh and user friendly.
Ntvbd.com
NtvbdOne of the most popular news media is a native TV channel news site is ntvbd.com. On the internet Alexa rank is 3k and have lots of web page readers.
Bd-pratidin.com
Bd-pratidinBangladesh Pratidin is trusted and popular news service supplier in BD. They provide news on printing and online basis. One of the raising and best online news media sites.
Jugantor
Jugantor Top 10 Bangla NewspaperAnother most popular Bangla newspaper of Bangladesh is Jugantor. Previously this newspaper was very much popular. It's had a printing and online news Bangla service name Bangladeshi duniksanbadpotro. Trustworthy news as well as old news service provider in our country. Online ranking is about 797k. Google indexing is great and 11.8k Alexa ranking .
Ittefaq
IttefaqThe Daily Ittefaq is one of the old and popular Bengali-language over the past decade. The daily popular popular newspaper in our country. Also, most circulated newspapers in Bangladesh. One the news media site golden name is Ittefaq. Editor of this popular news paper is Anwar Hossain Manju.
Samakal

Samakal Top 10 Bangla NewspaperSamakal is a Bengali-language daily newspaper published in Dhaka, Bangladesh. The name is families around the country. A number of printing copy sell around the country.