Top Shopping Sites For Fashion and Outfits
We always want different outlook everyday. That's why daily fashion is now most trending. We always love to write about what you love to read. That's why we are writing article about Top Shopping Sites For Fashion and Outfits.
Why ASOS?
A few people with business in their mind started a clothing brand and tried to make it online. Brian McBride, Waheed Ali, Nick Beighton and Nick Robertson started their business and named it ASOS. ASOS is one of the renowned and successful online fashion stores now. It is an online shopping platform whose main office is situated at London, United Kingdom. Mostly the decisive and planning are done from here. In 2012, the company launched its first drama-game show series, called DIGIDATIN. It was known as an Internet dating show with backstage drama. In September, 2016 an investigation team came up with a report which stated that ASOS warehouse has some of the best warehouse environment. They are the largest producer of clothing, shoes, beauty products, accessories and so many other products. They started their business at 3 June,2000. They gathered the attention for their AIM for the first time in stock market of United Kingdom. One of their core strategy was digital marketing for their business. They have used the social media for their digital marketing issues for a really long time and it worked for them before. It is still working for them as well. They have used the instagram story with the fullest potential. With a hashtag and an uploaded photo for each customer boosted their marketing strategy and success rate in some extended level. In September 2017, ASOS launched its makeup collection and In November 2017 ASOS teamed up with GLAAD, to launch a gender-neutral capsule collection. It has multiple awards from so many platforms. They have student discount facilities and worldwide shipping facilities. They provide several branded products as well.
Features you will get:
Improvised cart system
Guaranteed product.
Product review and ratings
Worldwide shipping
International payment method
Award winner clothing brand
Categorized product
Boohoo
Why boohoo?
"We don't take fashion or life too seriously"
Boohoo started their business in 2006. Mahmud Kamani founded this business with the former fashion designer, Carol Kane with a wide vision for the fashion and clothing industry. Currently, they have about 2175 people working for the betterment of this amazing woman clothing business. They have a huge collection of trendy outfits and wearables for the trendy people and teenagers as well. They call themselves the biggest global clothing brand that never sleeps. This amazing brand is dropping 100 new products almost every day on a non-stop basis. They have physical stores in the United Kingdom, the United States and France. They are affiliated with so many renowned clothing and fashion business giants. They try to make the fashionable wear for 16-24 years olds. As an online fashion giant, boohoo use the social media as a vital part for one of their marketing strategies. A social media manager was appointed to them in 2012 for their marketing strategy. Even the employees were encouraged to assist the social media team by sharing and making the content of their own. On a research held in September 2017, boohoo had 4.4 million Instagram followers, 1 million of Twitter followers and 3.1 million of likes on their Facebook page. With the expansion of the business, They started the boohoMan for the men's wear and boohookids for the kids wear as well. You can look for the product on the website and order it. They provide online shipping worldwide. They also provide discounts on several occasions. Students get a 10% discount. They have the wishlist and the cart system for the website.
Features you will get:
Improvised cart system
Internationally recognized brand
Product review
Secured worldwide shipping
International payment method
Several international stores
Home delivery system
Categorized product
Android and iOS app
Affiliation facility
Return policy
boohooFit
boohooMan
boohooKids
Forever 21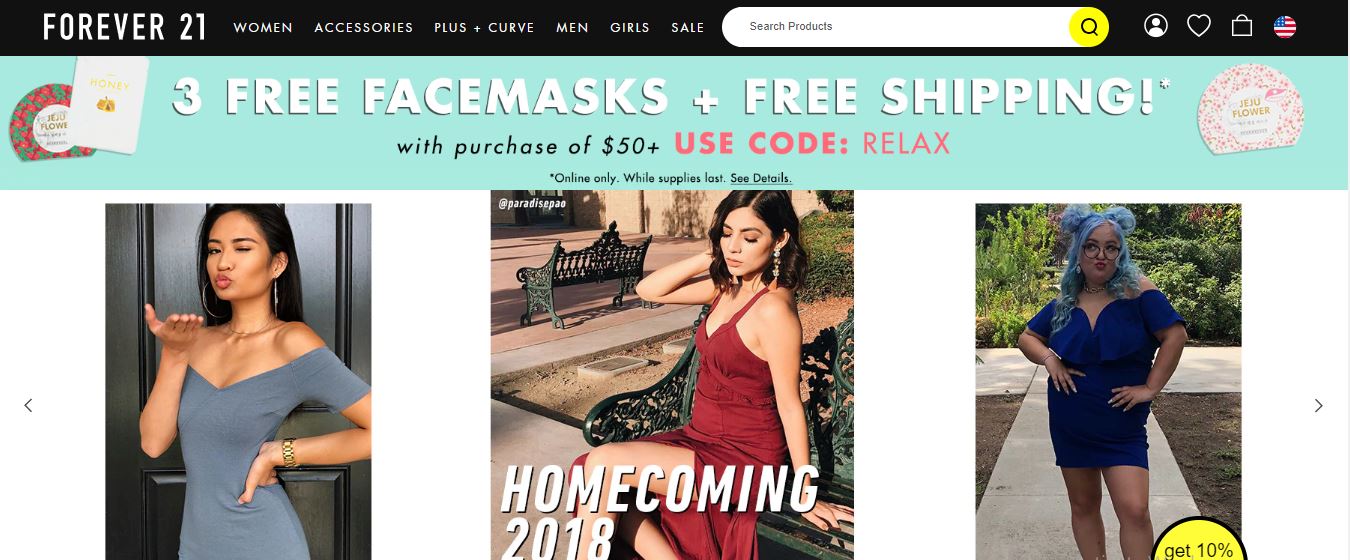 Why Forever21?
Forever 21 is listed as the 5th largest online and store retailer in the United States. Formerly the brand was known as Fashion 21. The company was founded by Do Won Chang and his lovely wife Jin Sook Chang at Los Angeles, California on April 21, 1984. It is a private company of them. They started from the scratch and now they have almost 723 stores worldwide and still expanding. On the other hand, they have almost 30,000 employees if we count and it is expanding with the store expansion as well. With 30 years of successful business, it is still a family-owned business.
Forever 21 is known for it is in trending and fashionable contributions and low budget offers. They provide products to all ages, extending from baby to grown-up. Over 60% of its products are made in China and the normal store estimate is 38,000 square feet. The organization offers fashionable wears, trendy clothing, beauty items, home decor, and apparel for men and young people as well. The organization has been associated with so many other fashion giants.
An amazing website with beautiful UI and this renowned brand, what do a shopaholic want more from an online shopping platform? Forever 21 is one of the best places for the trendy teens' shopaholics. You can always find something new and trendy. They have the shopping cart system and international shipping facilities. You can always get a 10% discount whenever you signed up for this website. They often come up with the amazing discount offers and package deals as well. The fashionable wears in a cheap or discounted price. What do you want more?
Features you will get:
Improvised cart system
Internationally recognized brand
Product reviews
Secured worldwide shipping
International payment method
Home delivery system
Categorized product
Android and iOS app
Affiliation facility
Return policy
NastyGal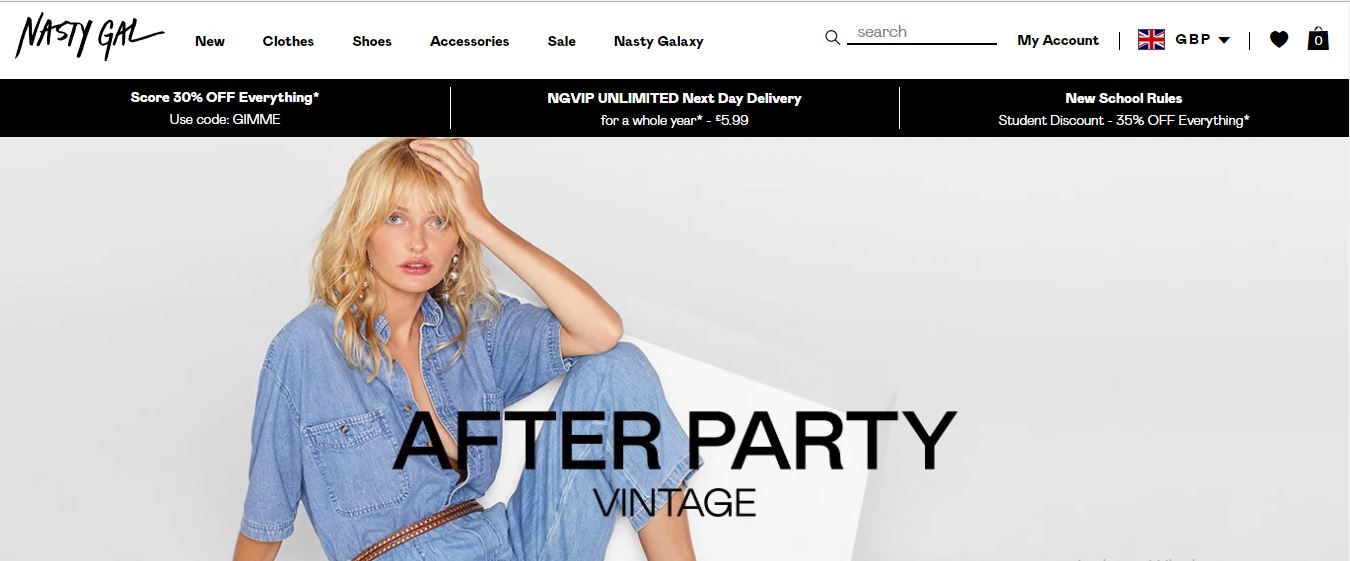 Why NastyGal?
"We may be rooted in Los Angeles, but we live everywhere online"
Just with an eBay account a campus safety Host, Sophia Amoruso started the business with a name "NastyGal Vintage". Famous funk singer Betty Davis was remembered in the whole process. The company believes the patron saint of badass women complete with lame platform thigh-high boots." The iconic fashion style of Betty Davis inspired this whole business. Sophia Amoruso used her MySpace account to communicate with her customers and afterward, she built up a following of 60,000 customers on that platform. In 2008, Amoruso moved Nasty Gal Vintage off from eBay and made its own website. In 2010, NastyGal opened its headquarter in Los Angeles, California. In 2012, the company joined the Index Portfolio with a $9 million investment. Then they followed by a $40 million, the second round of funding in August 2012. In 2015, Nasty Gal opened its second store in Santa Monica. The store has cool features such as full-service shoe salon and two-way-mirrored fitting rooms. NastyGal is all about trendy and urban outfits. This amazing website provides unique and tremendous woman outfits. A categorized website is always fun to surf. You will always find yourself sweet deals for products. If you even sign up, the website will give you a 30% discount. There is always a discount for the students. The website also provides the next day delivery facility for the people in hurry. They also have a student discount and occasional offers as well. The products of this website are way too much attractive.
Features you will get:
Improvised cart system
Internationally recognized brand
Product review and ratings
Secured worldwide shipping
International payment method
Unlimited next day delivery system
Lifestyle magazine
30% discount in every purchase currently
Categorized product
Android and iOS app
Affiliation facility
Return policy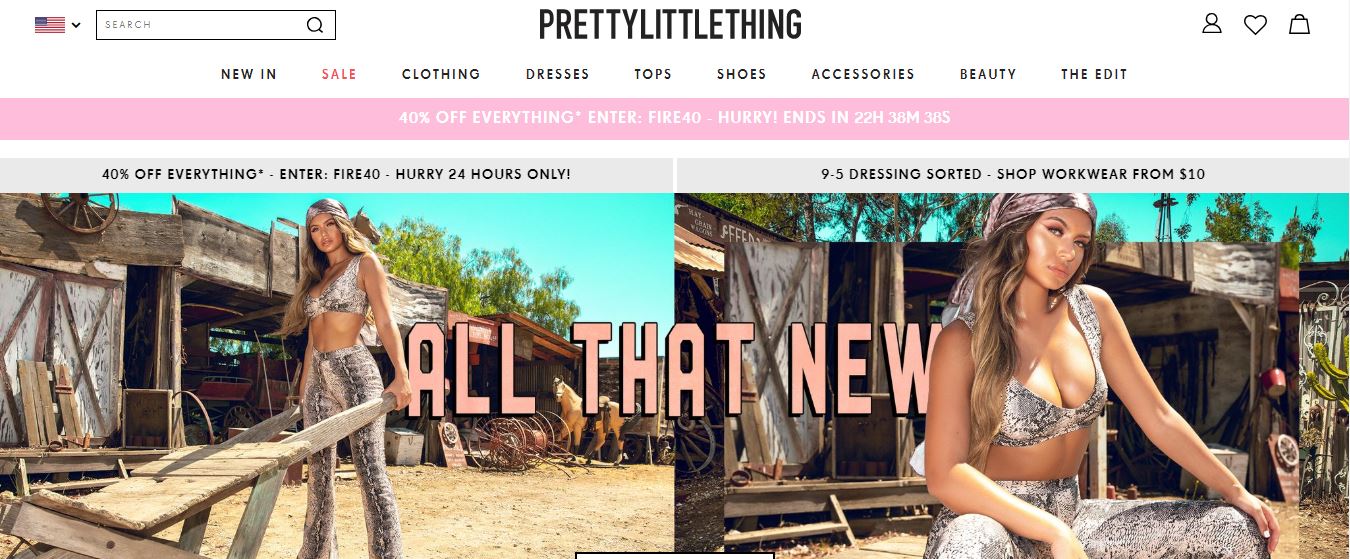 Why PrettyLittleThing?
PrettyLittleThing is an online shopping platform for women around the world. They are basically a woman clothing brand who are highly praised and accepted by the women around the world. Umar Kamani and Adam Kamini started this business in 2012. The headquarter is situated at Manchester, United Kingdom. They have opened several stores in several places. The UK based online fashion retailer boohoo.com is the main owner of the PrettyLittleThing.com. The key focus of their whole business was to look up the fashion trend of the 16-24 years old women groups. In June 2017, PrettyLittleThing launched a range called PLT Girl for young girls aged 5-12. They started with this project and with a limited product category only. Currently, they are expanding their business. They are expanding the business at an international level. They collaborated with many celebrities and so many business affiliations lately. The company worked to further establishment in the international market by collaborating with a few American reality television personalities. You can actually see celebrities wearing their brand products. In 2016, the brand partnered with ASOS and with Lipsy selling styles on their website and through multinational retailer Next. They provide trendy and casual outfits, shoes, wearables, beauty products, and accessories. They also provide the shipping facilities as well. You also can search for the stores from their websites. You can search for your desired product or you can browse through the categories. Pick your selection, pay for it and get it to deliver to your home. This is kind of a dreamy website if you are a trendy woman with a keen fashion sense.
Features you will get:
Improvised cart system
Internationally recognized brand
Product review and ratings
Secured worldwide shipping
International payment method
Home delivery system
Categorized product
Android and iOS app
Affiliation facility
Return policy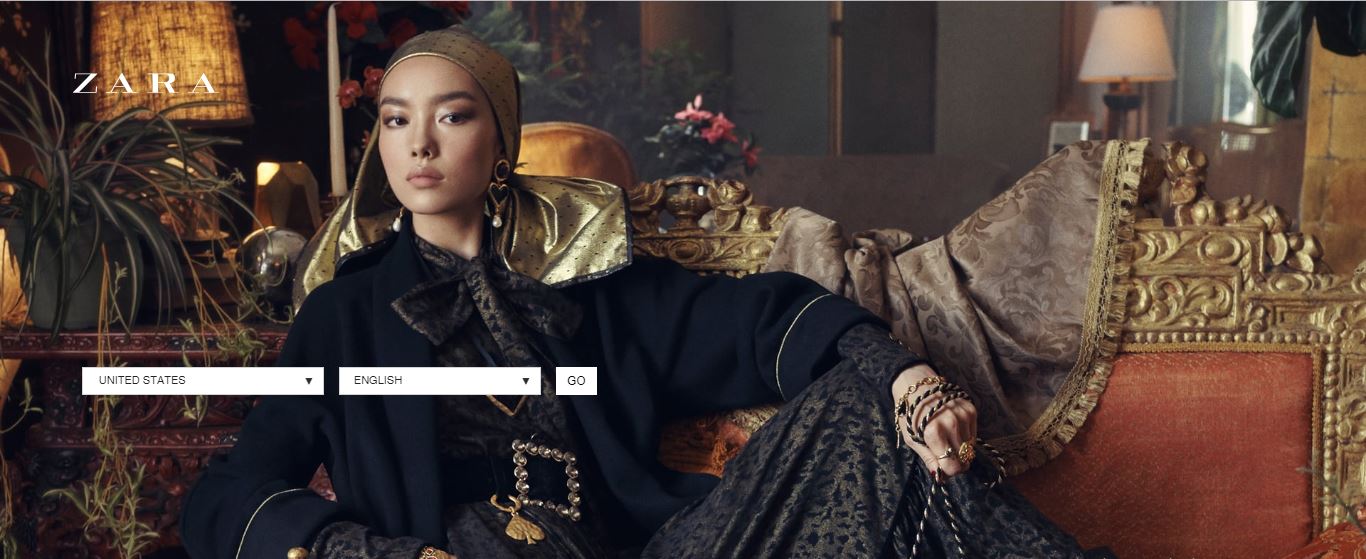 Why Zara?
There is no need to introduce the brand Zara. Zara is a worldwide clothing brand in which people trust for the very beginning. They have really interesting marketing strategies. Zara has a policy of zero advertising. The very famous Inditex group is the parent company of this amazing brand. Inditex also owns the renowned brands such as Massimo Dutti, Pull&Bear, Bershka, Stradivarius, Oysho, Zara Home, Uterque and many others. However, Zara is known to be the best and successful alongside with their other concerns. This company was started at Galicia, Spain by the great businessman Amancio Ortega and his wife Rosalia Mera with the mission to make the best fashion brand around the world. There is a funny story about the name. When they first opened the store in Spain, they named it Zorba after the classic movie "Zorba the geek" but after a few days they find out there is a bar with the same name so they had to change it into ZARA. From then they started their business and never looked back. Zara needs just one week to develop a new product and get it to stores, compared to the six-month industry average and launches around 12,000 new designs each year. They have about 2,200 stores worldwide and still expanding. They are providing the exclusive and trendy items of clothing and appeals. How about an online presence of the whole store? Yes, they exactly have the online store now. They have this amazing website which includes all the necessary features for the online shopping store. You can enjoy your online ZARA shopping in a convenient way now.
Features you will get:
Improvised cart system
Internationally recognized brand
Product reviews
Secured worldwide shipping
International payment method
Home delivery system
Categorized product
Android and iOS app
Affiliation facility
Return policy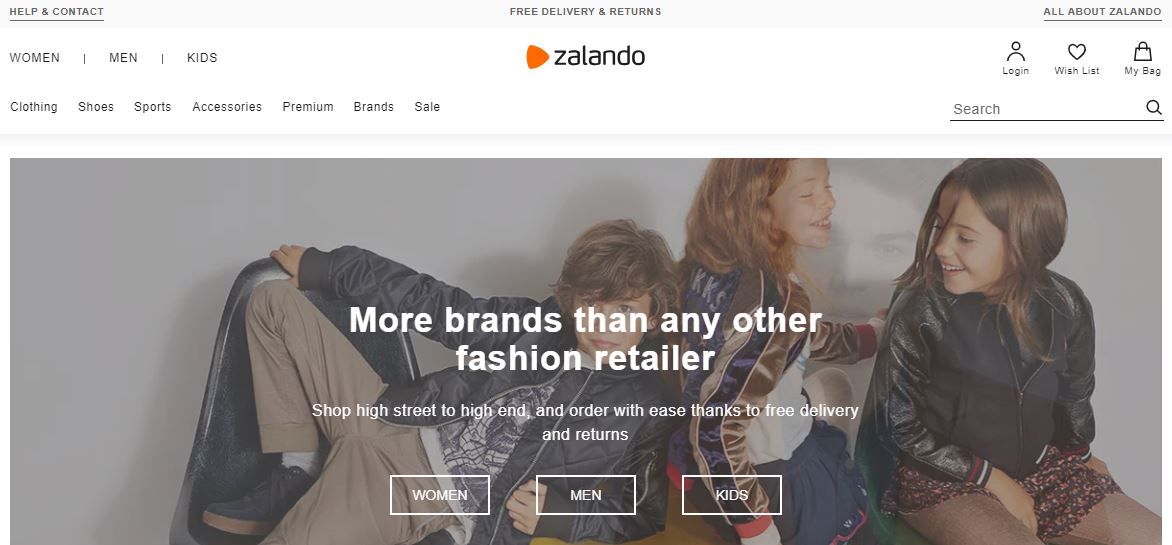 Why Zalando?
With the name of "Ifansho" this brand is created by the internet company Rocket Internet with the collaboration with Robert Gentz and David Schneider.
In 2009 Zalando started their activities outside of Germany when it began to offer to ship and delivering to Austria. In 2010 the organization started their business in the Netherlands and France, and in 2011 it opened online retail locales in the UK, Italy, and Switzerland. In 2012 it started the business in Sweden, Denmark, Finland, Norway, Belgium, Spain, and Poland. Zalando's main operational activities are done in Germany with the administrative works as well. Their management and administration are situated in their Berlin office. In the midst of floods of the business outburst, particularly since the budgetary emergency, Zalando's decided to work and deal with its activity focuses in-house. The organization utilizes more than 1600 IT-specialists crosswise over workplaces in Germany (Berlin, Hamburg, Dortmund), in Ireland, in Finland and Portugal. The company additionally runs another site which offers off-price frequently for fresh designer clothing and fashionable wears which is named Zalando Lounge with the slogan "Exclusive brands for amazing prices". They offer "payment after delivery" rule which is really convenient for the consumers. They have enjoyed it since the beginning of this company. They also provide the "100 days return policy" which is really amazing.
Speaking of a well decorated and good looking online shopping website, Zalando is a pretty big name. You already know that they are into this business for a long time. This website provides all the required features that an online shopping store must have. They have this amazing cart system and wishlist. They frequently have the discounts offers for their customers.
Features you will get:
Improvised cart system
Internationally recognized brand
Payment after delivery
Product reviews
Secured worldwide shipping
International payment method
Home delivery system
Categorized product
Android and iOS app
Affiliation facility
100 days return policy