Our Mission with Foundational work:
Education is one of the most powerful weapons in fighting poverty. Our country is world's one of the most populated country and job market are very competitive. So the young generation lives a frustrated life after graduation which is a vital issue to convert a person in a negative way. We believe everyone has the talent and Online is a source of earning and a platform to prove their self. zoo InfoTech is an I.T. firm who provides this Informations without cost and Free Basic career development courses. Our main goal to remove unemployment from our nation. So if the money problem solves 98% problem solve. Everyone can solve their problem, just they need support, proper education system, and training. That's we are connecting with foundational work.
Your donation is tax and cost – deductible and will provide essential funding to support to all students and educators.We support a students with Laptops, Teachers and Outsourcing guidelines. Education charities make learning possible for students and nations.You can choose to make a one-time donation or give on a monthly basis. You will receive an electronic receipt via e-mail for your contribution after the transaction is completed.
Information Technology (I.T.)​ Education
Have a passion for sharing what you know about Info tech careers? Want to give back in a meaningful way? Learning with information technology is part of the Commonwealth of our long-term vision. As in all classrooms, teachers and students know the importance of connecting people and connecting with information in this modern age earning source.​

Change Someone's Life
We all know education is important and fetches us respect in the society. Information Technology (I.T.) Education has a lot of benefits and free information provide is a social work also. An educated person is an asset to the society that will help the country grow. It gives us positivity that helps us have a better lifestyle.Your donation to Creating IT Futures helps to create new on-ramps for tech careers. Enable underemployed and unemployed adults to get the tech training they need. Help inspire  with science and technology challenges. Bridge the skills gap and diversify the tech workforce.We help populations that are under-represented in IT and individuals who are lacking in opportunity to prepare for, secure and be successful in IT careers. A computer, internet and our courses and training develop you to grab a better oppotunities which can divert a career more effective way.For Those achievement makes us happier because we change a life with your donation. For that changes we need to hire and pay teachers salary,Students laptop and proper education with class room.We made those for a students and learner.Now we need your hand to go ahead for their better future and support.After our education program, A students can earn from online platform such as As Fiverr, Freelancer and Up-work. Even a student can apply for online job at any I.T. related work, such as website development,Digital Marketing,SEO,Graphics and Video editing etc.
FIVE REASONS TO GIVE TO CHARITY
Donating to the causes you care about not only benefits the charities themselves, it can be deeply rewarding for you too. Millions of people give to charity on a regular basis to support causes they believe in, as well as for the positive effect it has on their own lives.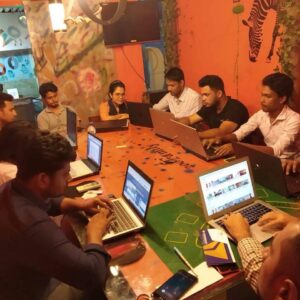 1 GIVING TO CHARITY MAKES YOU FEEL GOOD
Donating to charity is a major mood-booster. The knowledge that you're helping others is hugely empowering and, in turn, can make you feel happier and more fulfilled. Research has identified a link between making a donation to charity and increased activity in the area of the brain that registers pleasure – proving that as the old adage goes, it really is far better to give than to receive.
Our own research into why people give supports this. We asked 700 of our generous donors to tell us what motivates them to give regularly to charity; 42% agreed the enjoyment they receive from giving as a key influence.
2 GIVING TO CHARITY STRENGTHENS PERSONAL VALUES
In our research, Why we give, a feeling of social conscience was the most widely-given reason to give to charity. Whatever type of charity work they supported, 96% said they felt they had a moral duty to use what they had to help others, a sentiment very much rooted in their personal values and principles.
Having the power to improve the lives of others is, to many people, a privilege, and one that comes with its own sense of obligation. Acting on these powerful feelings of responsibility is a great way to reinforce our own personal values and feel like we're living in a way that is true to our own ethical beliefs.
3 GIVING IS MORE IMPACTFUL THAN EVER
Many people are concerned that their donations to charity may be reduced by tax or administrative costs, preventing the full amount from reaching the people or causes they really want to help. Thankfully there are ways to make the most of every donation to charity.
If you're a UK taxpayer, you can boost the amount of every donation you make by giving through Gift Aid, an Income Tax relief created to help charities get the most out of the funds they receive. As Gift Aid enables the charity to recover the basic rate of tax on your donation, the scheme adds 25p to each £1 you give at no extra cost to you.
There are many other ways to give to charity tax-effectively too, such as by donating straight from your salary before tax is deducted through a payroll giving scheme, donating shares to charity or leaving a charitable legacy in your Will. These methods of giving ensure your chosen charities benefit as much as possible from your support.
4 GIVING TO CHARITY INTRODUCES YOUR CHILDREN TO THE IMPORTANCE OF GENEROSITY
Sharing the experience of donating to charity with your children shows them from a young age that they can make positive changes in the world. Children naturally love to help others, so nurturing their innate generosity is likely to mean that they grow up with a greater appreciation of what they have, and will carry on supporting charity in years to come.
Starting a tradition of donating to charity with your children is easy – try creating a family donation box that everyone can add to and nominate a family charity each year, involving the children in choosing which causes to support.
5 GIVING TO CHARITY ENCOURAGES FRIENDS AND FAMILY TO DO THE SAME
Your own charitable donations can inspire your nearest and dearest to give to causes important to them, and could even bring about a family-wide effort to back a charity or charities that have special significance to you as a group.
Family giving creates a bond, helping to bolster relationships through a shared goal and raising more money than could otherwise be possible through individual donations. Chances are, many of your family members are already giving to charity, so working together could help you to make even more of a positive impact. We can help you family to set up a family CAF Charitable Trust to make coordinating your donations simple and sustainable.
If this has inspired you to make a donation to charity, we can help. We make it easy to find a charity that's working for causes important to you; whether you want to make a one-off donation, set up a donation plan or find out how to donate your time.
Foundation Activities with Information
We believe online is a source of money and To earn money from online you need  proper I.T. education.We provide this education for free and this is our core of foundation.Our goal to make an unemployment nation and our post helps to gather knowledge and information.