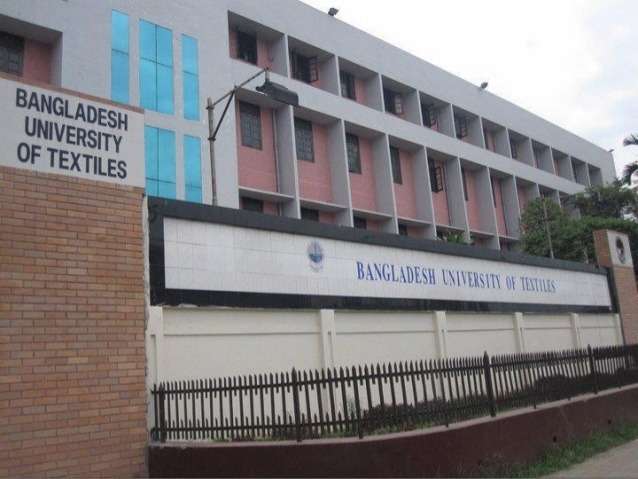 Bangladesh University of Textiles is a Public University is formally name as BUTex.  The University is informally known as Textile Engineering University which is specializing in Textile Engineering. It is the nine PHD-granting research universities of Bangladesh.
Fundamentally the University was built up on 22 December 2010 by a law of the Ministry of Education, Government of Bangladesh. The foundation of the university is a long history from this excursion.
During the British colonial period, at first British weaving school was set up for providing textile technician education. Then it was upgraded as a diploma courses in textile education and renamed East Pakistan Textile Institute and transferred at Tejgoan in Pakistan period. After the liberation war of Bangladesh the institute launched a four year bachelor degree under the University of Dhaka in Textile Technology.
Considering the importance of textile education and research, the government took a decision th upgrade the college to a university. For this purpose the college officially inaugurated BUTex on 15 March 2011 by Bangladesh Textile University Act, 2010.
The University launched 14 departments under the 05 faculties of Textile Engineering. There are
Faculty of Textile Engineering
Faculty of Textile Chemicals Engineering
Faculty of Fashion Design & Apparel Engineering
Faculty of Textile Management & Business Studies
Faculty of Science & Engineering
BUTex has 15 workshops and 84,000 sq. ft area for laboratories.
Yarn Laboratory
Fabric Laboratory
Knitting Laboratory
Knitting Laboratory
Apparel Laboratory
Testing Laboratory
Computer Laboratory
Electronic Laboratory
Physics Laboratory
Chemistry Laboratory
Mechanical Workshop
The Residence of the University are-
G M A G Osmani Hall Sheikh Hasina Hall
Syed Nazrul Islam Hall
Shohid Aziz Hall
Butex at a Glance :
   Bangladesh University of Textiles (BUTEX)
           বাংলাদেশ টেক্সটাইল বিশ্ববিদ্যালয়
Motto
Knowledge Is Power
Type
Public
Established
1921 (Upgraded to current form in 2010)
Chancellor
President of Bangladesh
Vice-Chancellor
Mashud Ahmed
Students
1,880
Undergraduates
1,730
Postgraduates
150
Location
Tejgaon Industrial Area, Dhaka, Bangladesh
Campus
Urban, 11.67 acres
Colors
Magenta and white
Website
butex.edu.bd
For Admission procedure and Information Check Here.
Please click here for Public Examination Result.