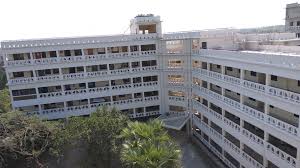 Comilla University is a government fund university which is located at Kotbari, Comilla. Mainly the University situated upon 50 acres of land at Lalmai Bihar in Moynamoti.
The University formally began with 28 May 2007. But it was established at 2006.
The Journey began through an orientation program for the 2006-2007 academic year with 300 students. Under the 04 faculties of 07 departments 15 teachers enrolled in the university. For the project establishment of twelve science and technology universities in the country and one of these is Comilla University which is General University. Check Here for More Information.
At a Glance of Comilla University
                    Comilla University
                   কুমিল্লা বিশ্ববিদ্যালয়
Motto
For better Education
Type
Public
Established
2006
Chancellor
President Abdul Hamid
Vice-Chancellor
Professor Dr. Emran Kabir Chowdhury
Academic staff
120
Administrative staff
24 (First Class Officer)
Students
About 4000
Location
Comilla, 3506, Bangladesh
Campus
Salmanpur, Kotbari, Comilla
Website
cou.ac.bd
Since the establishment of university with 07 functional departments but now there are total 17 departments of under the 06 faculties. There are
Faculty of Arts & Humanities
Faculty of Social Sciences
Faculty of Law
Faculty of Engineering
Faculty of Science
Faculty of Business Studies
There are four corridors. One for female and three for male understudies
Kazi Nazrul Islam Hall
Shaheed Dhirendranath Datta Hall
Bangabandhu Sheikh Mujibor Rahman Hall
Nawab Faizunnesa Choudhurani Hall (Female)
For Admission procedure and Information
Please click here for Public Examination Result.