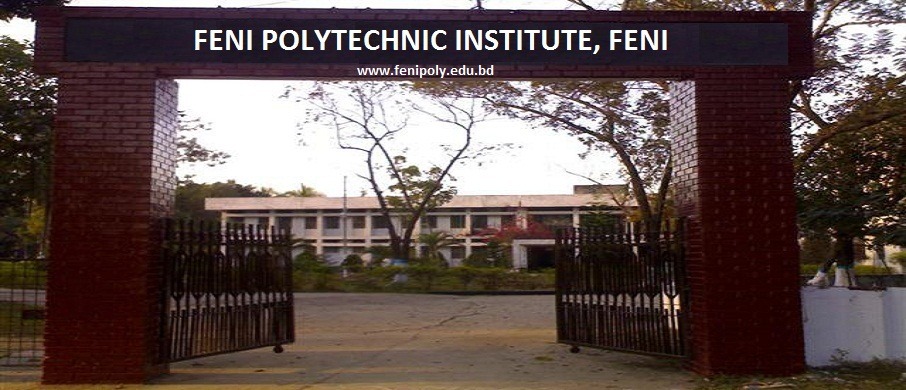 Feni Polytechnic Institute is a public Technical Institute which is established on 29 February 1964. It was situated at Feni District in Bangladesh.
The Institute started its journey as Feni Technical Institute with Civil and Mechanical Engineering departments. Feni Polytechnic Institute stands on 15.97 Acres campus near old Dhaka-Chittagong Highway Road. To Know about more Polytechnic Institute Click Here.
Feni Polytechnic Institute works an extra second shift to its standard activity for its 6 departments and the foundation is consequently loaded with understudies all through the working time frame and springs up from morning till night.
At present Feni Polytechnic has a sublime grounds comprising of a two story authoritative building, 1 three story scholarly building, 3 grounds housing for its understudies, assembly room, mosque and facilities for its Principal and staffs. Lake, field, canteen and the different trees all around the grounds just is a treat for our eyes.
Feni Polytechnic Institute is very managed and observed by the Directorate of Technical Education (DTE) under Ministry of Education (MoE) for the Governments of the general population's republic of Bangladesh. The scholastic segment is managed by the Bangladesh Technical Education Board (BTEB).
Now Feni Polytechnic Institute offers 06 departments of Diploma in Engineering.
Architecture and Interior Design Technology
Civil Engineering
Computer Engineering
Electrical Engineering
Mechanical engineering
Power (Autodigel) Technology
At a Glance of Feni Polytechnic Institute
                  Feni Polytechnic Institute
                            Location
                      Hospital road, Feni
Information
Type
Government
Motto
প্রযুক্তির জন্যে এসো, প্রবৃদ্ধির জন্য বেরিয়ে যাও।
Established
29 February, 1964
Feni, Bangladesh
Opened
1964
Principal
Md. Mohidur Rahman
Vice-principal
dr. Engr Syed Faruq Ahmed
Staff
110
Faculty
6
Number of students
4000
Area
15.97 acres (64,600 m2)
Nickname
FPI
Website
www.fenipoly.edu.bd
For More Details Please Check Here.
To know about University Information Check Here.