Khaleda's lawyer: We hoped the SC would grant the bail
The court has not taken into consideration matters usually involved when a person gets bail while denying bail to Khaleda Zia. The BNP chairperson's lawyer Advocate Zainul Abedin said this to reporters, after her bail was rejected by the Supreme Court on Thursday.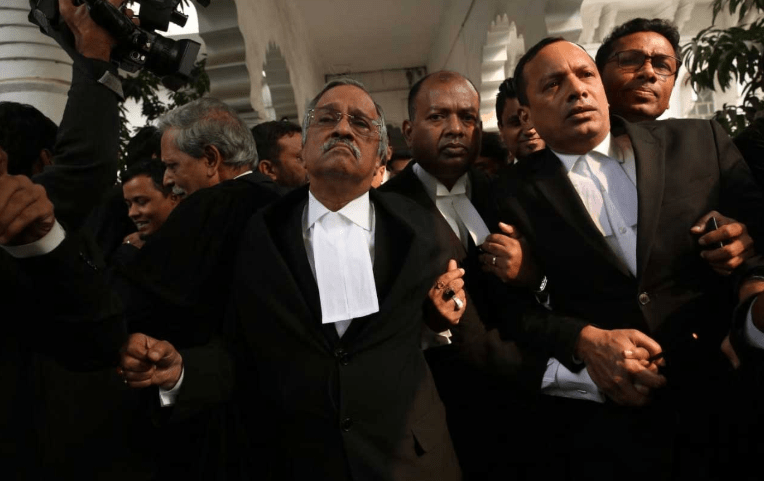 "The medical report submitted to the court mentioned that Khaleda is getting disabled day by day. And nowhere in the report is it mentioned that she is receiving proper treatment."
When asked, whether BNP would hold any protest program regarding the court's decision, Khaleda's lawyer Zainul said: "We will scrutinize the reason behind Khaleda's bail refusal and will then take the next course of action."
The Supreme Court's full bench of the Appellate Division led by Chief Justice Syed Mahmud Hossain rejected Khaleda Zia's bail petition in the Zia Charitable Trust graft case on Thursday afternoon.
BNP chairperson Khaleda Zia's lawyer Zainul Abedin chant slogan at the Supreme Court premises on December 12, 2019 | Mahmud Hossain Opu/Dhaka Tribune
The court also ordered the authorities concerned to provide her with better health treatment than the one she is currently receiving.
Khaleda Zia, a three-time former prime minister, has been in prison since February last year, serving a total of 17 years in the Zia Orphanage Trust and Zia Charitable Trust corruption cases.
The 74-year-old was admitted to BSMMU for treatment on April 1, from the old central jail at Khaleda Zia's lawyer Nazim Uddin Road. She has been in the hospital ever since.
The High Court on July 31 rejected Khaleda Zia's bail petition in the Zia Charitable Trust graft case, prompting her counsels to move the apex court on November 14.
On November 28, the Appellate Division bench had ordered BSMMU authorities to submit the report before December 5.