As a public university in Bangladesh, Khulna University introduced its academic curriculum in 1991. Khulna University established in 1987 at Gollamari, Khulna. It is the 9th public university in Bangladesh. When the university started its academic programs, there were 80 students in four programs.
Khulna University is the only university in Bangladesh where student politics is not allowed which is the most promising characteristics.
Khulna University strives to create a knowledge-based society through accelerating inclusive and transformative growth of Khulna, Bangladesh and the world. Freedom of thought and expression, fairness and equity, diversity and inclusion, collaboration and engagement are the four core values of the university.
Khulna University is the main state funded university to have performed as a capable performer in the financial and social existence of the south-western area of Bangladesh. The educational programs are driven by the necessities of the group and economy in a worldwide setting with the goal so that the graduates can effectively run into the challenging experiments of the changing world. There are a decent number of national and global research ventures being completed in the University. Khulna University has set up itself as a focal point of perfection in field of advanced education in Bangladesh.
The excellence of educational activities of Khulna University is kept up inside and remotely. Inner arrangement for certifying quality education is thorough. In the undergrads level, leader of the teach goes about as the facilitator to convey the courses to every employee in view of his/her preferences and expertise in the significant field. For More Information Click Here.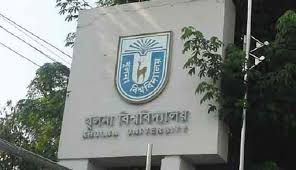 There are 28 disciplines under the six schools in Khulna University. The schools are
Life Science School
School of Arts and Humanities
Science Engineering and Technology School
School of Law and Justice
School of Management and Business Administration
School of Social Science
For the student residence, the University has four halls. Two students halls are under construction.
Khan Jahan Ali Hall
Khan Bahadur Ahsanullah Hall
Bangobondhu Sheikh Mujibur Rahman Hall
Aparajita Hall (female students)
Bongomata Begum Fozilatunnesa Mujib Hall
At a Glance of Khulna University
                  Khulna University
Type
Public
Established
1991
Chancellor
President Abdul Hamid
Vice-Chancellor
Mohammad Fayek Uz Zaman
Academic staff
348
Administrative staff
594
Students
5,616 [2016]
Undergraduates
3,963
Postgraduates
1,015
Doctoral students
44
Other students
387
Location
Khulna, Bangladesh
Campus
Urban, 106 acres
Affiliations
ACU
UGC (BD)
Website
ku.ac.bd
For Admission procedure and Information Check Here.
For Public Examination Result Click Here.