Woori Bank Bangladesh Head Office in Dhaka Bangladesh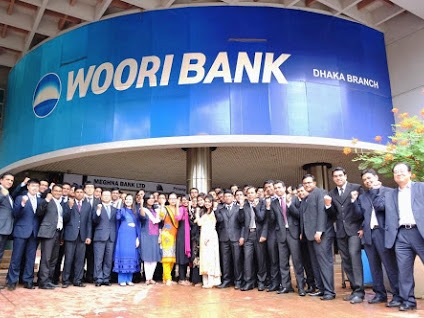 Woori Bank, a piece of the Woori Financial Group, is a bank headquartered in Seoul, South Korea. The bank changed its name in 2002 and incorporates the previous Commercial Bank of Korea, Hanil Bank, and Peace Bank.
It was referred to from 1999 through 2002 as Hanvit Bank. In May 2009, Woori Bank turned into the primary South Korean bank to issue UnionPay charge cards in China. Its Jongno branch is situated in the Gwangtonggwan, the most established consistently working bank working in Korea. It was enrolled as one of city's ensured landmarks on March 5, 2001. Woori Bank is the main South Korean bank to help non-Internet Explorer web programs for web-based managing an account in Korea. Woori Bank has activities in Bangladesh.
The Dhaka Branch manages stores, advances, settlements, and fare and import administrations. Alongside seaward monetary administrations, the bank gives a wide assortment of managing an account administration to Korean organizations situated in the fare fabricating mechanical complex in close-by Dhaka.
Likewise, The Bank offers supporting money related administrations to Chinese and Japanese substances that don't have their national banks in Bangladesh.
Details Information:
Registered Name
Woori Bank Bangladesh
Legal Status
Public Limited Company
Logo
 
Established
1899
Type
Private Bank
Category
Commercial Bank
Origin
Foreign Bank
Code
255
Services
§  Deposits

§  Loans

§  Remittance

§  Foreign Exchange

§  Export/ Import

Corporate Address
Suvastu Imam Square, 65 Gulshan Avenue, Dhaka 1212, Bangladesh.
Telephone
+880 2 8813270-3
Fax
+880 2 8813274, 8813241
E-mail Address
[email protected]
Website
bd.wooribank.com
SWIFT Code
HVBKBDDH
Service Hours
Sunday: 10:00 am – 4:00 pm
Monday: 10:00 am – 4:00 pm
Tuesday: 10:00 am – 4:00 pm
Wednesday: 10:00 am – 4:00 pm
Thursday: 10:00 am – 4:00 pm
Friday: Closed
Saturday: Closed