Original Netflix Account 1 Year Netflix 4K Premium Ultra HD Plan Support from any devices and Bangladeshi now can enjoy this offer. To subscribe your Netflix account you may contact with zoo Info Tech. They are taking the first step to sell digital products.
Netflix Subscription from Bangladesh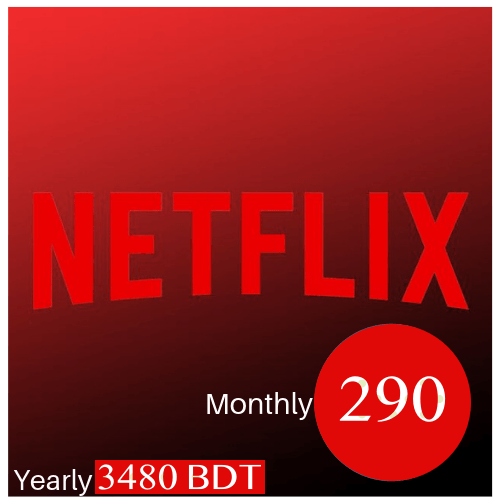 Netflix:
Netflix, the online streaming service, has been open for subscribers in Bangladesh since 2016. The number of Bangladeshi subscribers is around 200,000 according to some estimates. This number is gradually increasing with every month. Most of these users are paying subscription fees through international credit cards and by purchasing gift cards. However, this is not helping the Bangladesh government to tax the online streaming service which is generating around $ 21 million annually from Bangladesh alone.
Sharing Netflix:
Interested in saving some money by sharing your Netflix account with your friends and family? Netflix doesn't seem to enforce sharing accounts, but they do limit how many devices you can stream at the same time, from the same account.
Basic: For 1 screen ( 290 BDT)
Standard: For 2 screen (580 BDT)
Premium: For 4 screen  (1160 BDT)
Special Offer: Yearly 1 screen (3480BDT)
Screens include laptops, TVs, phones, and tablets. In addition, to supporting for more screens, each higher tier supports better quality video streams than the lesser expensive plans. You can even turn off certain features, like 'Continue Watching', to aid in sharing the account.

Our Special offer going on: 
Per User: 3480BDT (Yearly)
Yearly Premium: Full panel 16800 BDT – SAME ACCOUNT FULL YEAR (NO NEED TO CHANGE EMAIL-ID AND PASSWORD)
Scan and pay with mobile Banking :

290 BDT 1 Screen Netflix
Before sending money WhatsApp us: +8801978569297
Call For Subscription:+8801978569297
you will receive id and password within 24 hours after payments, (Payment accepted by cash or B-kash )
E-mail: [email protected]  Facebook Group: "zooFamily Community" 
Product FAQ
Q1:Is it just a private account? Is it 4 screens?
A1:Yes, this is a personal account. Support 4 screens. HD
Q2:How long after you pay, can you get an account?
A2:We will give the account within one day by mail or WhatsApp because of the difference in time difference.
Q3:How long can this account last?
A3:We have 3 situations;
1–Monthly account.per month 290 BDT
2–The scheme continues the same account the whole year 16800 BDT FOR 5 Screen.(same Id and password whole year)
3–Change plan every month—Send monthly to a new account for 12 months which is also yearly and price 4500BDT(per user Screen)
Q4:Can a continuous 3 month or 6-month account for that 3monthor 6 months last for 3 months or 6 month
A4:Of course, we will renew it every month.
***If you change any account I'D or Password then your account will be terminated permanently, and no refund payable.so,
don't change the password

don't forget the password

don't change the payment method

don't change the email

don't change the subscription

don't share ID and password, If you share then you will face the error problem.

The first time you log in to a new device, you need to delete the previous Netflix record for that device.    must  do   it  Because Netflix is too strict, it will seal your account.warranty will be voided if you will not follow the rules
Watch anywhere
Enjoy from the web or with Video app on your phone, tablet, or select Smart TVs — on up to 3 devices at once.
Download and go
Watch offline on  Video app when you download titles to your iPhone, iPad, Tablet, or Android device.
Data Saver
Control data usage while downloading and watching videos on select phones or tablets.

Related post: Netflix price in Bangladesh,  Netflix Subscription Service, Netflix subscription Bangladesh , Spotify Subscription In Bangladesh, Amazon Prime Bangladesh, Buy VPN Bangladesh