WP Rocket Premium
WP Rocket is the most sensible and advanced cache plugin available for WordPress which has support for WooCommerce as well. It has a separate cache for mobile devices and desktops, which makes it the perfect cache plugin, unlike other plugins. The configuration of WP-Rocket is very simple as it comes with self-explanatory option titles. You can see a jump of over 70% in your normal WordPress website after installing WP Rocket.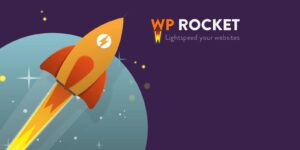 Are you looking for ways to improve speed and performance on your WordPress website? If so, WP Rocket might be the solution for you. WP Rocket is an all-in-one caching plugin that can help optimize your site's loading time, reduce server load, and increase your overall website performance. Let's take a closer look at what WP Rocket has to offer and how it can benefit your website.
WHAT IS WP ROCKET?
WP Rocket is a caching plugin that helps optimize the speed of your website. Caching is the process of storing data from frequently accessed pages in order to reduce page load times. When someone visits a page on your website, their browser needs to fetch all the data associated with that page – including images, text, and scripts from the server before it can be displayed. Caching reduces this process by storing some of that data in the visitor's browser, allowing them to access it more quickly when they return to the page again.
WP Rocket also utilizes minification techniques which compress and combine code into smaller packages that are easier and faster for browsers to read. Additionally, it provides lazy loading capabilities which only loads images when they come into view on a user's screen, instead of loading all images when the page first loads. This further reduces page load times as well as server requests since fewer images are being loaded at a time.
HOW DOES WP ROCKET BENEFIT YOUR WEBSITE?
Using a caching plugin like WP Rocket can have many benefits for your website, including increased speed and improved search engine rankings. Speed is important because users expect websites to load quickly; if yours doesn't, they may move on without ever seeing what you have to offer. And since Google takes page speed into consideration when ranking sites in its search results, optimizing your speed could give you a boost in visibility as well. In addition, using WP Rocket could potentially save you money by reducing server costs due to fewer requests being made at once.
How to Configure WP Rocket Plugin for WordPress
Step 1: Download WP Rocket Plugin.
Step 2: Log in to WordPress Admin.
Step 3: Remove W3 Total Cache.
Step 4: Install WP Rocket.
Step 5: Configuring WP Rocket.
Varnish Cache Purge.
Purge Varnish When Using a Proxy.
LazyLoad and minification.
CONCLUSION
Overall, there are many benefits to using WP Rocket for optimizing your WordPress site's performance and speed. By utilizing caching techniques such as minification and lazy loading along with other optimizations offered by WP Rocket, you can ensure that visitors have an enjoyable experience while browsing through your site – plus potentially save money in server costs! If you're looking for ways to improve performance on your WordPress website then considering using WP Rocket should be at the top of your list!
WP Rocket Premium