Yoast SEO is among the famous SEO plugins which are available for the WordPress platform. With the premium version, you even get more options to rank your website higher in the search engine. With the premium version of WordPress SEO, you can enjoy an ad-free experience along with some premium features like  Internal linking suggestions, Content insights and Redirect manager.
If you're looking for an effective and easy way to optimize your website's content, then look no further than Yoast SEO Premium. This powerful tool helps you craft content that is optimized not just for search engine crawlers but also for the readers who ultimately consume it. In this post, we'll cover all the great features of Yoast SEO Premium and discuss why you should use it to maximize your content's potential.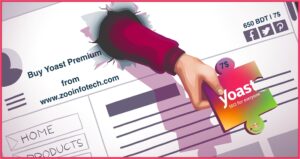 WHAT IS YOAST SEO PREMIUM?
Yoast SEO Premium is a plugin developed by the Dutch company Yoast, which specializes in developing software solutions for WordPress websites. This plugin helps users create content that is optimized for both search engine crawlers and readers alike. It offers a wide range of features designed to make your job easier, including automatic XML sitemaps, social media previews, internal linking suggestions, readability analysis, keyword optimization, and more.
WHY SHOULD YOU USE YOAST SEO PREMIUM?
Yoast SEO Premium makes it easier than ever to optimize your content for both search engines and readers. With this plugin installed on your site, you can easily check how readable your text is as you write it – and tweak it if necessary and optimize each page of your site with targeted keywords without any extra effort on your part. Additionally, it provides automatic suggestions for internal links within your website as well as social media previews so you can see what an individual post will look like when shared via popular platforms such as Twitter or Facebook.
By using Yoast SEO Premium, you can be sure that each piece of content on your website has been optimized both for search engine crawlers and human readers alike. This makes it easier than ever before to get more organic traffic from Google and other search engines as well as make sure that visitors stay engaged with the content they find on your pages once they arrive there.
How to install Yoast SEO Premium
Once you've installed this SEO plugin, you will be guided through the Yoast configuration wizard. Here you will be aided through some technicalities such as crawl and index which will help you properly rank your website. By following the clear and step-by-step configuration wizard you will get started in no time.
Keyword optimization
Let Google know what your page is exactly about
No outdated content
Preview of your page
Readability check
Take full control over your breadcrumbs
No duplicate content
Compatible with the block editor and classic editor
Always updated for Google's algorithm
Internal linking suggestions
Content insights
Redirect manager
Focus keyword export
CONCLUSION
For WordPress users looking to take their content optimization efforts to the next level, Yoast SEO Premium is an invaluable tool. By taking advantage of its many features – from readability analysis to keyword optimization, you can be sure that each piece of content on your site is properly optimized both for search engine crawlers and human readers alike. With this plugin installed on your site, you can rest assured knowing that all of the hard work you put into creating great content will pay off in increased organic traffic and engagement from potential customers or clients!