Travel Agent Consultancy: OTA Consultancy | IATA Consultancy | Traveller Consultancy | Air Ticketing / GDS Course
Hello! It's me, the founder of zooFamily, which is an online travel community of the aviation and travel industry. Today I will talk about OTA, which means online travel agency.
The travel business goes on OTA, so many travel agencies owner want to start their OTA. And I found many travel agents don't know how OTA works! So here is my brief with details:
If you want to make an OTA then you have to invest online travel portal. Not like an oldish policy. Because of COVID-19 (Corona Virus Pandemic) travel business goes online and hopefully by 2022 travel industry will move fully into OTA. So we zooFamily Travel Community built an "OTA software". Where we connected many travel company's inventory API, GDS API, Travelport API, Sabre API, Amadeus API, Airlines API, Hotels API, E-Visa API, Tour API, CRM API, and Accounts API. To build this kind of software we got support from Sabre Bangladesh, Travelport/ Galileo Bangladesh, Amadeus Bangladesh, Travelzoo Bangladesh Ltd, Airways Office, and more. And especially zooIT – Information Technology Company supported a lot to work with travel technology and solution.
(The consultancy between 2 – 3 hours, Before an investment our consultant, will help you to make a wise decision)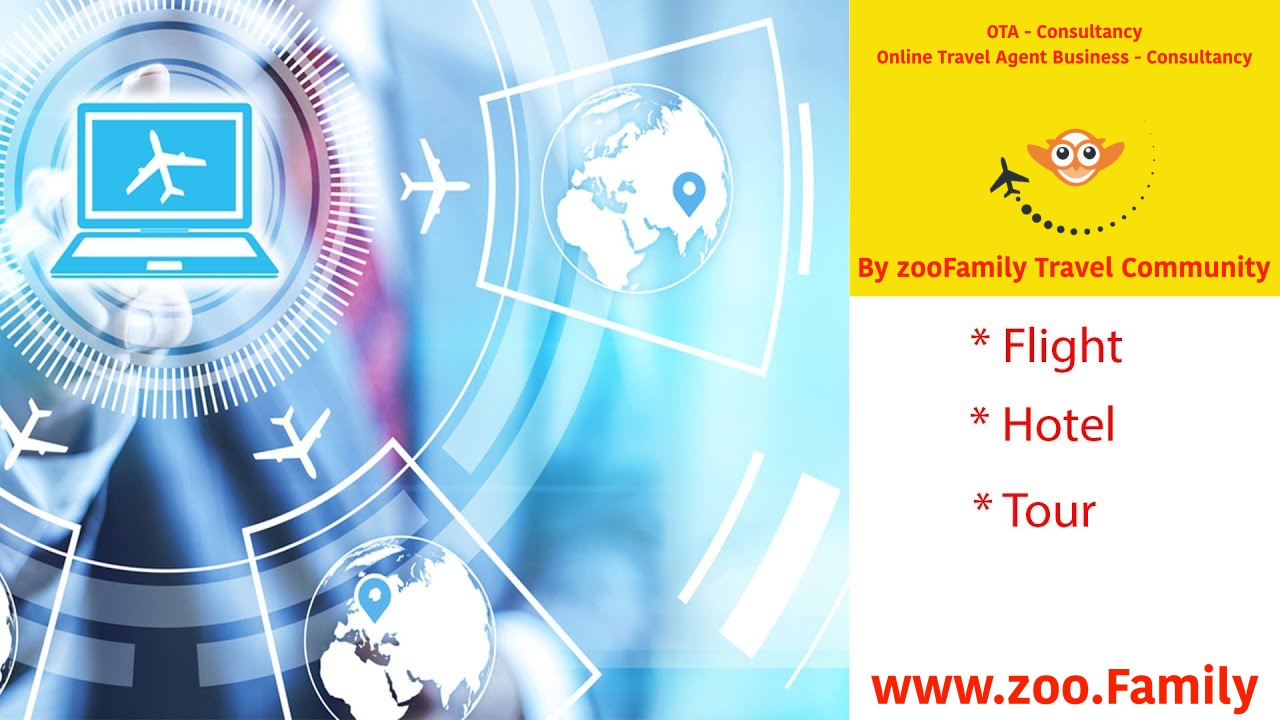 Why do you need an Online Travel Agency (OTA)?
Working with an Online Travel Agency (OTA) not only helps you reach globally, it allows earning money with an OTA business module (B2B and B2C). With a few clicks, your B2B & B2C customers can search Flights and Hotels from your OTA portal. In fact, a travel agent can integrate their travel API into the system,  Which means by OTA a general person can do business without IATA And Civil Aviation.
How Online Travel Agency (OTA) works?
An Online Travel Agency (OTA) is a web view API-based software where few developers built this software with a business module. where you can find a few operational systems like – price markup, CRM automation, own payment gateway, and more. OTA works with Airlines API, Travel Agents API, Hotels API, GDS API connectivity and by an OTA you can earn passive income. Our demo could help you to understand more clearly how OTA works, here is a demo: https://demo.zoo.family
OTAs compile their rich inventories by connecting to different partners via APIs – pieces of code facilitating the communication between different software systems. Who are those partners? In answer, the partners are Travel Agents | Airlines | Hotels | Global Distribution Systems (GDS) | Technology Companies.
Why You Should Take Online Travel Agent Consultancy?
Our Online Travel Agent Consultancy will help you to make an online travel agent and OTA. You can make money with an OTA – Online Travel Agent. Where you can integrate your own GDS, Travel API, CRM, Accounts, and more. Most important you can customize your OTA as per your wish. So most important before starting a travel business, you must take an OTA Consultancy.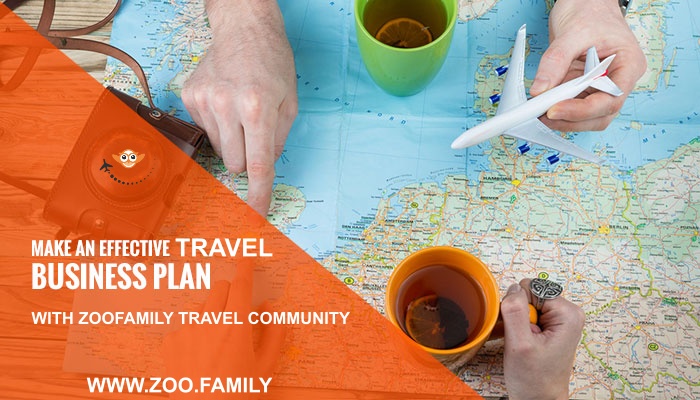 10 Important Decisions To Make an Online Travel Agency Or OTA
1. Cost To Build A OTA or Online Travel Agency
As a travel agency business owner who wants to lead the travel and tourism market, the first question that comes to your mind is how much travel website development costs. However, this is a question that can't be answered by any travel portal development company outrightly. There are various factors that they need to consider before they arrive at an estimated price for developing your travel website. As a community of the aviation and travel industry, our recommendation is: zooIT travel API expense is very affordable, Like 650$ to 3500$.
2. To Understand The Business Module
Travel business owners have a choice to select either the Business to Consumer Model or the Business to Business Model. If you want to make both B2B and B2C you have to maintain your client in a different strategy with a markup policy or you have to set up 2 systems with different markups. Like: Flight.zoo.Family or B2B.zoo.Family
3. Integrate booking engines and third-party APIs
Booking engines are travel agency software tools for making online reservations directly from a website. Existing within your website, they are integrated with website builders (such as WordPress, Laravel, PHP), payment gateways, CRM systems, and can be connected to a wide range of services such as Priceline, Expedia, Etc. Besides acting as the back office, it allows users to check availability, make reservations, pay online, and receive a confirmation email.
4. Features, Functionality & Currency
The most important factor in deciding the cost of your travel website development is the functionality and features that go onto your website. A travel portal with basic features would obviously cost lesser than one with advanced features. B2B and B2C operational module system, Mark up system, CRM system, admin dashboard, etc. Another important thing is which currency you may allow to see your customers and how they will pay. Simple is that your developer will help you to build as per your wish.
5. Development Time
The complexity decides how much time the developers will take to build a travel website for you. Naturally, the more features and the higher the complexity the more time it would take for them to design the website. The cost of development is therefore directly proportional to the development time. But To make our system we have taken 2 years and many developers. After that, software features have updates with their necessity and requirement.
6. Reputation Of the Company
The cost also depends on the type of travel portal development company you are hiring and the experience of the development professionals. A reputed company that has immense experience and a good client portfolio is preferred by every travel agency. With better quality in service and a higher number of successful project completion, comes a higher cost of development. We prefer those company that has in-house travel API, Travel Agency Business and Technology Team.
7. Security of Travel Portal
Customers trust websites that are secure from all kinds of threats and scams. Therefore you need to get enhanced security for your travel website. A travel portal development may charge you additionally to enable 3d verification codes and captcha.
8. Payment Gateway Integration
Integrating secured payment gateways help customers trust your travel website in sharing their personal and payment information without worrying about their information being compromised. As per an experiment by Kayak, removing the SSL/TLS encrypted message resulted in a decrease in bookings. Therefore, integrating multiple payment gateways with the travel website influences the cost of development. You can choose any payment gateway as per your wish and your technical support team will help you to integrate it into your website.
9. User-Friendly & Dedicated Support:
Choose a user-friendly OTA system where travel agents users can operate the system from Desktop, Mobile, and APPS. A user-friendly system could make the business owner more profitable. Many OTAs support their partners' success through regionally-based account teams. These individuals have extensive market knowledge, can share insight on regional trends, and advise on tactics that will help drive business success.
10. Source Code:
Do you really need source code? Actually, it depends on the buyer and seller agreement. Usually, no software companies provide source code. If they provide the source code then it will be encrypted for security purposes. Because a software company builds the software with a huge investment, so usually they don't sell the software. But you may take with your software company what they allow to provide source code, but usually, no one provides the source code. Actually, it depends on your software company. But my personal recommendation is: "don't go for source code until you have a plan, investment, and in-house developer team". Because after purchasing a source code you need a few high-tech developers to run the software as well marketing team and resources.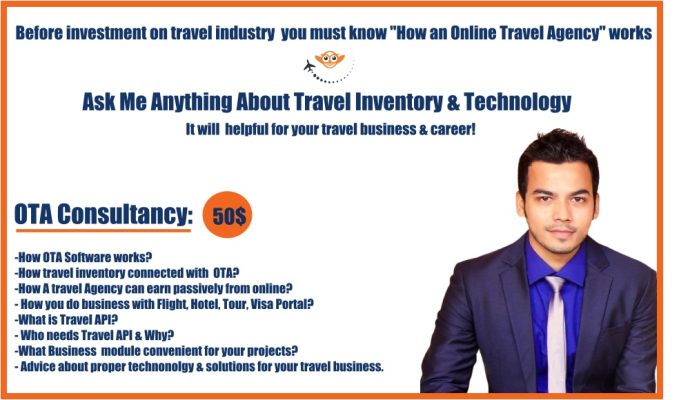 With this course, you can learn perfect travel business knowledge with IATA & OTA consultancy. There is a lot of question regarding starting a business, especially the travel business required a lot of technical knowledge. So before investing in the travel business you must know how its works.
In the travel business, there are many categories to choose option (Like: Flights, Hotels, Tour DMC, and Visa Assistance), the fact of how you operate your business. All solutions we provide with this consultancy service.
Our Travel Agent Consultant will help you to make an online travel agent (OTA). Where you can integrate your OTA with your own GDS, Travel API, CRM, Accounts, and more. Most important you can customize your OTA as per your wish. And an IATA Consultant will help you regarding IATA membership.
Through Online Travel Business Consultancy, You will get:
What is an OTA (Online Travel Agent)?
How an OTA (Online Travel Agent) works?
How does a travel inventory work with a travel agent or IATA?
What are Travel Technology & Solutions?
How OTA Works with travel API?
How you should build your career in the aviation and travel industry?
Who can help you to make an online travel agent?
How you can earn passive income globally?
Certificate & Earing opportunities…
I spent 10+ years travelling around the world. I've lived in 40+ countries, from luxurious overwater bungalows ?to cheap hostels and managed free accommodations at people's houses.
But of course, people ask me how?
The thing is, travel does not need to be super expensive. After a few trips, I realized I AM paying far too much for our holidays. Then I learned to travel smarter, cheaper, and more luxuriously without the costs.
I often get 20%+ off accommodation and hotel bookings. Then another 2-3% cash back after booking. Usually, I use to compare deals and prices with this website: http://booking.zoo.family
Most of the time I use an APPS to stay house FREE of cost.
To compare the SOTO ticket I use this website: http://booking.zoo.family and for B2B air ticket prices I use http://flight.zoo.family
Make Affiliate Partnerships & Create Your Career Profile With Us:
Make your career profile with us and be our affiliate partner and earn money. By this step, you can create your career profile in the travel industry in Bangladesh. Which will help you:
We will give you a career profile; which help you to get any country's visa and bank credit cards. For the career profile creation, we will charge 30$ | 3000 BDT to make your business card, salary account, office ID card, and credit card apply formalities we charge this amount.
After a career profile creation, we will treat you as a virtual affiliate partner, where we will help you to earn money with our B2B business module!
We will give you a B2B flight & hotel booking ID; there you get a B2B price. You can make money with your B2B account; simply you need to work as a travel agent.
Every month our credit card department will utilize your credit card balance and they will pay you a certain income to utilize your credit card balance. This strategy you really going to love because everyone loves passive income.
From the whole partnership strategy you not only earn money but also get a profile; which will help you make a bright feature.
Our Online Travel Business Consultancy Assitant WhatsApp & Mobile No:+8801978569299 | Travel Business consultancy Time: 2 to 3 hours (by Skype Call, I'd: zooinfotech:live)